Surveys FAQs
Last updated
Gainsight NXT
Gainsight helps innovative companies protect and nurture their most valuable asset - their customers - with the power of our award-winning platform. With our Customer Success Solution, you can gain deeper insights into customer behavior, operationalize the customer lifecycle, and coordinate actions and results across teams.
This article supports Gainsight NXT, the next evolution of the Customer Success platform. New and upgraded customers are deployed on Gainsight NXT.
If you have not upgraded and are using Gainsight Salesforce Edition, you can find supporting documentation here.
Not sure what your team is using? Click here.
Below are some of the Frequently Asked Questions (FAQs) about Surveys and their answers. If you have questions that are not answered here or through related support articles, you can share them on the Gainsight Community.
How should CSMs act on survey results?
There is not a one-size-fits-all way to respond to survey results. It depends on the role, the segment, and a variety of other factors. You should however trigger CTAs for common surveys, Ex. NPS survey. You can identify the most common surveys, set rules to trigger CTAs (depending on the response), and develop Email Assists to help your team provide standard responses to your customers.
Is there a link that I can send to share the survey?
Yes, anonymous surveys have a reusable link that can be pasted into emails or displayed on a website. For more information on the Anonymous Link, refer to Distribute Surveys. For non-anonymous surveys, every link is unique, so you should share the survey through other Gainsight applications like Programs, Email Assist, etc.
Why do I receive very few responses to my surveys?
A low survey response rate could be due to a variety of factors. For example, it could be due to the content, Ex. lack of personality, poorly crafted subject lines, etc. or the logistics, Ex. poor survey timing, selecting the wrong recipient, etc. For best practices on how to increase your survey response rate, refer to <<Reasons for Low Survey Response Rate>>TBD.
Is it possible to move questions from one page to another?
Yes, questions can be moved from one page to another using the left pane of the Survey Design tab.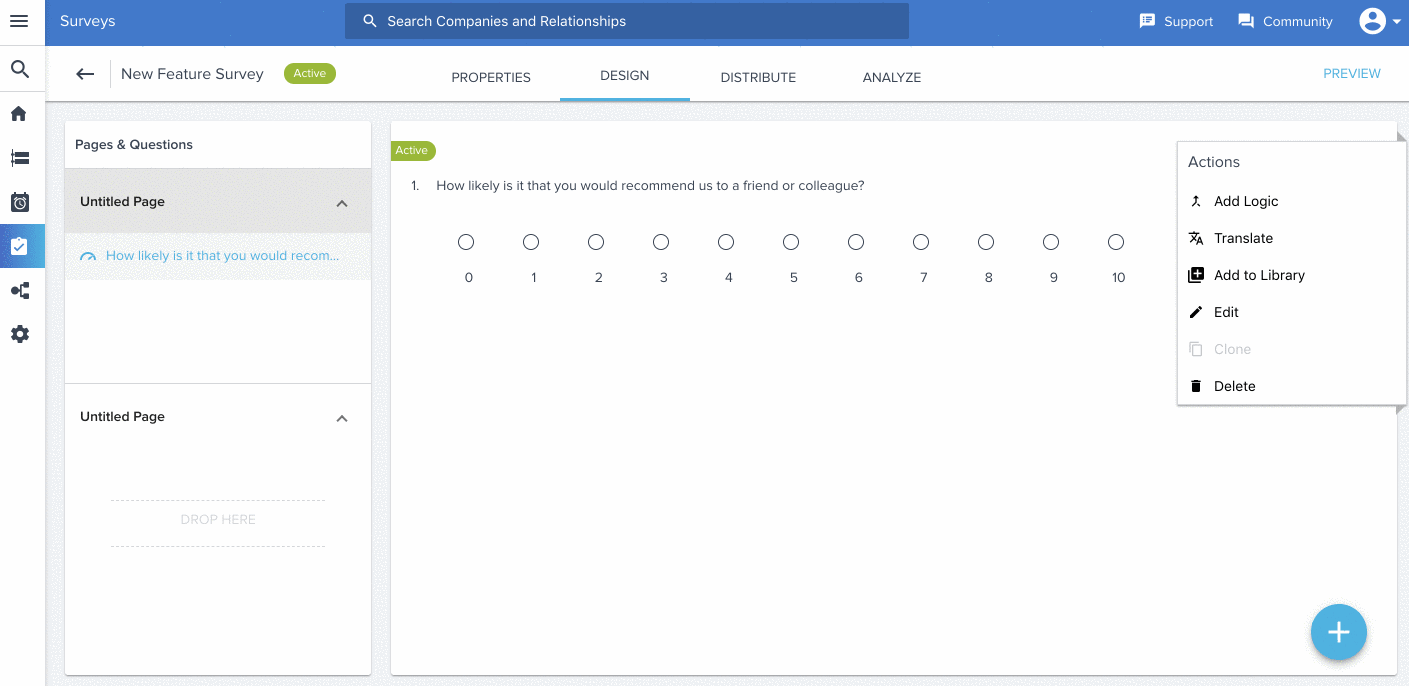 Are the Anonymous Survey Responses tied to an Account?
No, anonymous survey responses are gathered without any information about the responder. Semi-anonymous surveys capture the account information of the responder while still keeping their individual identity anonymous.
How can I change the survey's visual appearance?
You can use options available in the Visual Experience section in the Survey Design tab to control how the survey should appear. Refer to Surveys Properties for more information.
What data is displayed in the NPS Analytics page?
NPS data from Surveys is displayed in the NPS Analytics page. For more information on this page, refer to NPS Analytics Overview.
Can I Edit/Delete the submitted survey responses?
Yes, admin can Edit/Delete the submitted survey responses. For more information on how to Edit/Delete the submitted survey responses, refer to Surveys 2.0 Analytics article.