Introducing Gainsight In-app Guides
Last updated
Overview
Gainsight designs and deploys in-app messages directly in the Gainsight CS user interface using Gainsight PX. These messages highlight new features, drive recommended behavior, and provide in-context support. Contextual, personalized guidance provides help when and where it's needed, simplifies the user experience, and improves overall usability. In-app messages may be addressed to end users and/or Admins in Gainsight.
Gainsight displays multi-step walkthrough guides, new feature announcements, and explanatory tooltips in the app. Guides are deployed to address the following goals:
Introduce new or under-utilized existing features, and encourage adoption
Support new Gainsight users or customers
Help reduce support questions/tickets
Improve product experience
Types of In-app Guides
You can see the following in-app guides in Gainsight. Guides may contain hyperlinks that navigate you to documentation for more detailed information.
Slider: These appear in the middle of the page and are helpful to introduce new features. Sliders offer a carousel with multiple slides which may include text, images, or embedded videos.
Tooltips: These are anchored to a target element within the application (field, menu, information/help icon). These are most commonly used for highlighting or explaining an element or feature. These tooltips may appear automatically from the UI element or by hovering / clicking on the UI element. Following image shows a tooltip on the Global Filter for Dashboards.
Dialogs: These are typically centered on the page and are commonly used for announcements, such as outages or new feature releases. Users can click either the X or GOT IT to close the dialog.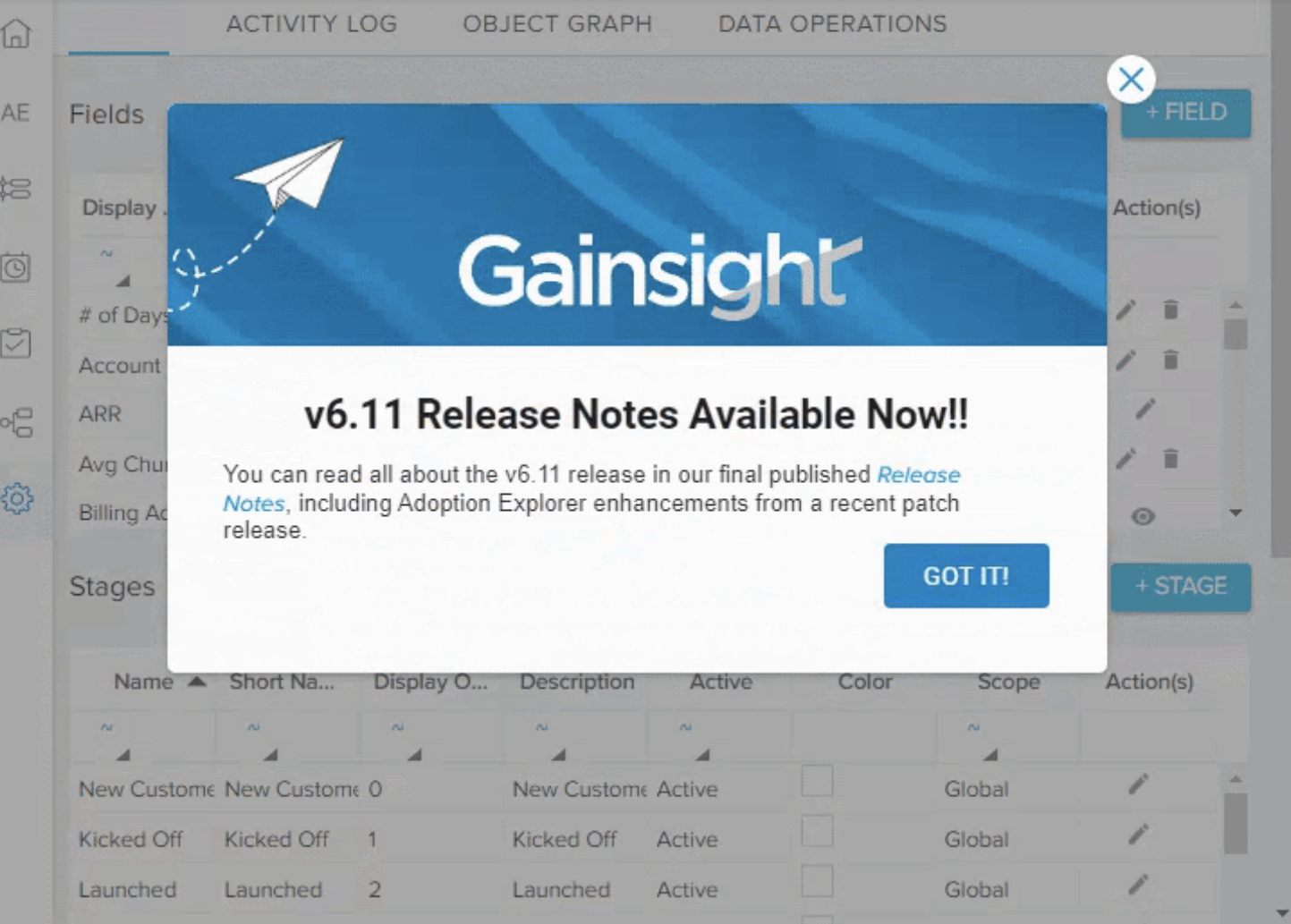 Walkthrough Guide: Includes multiple steps as a sequence of instructions. They're often used for new user onboarding, or to walk users through a challenging task or workflow. It also offers the Next / Back buttons to move between the steps. Following images show a series of steps in a walk through guide for Programs.
Step 1:
Step 2:
The steps continue till the walk through process ends.
5. Surveys: These are used to ask the NPS® question, or a rating or multiple choice question.
NPS, Net Promoter, and Net Promoter Score are registered trademarks of Satmetrix Systems, Inc., Bain & Company and Fred Reichheld.