The top controllable indicator of future churn is "sponsor change." Since many product markets are competitive, when your sponsor leaves your customer, the new individual can easily cause the company to change vendors. Many companies are not aware when their key advocates and sponsors leave. Sponsor tracking in Gainsight notifies you when sponsors leave or change roles, so you can take action and mitigate churn. This article explains how to use Sponsor Tracking on the Customer 360 view.
Before CSMs and AM's can begin using Sponsor Tracking, the Gainsight Admin must configure the C360 section and update a rule to trigger CTAs when there are sponsor changes. For more information, refer to the Configure Sponsor Tracking article.
How Sponsor Tracking Works
When a user selects a contact to begin tracking, Gainsight passes the name, company, email (and other configurable fields) to the API. We try to match that information to our database of contacts and return a profile or set of profiles that might be a match. If the contact's LinkedIn profile is not found, users can paste in the contact's LinkedIn URL (from their LI profile page).
At this point, a match still may not be found, in which case Gainsight will search publicly available social networks for the details on the user's social profile. In the meantime, Gainsight identifies the contact's Sponsor Tracking status as Pending. Users can return to the Sponsor Tracking section to "view matches," and to confirm the match. Once confirmed, the contact will move to a Tracked status.
Sponsor tracking finds the SFDC contact's social profile links and images for LinkedIn, Facebook, Twitter and Google+, and displays them on the sponsor tracking card. If a user clicks the social media links, it will open the respective social media link in a new tab/window. However, only changes to the contact's LinkedIn profile (title, company, location) will trigger the card to change color, and trigger a CTA for the CSM.
Here are some known limitations:
Special characters in the public URL: you can claim a URL with LinkedIn. If a user puts special characters in it, you will not be able to track them.

URL does not start with either "

https://linkedin"

; or

https://in.linkedin:

use the public URL found on the contacts profile (not a google search redirect link).
Sponsor Tracking on Customer 360 and Relationship 360
Once enabled, Sponsor Tracking can be added as a visible section on the Customer 360 page and the Relationship 360 page. For more information on how to add this section for these pages, refer to Configure Sponsor Tracking. For each account, you must select the relevant contacts you want to track from the Sponsor Tracking section.
If a sponsor is tracked on the R360, it doesn't roll up to C360 view. If a contact is tracked in R360 it doesn't mean the same contact is tracked in C360 as well. Both operate separately.
Click +Sponsor to get started.
Track Contacts
After clicking +Sponsor, you will see a list of all of the contacts associated with that account. If you would like to find a specific contact, you can type a first name, last name or email address and search in the upper right corner.
(Optional) Click the pencil icon in the Action column if you need to edit the contact's details in Salesforce before you start tracking them.
In the Action column, click the link icon to start tracking that particular contact.
Select Profile
Once the tracking process is initiated, Gainsight passes the name, company, title (and other configurable fields) to the API. We try to match that information to our database of contacts and return a profile or set of profiles that might be a match.
Note: Auto matches are determined by confidence level, which is based off information in GS/SFDC, compared to what's on the contact's LinkedIn profile. Sometimes contacts have different titles in SFDC, and also their location is often listed as the same as the company HQ. If the contact is actually based in another location and LinkedIn shows a different job title and location, then our confidence level would be low and we probably wouldn't find a match.
If you find the profile you were looking for, you can confirm the match by clicking the card. By default, you will see the contact's first and last name, and if available, their email address and title. Gainsight will also pull in social urls when they exist.
Enter a LinkedIn URL
It's possible that your contact may not be found. In this case:
Click Enter a Linked In URL, to manually paste in the contact URL.

When entering a manual url to track, you should always use the url on the contact's Linkedin profile (pictured above). Using a url from a search result will not work.

Click search and one of two things will happen:

You will be presented with a list of profiles that match. Click the card to select one.
No match will be found for that contact, and tracking will show a Pending state. Gainsight is searching across publicly available social networks to obtain the contact's latest info.
Occasionally, the contact's LinkedIn URL can not be pasted because their LinkedIn profile is private or they're a premium member and cannot be tracked. Also, the email address on the contact record in Salesforce must match their LinkedIn profile; otherwise, we can't track that contact when hitting the "track contact" button. In this case, enter the contact's LinkedIn URL to find that contact. Use the LinkedIn URL that is listed on their profile page (pictured above).
If a LinkedIn URL has special characters (like "-"), it won't be picked up automatically. However, you can submit requests to Customer Support to have those contacts added manually.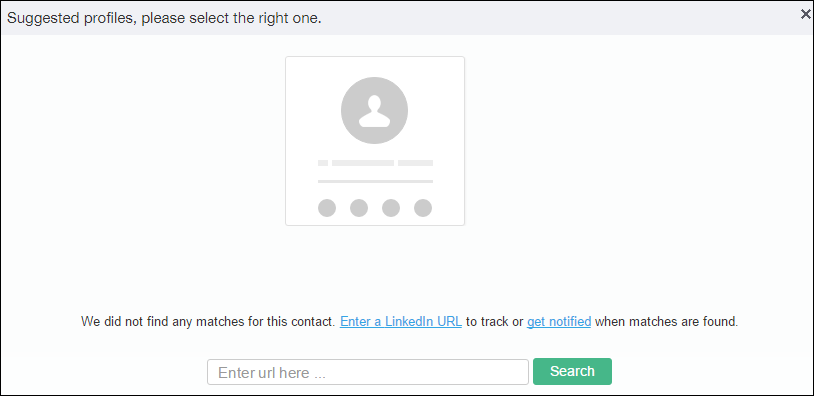 Get Notified
If the end user does not pick or find a match, and chooses to get notified, that particular contact will go into a pending state in the UI. This lets the user know that their request is in the queue. The pending status will be changed to "view Matches" in the UI. Typically this process takes 48-72 hours.
Changes in Tracked Contacts
If there are changes on a tracked contact, those changes will trigger a notification (a number displayed next to the sponsor tracking section name on the left of the page). Only changes to the contact's LinkedIn profile (including title, company, or location) will trigger the card to change to gray. Additionally, your Admin may have configured a business rule to trigger a CTA when there are sponsor changes.
The end user can take three actions when changes are presented:
Accept change - This will prevent the change from triggering a notification in the future. We will not make any updates to the contact object except title.
Ignore change - This will cause the change to disappear and no changes will be made to the contact object.
Edit Contact - The end user can use the new information and update their account contact information. Afterwards, if the changes match the changes from the notification exactly, that change notification will go away.
In addition, First Name and Last Name of a contact deleted from Salesforce now appears in the Sponsor Tracking section as a card, as shown in the image above. You can click 'Delete From Here' to delete the Sponsor Tracking card from the Sponsor Tracking section.
If the LinkedIn profile of the sponsor (contact) being tracked is no longer available, changed to private mode, or inactive/closed, you can delete the sponsor from the Sponsor Tracking section.