Gsnap helps CSMs send a 60-second personalized video recording of yourself to one or more contacts, along with notes and attachments. CSMs can send personal introductions and welcome new customers with a Gsnap recording. Or, a CSM could invite a customer to respond to an important survey, or personally thank them for sharing product feedback. Gsnap has many applications, but the key to this fun new social feature is that it enables you to quickly and easily connect with a contact in a very personal way.
Recipients don't need to download anything; they'll just click a link within an email to view the Gsnap. Recipients can acknowledge the Gsnap with a quick "Thanks" option, or share it with others.
Prerequisites
You must have the Flash plugin installed in your browser.
We recommend using the Chrome browser to record Gsnaps. Some functionality may not work as intended in Firefox or IE.
Who has access?
There are two Gsnap user types: Users and Admins. Users can only see their own Gsnap videos on the Gsnap page. Admins can see all Gsnaps created by other users by selecting users from a drop down. Also, Admins can send user's Gsnaps, but can't delete them.
To configure Gsnap:
1. Navigate to the Administration > Communication > Gsnap.
2. Under GENERAL SETTINGS, switch the Enable Gsnap toggle button to ON.
4. A Link expiration drop-down box appears. Select the maximum number of days a Gsnap link remains active after a CSM sends a Gsnap email. By default, it is set to 60 days. CSMs can change this setting, but cannot exceed the limit set by the Admin.
In order for anyone to access Gsnap and create and send recordings, you need to add the Gsnap tab to your org.
To add a Gsnap tab to your org:
1. Navigate to Setup > Create > Tabs > Visualforce Tabs.
2. Click New to create a new visualforce tab.
3. From the Visualforce Page drop-down box, select the visualforce page called Gsnap [JBCXM_Gsnap].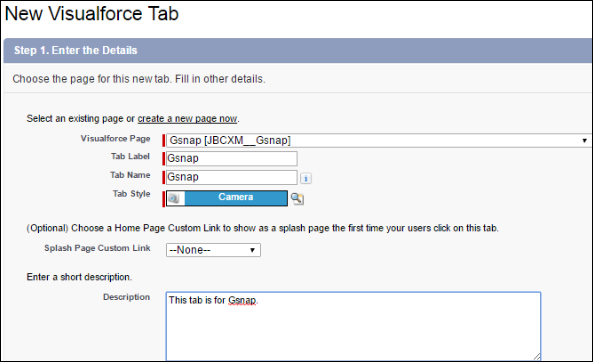 4. Enter "Gsnap" in Tab Label.
5. From Tab Style select the Gsnap tab style. For example Camera.
6. Click Next on the Step 1 and Step 2 screens, and on the Step 3 screen, click Save.
To add a user (CSM) to Gsnap:
1. Under USERS, click + ADD USERS.
Notes:
This page shows only 20 users at a time. You can use the pagination buttons to navigate to other users.
You can use the search fields in Name and Role column to search for a desired user or role.
2. In the Add User window, enter a Name to search for the desired CSM/User, and select the Role as Gsnap User; then click SAVE.
The user is saved and has access to send a Gsnap. Additionally, from the Users page, you can click the Delete icon to delete a user or a CSM.
3. (Optional) To delete a user, click the delete icon to the right of their role. Then click 'Yes' in the confirmation window.
Note: Admins cannot delete their own account. You must assign Admin access to another user.
The Gsnap landing page is the page the recipient will visit to watch a recorded Gsnap. Admins can configure some aspects of the landing page, such as the background and accent (text) colors, and company logo. CSMs will be able to add custom notes and attachments on the landing page (at the bottom) when they send the Gsnap.
To configure the Gsnap landing page:
1. On the LANDING PAGE tab, click Background to select a color for the Gsnap's page background. Additionally, you can select the Accent color (text color) from the palette.
2. (Optional) Click the Pencil icon to upload your organization's logo.
3. Click SAVE. Optionally, you can click the RESET button to reset the Background and Accent colors.
Admins can configure the default email template that's used to deliver Gsnaps. CSMs will not be able to modify the email contents. If the CSM wants to add a personal note, they'll do so on the Gsnap landing page.
To configure the email that will be used to deliver Gsnaps:
1. On the Email tab, you can add text to tokenize and modify the email content in the default template.
The image below illustrates an example of a tokenized field for the customer's First Name. The number of fields available are limited to four: First Name, Last Name, Gsnap title, and Gsnap link. Although it's possible to edit the WATCH NOW token, we recommend against modifying it. It's temporarily available as a label and links directly to the Gsnap.
2. (Optional) You may customize the text that displays at the top in "You got a Gsnap!," as well as above and below the video display area, and where it says "Enjoy!!".
3. Click SAVE.
4. Optionally, click RESET to revert back to the default template.
If users want to know whether a Gsnap was viewed, there are three options currently:
1. Enable Gsnap Notifications: users can choose to be notified by email when their Gsnaps are viewed or receive thanks. (see the article CONFIGURING EMAIL NOTIFICATIONS OR MY NOTIFICATION SETTINGS for more information)
2. Gsnap Sent statistics: navigate to the Gsnap > Sent view to see sent, open, view, and thanks rates for your Gsnaps and across your org.
3. Build a custom report in Report Builder: see example below, where the filter Use Case = GSNAP must be included, and in caps.