Product Mapper Overview
Last updated
Overview
The Product Mapper feature displays the Gainsight CS application using a simple and powerful hierarchical tree structure that is designed to help you quickly and effectively map Gainsight application features and associate the tracked user events into the corresponding features and modules.
The Product Mapper feature displays all of the Gainsight CS pages in the same hierarchical structure in which they exist in the application.
IMPORTANT: Modules and Features are pre-configured by Gainsight and you cannot add, modify or delete, any modules or features.
Components of Product Mapper
The product tree feature consists of two components; Modules and Features.
Modules and Features
A Module in Product Mapper represents a module of the Gainsight CS product. All modules in Gainsight, like Rules Engine, Scorecards, and Timeline are mapped in the product tree as Enablement Engine modules. Each module consists of features or sub modules, which are aligned to match the Gainsight CS product structure. A module is represented by a settings icon.
A feature in Product Tree represents a page or a button of the Gainsight application. All features are grouped under their relevant modules just like in the Gainsight CS application. If a feature is created for a page, it holds the URL of the page. A feature created for a button holds the CSS element code of the button. When a user clicks a button or accesses a Gainsight CS page, which is tracked as a feature, this event is recorded in the Analytics section. You can see which feature (page or button) was accessed most number of times or least number of times, by your Gainsight CS users. A feature is represented by a connector icon.
The following image shows a part of the Gainsight Product tree for Rules Engine module and its associated features.
Identify if a Feature is Tracking a Page or a Button
To identify if a feature is tracking a button or a page, select the required feature. If a feature is tracking a button, you can see an index finger icon and the Type attribute is set to Event.

If a feature is tracking a Gainsight CS page, you can see a globe icon associated with it and the Type attribute is set to URL.
Features of Product Mapper
You can use the product tree in rules while setting the Audience for your engagements.
The Adoption report in the Analytics section shows you the statistics at the module and feature level. You can easily view which Gainsight CS modules have high usage, which pages have very high views, and which buttons are clicked the most.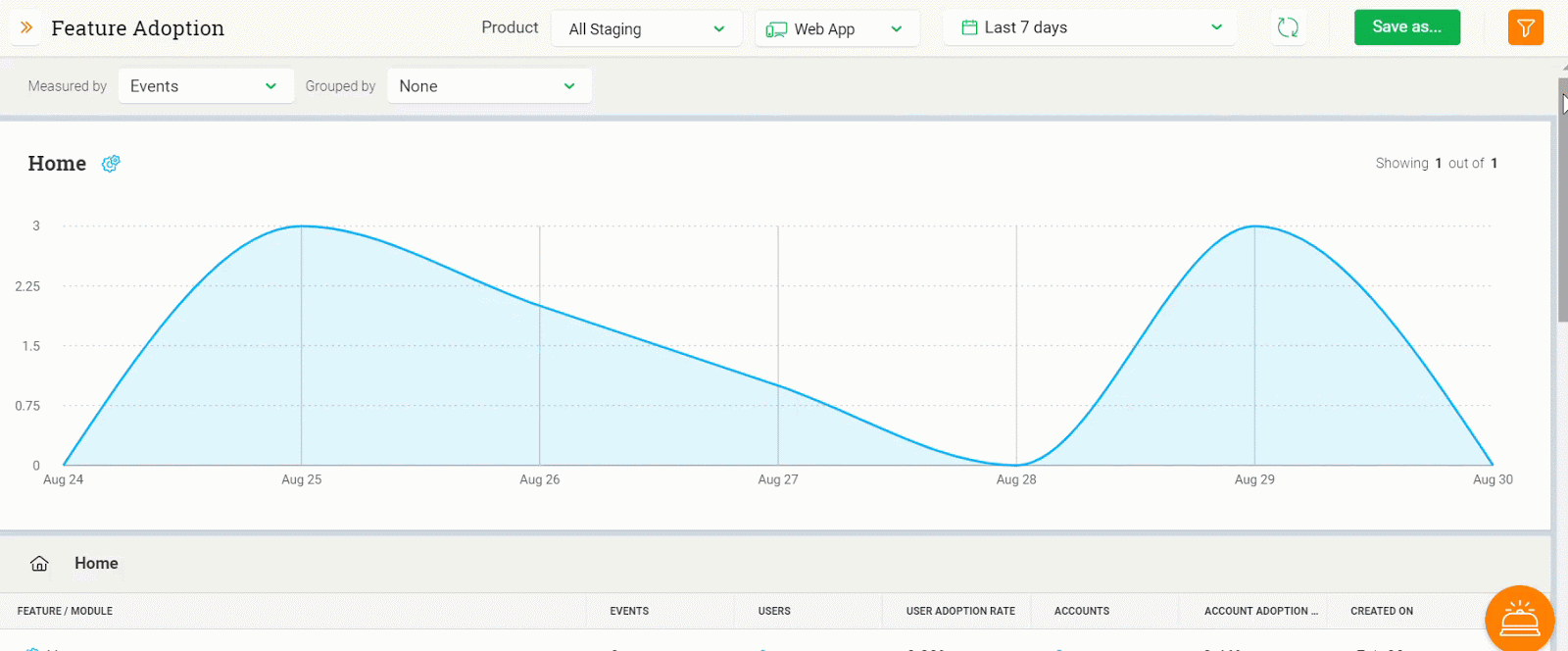 You can track the path traversed by users in the Path Analyzer report.
You can track features accessed by a specific user, in the Audience Explorer detail view.