Adoption Analysis Report
Last updated
Feature Adoption Analytics
This article explains how to analyze the adoption report.
Overview
With Feature Adoption analytics, you can discover the features in Gainsight usage. Spot adoption trends with the ability to slice and dice by user attributes.
Analyze feature adoption
Understand feature adoption of Gainsight CS features.

Measure the adoption success rate with a given cohort
Measure Leading Features for a Given Cohort
Understanding Adoption Success Rate
Gainsight EE measures each module or feature adoption rate comparing the active cohort who used the designated feature vs. the same active cohort who didn't, to help you understand the true potential of the adoption of Gainsight CS.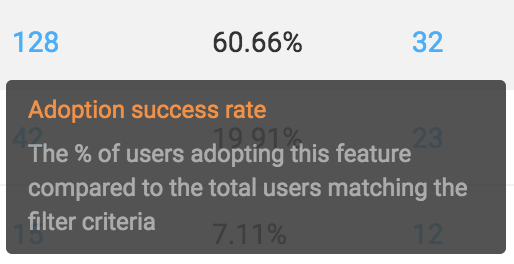 Focusing on Modules and Key Features
Clicking on a module displays the underlying features.
Measuring Distinct Users
Events will surface overall trends but measuring unique users will help you filter out the noise and surface more focused results.
Measuring Top Accounts, Locations, Devices and Top Features
Grouping by features, location or devices will surface the top ones based on the selected metric.
Select Group by Features
Allows you to see net top feature usage trends.