IMPORTANT UPDATE
Vault assets accessed by clicking the Gainsight Vault icon, will be retired. Our best practice assets can now be accessed from Administration > Sightline Vault.
Learn
more...
​IMPORTANT UPDATE July, 2019: Vault assets will be retired in the near future, and currently only Playbook and Report assets are compatible with the latest functionality.
Perform the following steps to import a playbook from Gainsight Vault.
1. Navigate to Cockpit > Playbooks. (or click the Vault tab to search or browse across asset types)
2. Click on the Import from Gainsight Vault icon.
Note: Playbooks with email assist tasks are supported in Vault.
3. Navigate to a level that contains the desired playbook(s).
In Gainsight Vault, Playbooks are categorized at various levels in a hierarchical structure that map to the V3D framework. For example, Manage Customer Risk, where you will find playbooks that address different areas of customer risk.
Note: You can also use the Search field to select the desired playbook. Search is currently limited to the theme that you view or select.
You can click Download that appears when you hover over a playbook, or you can click on the playbook link. The Preview screen appears. In addition, you can use the filter icon to select only playbooks.
Note: You can download only one asset type at a time.
4. The Preview window provides an overview of the various tasks in the playbook. To initiate the import, Click CONFIGURE. The Configure window appears.
5. While the intent is for you to import best practice playbooks as defined by Gainsight, there may be some configuration required. This is because in your Gainsight instance, values of certain fields may be customized and different from what is in the best practice asset you are downloading. For example, the best practice asset may have "High", "Medium", "Low" for the Task priority, where your instance may have customized the values to be "VIP", "Normal," and so on.
In this step, the app displays every value that could be customized, and asks you to map those values. Additionally, you can assign an owner using the Assign Owner search field.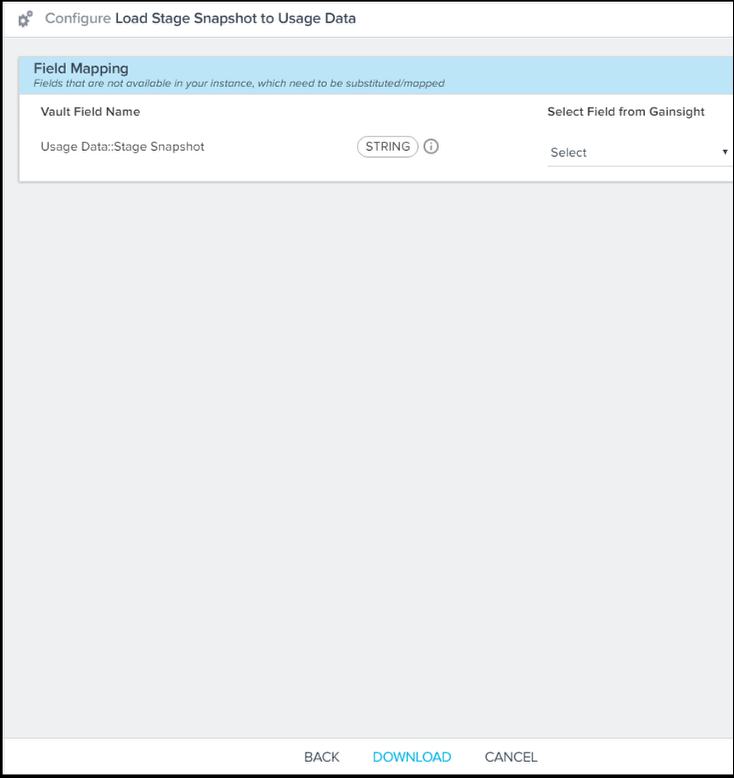 6. Click DOWNLOAD. A confirmation message appears. The playbook is now available in your Gainsight instance.
7. Navigate to Cockpit > Playbooks. The downloaded playbook appears in the left pane.