When creating a Survey, on the Properties tab, you have the option to upload a logo. This is illustrated below:
Occasionally, when you click on the upload, you may receive the following error: "Invalid field body for SObject Document."
Cause: When a user encounters this issue, it likely means they need additional permissions on the "documents" object.
Resolution
1. Navigate to SFDC Setup > Manage Users > select the user's profile who is experiencing the issue.
2. Click the Edit action for the profile.

3. Search for "Documents" under Standard Objects Permissions section.
4. The user will need to at least have "Read" access to the "Documents" object in order to add logos as described above.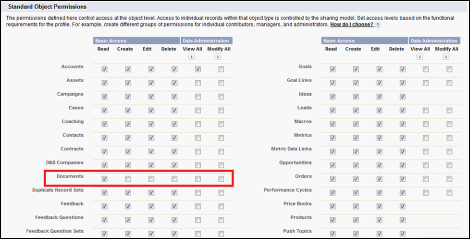 Once this permission is enabled and the user's profile is saved, they should be able to add logos on the Survey Properties tab without any problems.