Distribute Anonymous and Semi-Anonymous Surveys 2.0 through Programs
Last updated
Overview
Using Survey 2.0, you can send anonymous and semi-anonymous surveys via Programs (formerly known as Adv. Outreaches). Anonymous and Semi-anonymous surveys can only be configured with the Generic Survey model in Programs.
After you create a generic survey model, you cannot change it to a different type of Program model. Analytics for the anonymous and semi-anonymous surveys are different, and you won't be able to view detailed analytics like Email Clicked by, Email Opened, and so on.
In a semi-anonymous survey, Company or Relationship ID is tracked and can be viewed on the ANALYZE page.
For more information on which survey to select between the Anonymous, Semi-Anonymous, and Non-Anonymous, refer to the Gainsight Community post.
Distribute Anonymous and Semi-Anonymous Surveys through Programs
To get started, create an anonymous or semi-anonymous survey from Survey 2.0:
Navigate to Survey 2.0 in Gainsight.
Click the + (plus) sign. The Create a Survey dialog appears.
Select an entity from the list. You can either select Account or Relationship from this list.

Type a name for the survey.

Select a language for the survey and click SAVE. This navigates you to the survey properties screen.

In the Additional Configuration section, click the down arrow to expand.
In the Survey Category list, select Anonymous or Semi-Anonymous.

Specify the Start Date and End Date for the survey.

Click the checkmark icon to save the configuration.

Navigate to the DESIGN page, and create a page with questions. For more information, see Surveys 2.0 Design.

After designing the survey, navigate to the DISTRIBUTE page and publish the survey.
Note: You cannot publish the survey without any questions.
After the survey is published, the Program link will be enabled in the DISTRIBUTE page. After you publish the survey, you can also create an Anonymous Link and use it in email communications.

Click Program.

You can also see the analytics of the Program from this page itself, including the number of participants and the published date.

You can also use this survey in multiple Programs.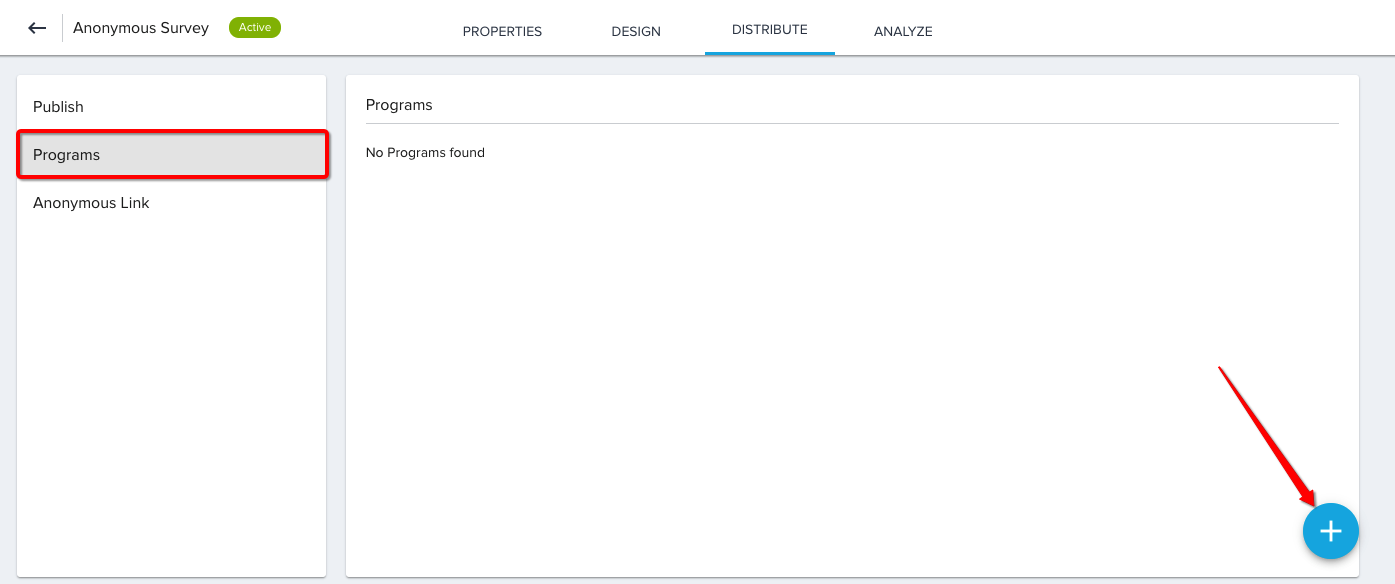 Click the + (plus) icon. This navigates you to Journey Orchestrator > Programs and a new Program with the Anonymous/Semi-anonymous survey will be created.

Click the green participants box in the model and configure the participants in the Program journey. For more information, see Add participants to Program journey.

In the Program Model, click Edit at the Survey Email step. Configure the following options:

To: Select a power list or specify the To address to whom the survey needs to be sent.

Template: Select an email template from the list.

Click SAVE.

After you've finish configuring your Program, click PUBLISH. The Program will be published with the anonymous/semi-anonymous survey.

Navigate to Surveys 2.0 and click the ANALYZE page. Here you'll see the analytics of the anonymous/semi-anonymous surveys.