You can send Surveys via Journey Orchestrator Outreaches, in addition to sending surveys via Salesforce emails or Marketo. The article below assumes you only want to send one email with the survey link to your participants. However, we also offer Programs (formerly known as Adv. Outreaches), which enables you to send a series of related survey emails (head's up email, reminder email, thank you email, etc.) as part of one Program.
Journey Orchestrator Power Lists help you with the following use cases:
Dynamic recipients set via filters: Journey Orchestrator power lists enable you to add survey recipients based on various Account, Opportunity, Contact attributes in Salesforce or MDA. This is a dynamic list, which means that any contact that meets the criteria at the time of sending the survey, will receive the survey. This is in contrast to existing distribution methods where a static list of subscribers are added while creating the survey.
Journey Orchestrator also enables you to send a daily batch of emails based on the date fields of various objects. The effect of this is you can send users a survey within 24 hours of contacts performing an event. In some use cases, customers may need to send a survey email immediately, or a few minutes after a triggering event, such as when a case is closed. In this case, you still need to work with Services to create a custom script, but hopefully the new 24-hour SLA is sufficient for the majority of use cases.
Benefits of sending surveys via Journey Orchestrator include Journey Orchestrator's WYSIWIG email template creator, as well as Gainsight's email gateway enables you to send higher volumes of email.
To distribute a survey via Journey Orchestrator, you will need to follow these steps:
Create a survey and configure the survey to send via Journey Orchestrator
Create an email template (or modify existing) to include a link to the survey (also can pre-configure the language)
Send a Journey Orchestrator outreach with the survey email template to a new or existing Power List based on whom you want to include
Salesforce Sharing Settings
We recently identified an issue with accessing survey responses if your Site Guest User is set to Private in your Salesforce org. To avoid problems, change the permission settings on user Site Guest User from Private to Public, so that the user has Account visibility.
Navigate to Setup > Administration > Security controls > Sharing settings. The sharing settings need to be Public.
1. Within your survey, on the Properties page, select Journey Orchestrator as the Email service.
2. When the Email Service is set to Journey Orchestrator:
Add Participants tab will be disabled, since you will now be adding participants via Power Lists in Journey Orchestrator.
Options to have participants respond anonymously and allow internal submission are both disabled.
In the Distribute tab:

List View, Calendar View and +Create Schedule button won't be available, as these actions are taken during Journey Orchestrator Outreach execution.
Count for Sent, Responded, Not Responded and Undelivered will be displayed.
You will only be able to see drill-down data for Responded participants. This is a known limitation that we expect to resolve in a future release. This data, however, will be available in Journey Orchestrator Outreach Analytics.

For information on how to associate an object and field, such as Case and Case ID, with your Survey and Journey Orchestrator email, see Survey Links: Close Survey Feedback Loop with Journey Orchestrator.
3. Permission to distribute survey:
In order for a user to send a survey via Journey Orchestrator, they must have the Distribute permission enabled.
In the Permissions tab, after selecting the appropriate user(s), enable the Distribute option.

While creating a survey, you can select the email service as Journey Orchestrator. In Journey Orchestrator email templates, you can insert links to be populated by a multilingual survey in the email outreach. While inserting the survey link, you can also set the language the survey needs to appear. When the survey is sent to the users, the survey appears in the language configured in the email template.
In Journey Orchestrator, click Email Templates. Either create a new email template or you can edit an existing one.
Enter email template name, subject, and body, as you'd typically do for any email template.
Click the 'Survey' option in the editor. This allows you to insert a link or button where a survey can be added when configuring your Journey Orchestrator Outreach or Program. You can select the language(s) the survey is to be displayed in. Also, you may add multiple links or buttons within an email template to the same survey. For more information, see Tutorial: Use Journey Orchestrator to Send Multilingual Surveys.
Based on the option you select, you will be asked for relevant formatting options.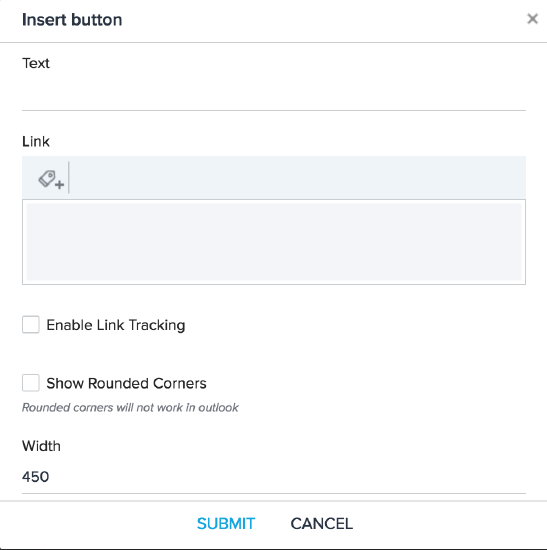 5. You can then insert the survey link or button wherever your cursor is placed in the email body. This is an example screenshot of the 'Product Survey' link included in the email. Note: You can include only 1 survey link or button per email.
6. Your email template is now ready to be used in an outreach.
Current Limitations
If you need to send a survey reminder via Journey Orchestrator, you can schedule a follow-up outreach using the same power list. See also the article Re-send NPS® Surveys from Journey Orchestrator. Additionally, Programs have pre-built options to send survey reminders.
Similarly, you can't identify customers who clicked the Survey link in your email, but didn't complete the Survey. To report on customers who did not click the survey link in your email, build a report on the Survey Participant object, and filter for Clicked = 0.
NPS, Net Promoter, and Net Promoter Score are registered trademarks of Satmetrix Systems, Inc., Bain & Company and Fred Reichheld.