Publish and Test Survey
Last updated
After you complete your survey configuration, we recommend previewing and testing it, including testing the distribution method.
After you've published your survey, you can add participants using one of these methods:
To create a dynamic list of contacts based on a wide range of criteria, use Journey Orchestrator (formerly known as CoPilot) to distribute your survey. For more information on how to accomplish this, see the article Send Surveys to Dynamic Contact List via Journey Orchestrator.
To upload or create a static contact list, use the Survey module to add participants and distribute your survey. For more information on how to accomplish this, see the article Send Surveys to a Static List of Participants.
We also offer Programs (formerly known as Adv. Outreaches), which contain additional methods for adding participants, and enables you to send a series of related survey emails (head's up email, reminder email, thank you email, etc.) as part of one Program.
Survey Preview
From Survey > Questions, click PREVIEW at the top of the page to see what the survey will look like from the participant perspective. Select a language from the upper-right corner of the screen. The question translates to the selected language.
Publish Survey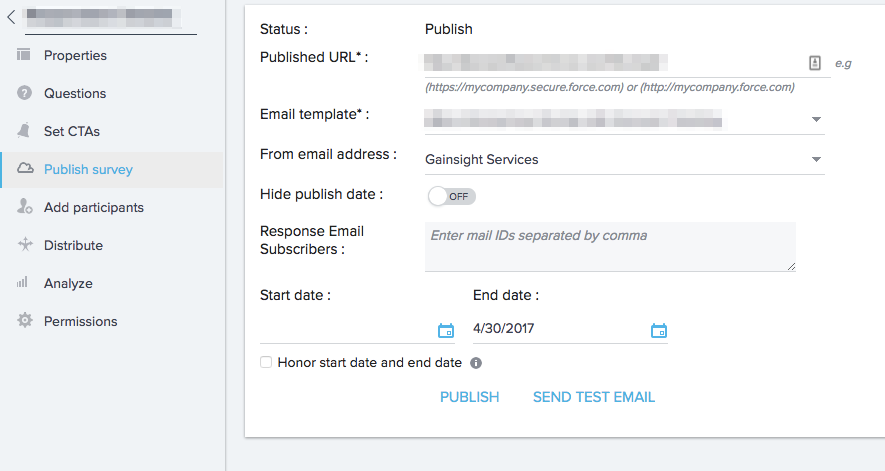 The Published URL is specific to your company and requires you to create a survey site in SFDC. See these instructions for how to configure sites within the article Setup Salesforce Survey Domain & Test Survey Setup. You may use the same survey site to host multiple surveys.
The email template to send the survey can come from your Salesforce email templates (see the article Modify Default Survey Email Templates), or if you're using Journey Orchestrator to distribute the survey, you'll use Journey Orchestrator email templates (see the article Create Journey Orchestrator Email Templates).
When you are ready to publish your survey, navigate to Survey > Publish survey, and click Publish. Fill out the following details and then click the Host icon.
Published URL: This will be specific to your company
Email Template
From Email Address: You will only see email addresses that are in SFDC's Organization-Wide Email Addresses list (more info below)
Hide Publish Date
Response Email Subscribers: Internal email addresses can be entered with comma separated values. Now, whenever a survey response is submitted, an email is triggered to these users. To enable, contact support@gainsight.com. (Email addresses do not need to be for SFDC or Gainsight users.)
Start Date: Date the survey will open
End Date: Date the survey will close
Honor start date and end date: Selecting this checkbox means the survey can only accept responses between the Start Date and End Date.

Note: If you change a survey's Start Date or End Date, and the "Honor start date and end date" checkbox is selected, then the new Start Date or End Date will be honored for all submissions to the survey going forward. This is applied to all newly distributed links to the survey, as well as links to the survey distributed before the Start Date or End Date was changed.
IMPORTANT: Surveys must contain at least one active/visible question in order to publish the survey. Otherwise, the following error message is displayed.
Add Emails to SFDC Organization Wide Email Addresses
Here are the steps to add an email address to the list of Organization-Wide Email Addresses, and use it to send a Survey email from (via the Survey module, not Journey Orchestrator):
1. SFDC Admin navigates to Setup > Email Administration > Organizational Wide Email Addresses. Add the relevant email addresses. This will enable permissions for SFDC to send emails on his/her behalf.
2. The user receives an email asking to confirm this. They will need to follow the steps in the email to finish this process. Then their email address will appear in the From Email Address list.
Send Test Emails
Distribution Methods
Journey Orchestrator: If you are using Journey Orchestrator to distribute your survey, you can send a test email from Journey Orchestrator > Outreaches.
Survey module: If you are using the Survey module to manage distribution, use the SEND TEST EMAIL option as shown in the top two images. Choose From Email Address and Email for test to go to. Click + to add additional recipients.
Salesforce: If sending from Salesforce, all recipients must be contacts in Salesforce.
Marketo: If sending from Marketo, recipient must be a contact in Salesforce and Marketo.
Note: You will not be able to send a test email if the survey is in a Closed status.
Partial Save & Survey Testing
If you publish your survey (it's "live") and you're testing it, keep in mind that the partial save functionality will store any answers that you select during testing. Partial save occurs automatically in the background and does not require the user to click save or submit. This could inadvertently lead to answers being stored for a contact that did not actually take the survey.