Survey Dashboard & Card View
Last updated
This article describes the Survey dashboard, where you can see surveys in various stages of development; as well as the Survey card view, where you can access options such as Duplicate, Analyze, Close, etc.
On the Survey page, you can Create and Search surveys. On the left, surveys are categorized into these views:
Dashboard All surveys that are currently live can be accessed here; surveys are published and distributed to participants.
Drafts All surveys that are currently being designed can be accessed from Drafts
Published All surveys that have been published, but not yet distributed to participants.
Expired All closed surveys and surveys for which the end date has passed can be accessed from the expired view
Survey Card View
All surveys where responses have been collected will have high level response statistics such as response % displayed on the card. (Note: the card view will only be visible after you've created a survey.)
Survey Name: click the survey name to see out-of-the-box reports on the survey questions and answers.
Number responded: click the number responded to open a fly out which will show you a graphical representation of the data and and includes a link to View Responses for individual survey participants.
Scheduled / Not Scheduled: depending on the survey's status, this takes you to the same fly out described above; or it takes you to the Survey > Publish page where you can publish the survey
# CTAs: this is a shortcut to the Survey > Set CTAs page where you can create rules to trigger CTAs based on survey responses
# Pages and # Questions: this is a shortcut to the Surveys > Questions page where you can view all of the pages and questions in your survey
Actions
Surveys in different stages have certain allowed actions such as close, delete, preview, analyze, duplicate. All of these actions can be accessed by hovering at the bottom of the survey card and clicking the blue triangle.
Close Survey
When the survey wraps up and you do not want to allow any more responses or participants to be added, you can go back to the dashboard and hover over the bottom of the survey card. Click on the blue arrow to see additional options and click Close.
IMPORTANT: For more information about how an MDA object with Survey Support Request is created and closed from a ticketing system, refer to the Close Survey Feedback Loop with Journey Orchestrator article.
Clone/Duplicate Survey
If you need to send the same survey quarter after quarter or year after year, you can choose the option to Duplicate a survey. Hover over the bottom of the survey card, click on the blue arrow to see additional options and click DUPLICATE.
Survey Sub-pages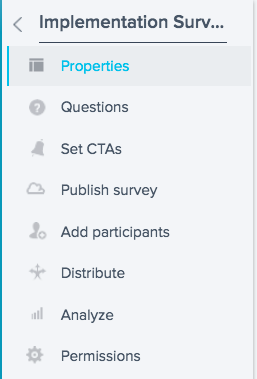 Once you create/edit a survey, you will see a sub navigation pane for that particular survey which includes:
Properties: includes survey name, dates, languages, background style, etc.
Questions: survey questions, sections, branching, and question linking
Set CTAs: create rules to trigger CTAs based on survey responses
Publish survey: requires survey domain for hosting survey
Add participants: (not used with Journey Orchestrator)
Distribute: displays recipient and participant statistics; options for re-sending survey (if you are using the Survey module for distribution)
Analyze: view survey responses with out-of-the box report visualizations
Permissions: enable access for users to edit, distribute, and analyze the survey responses
Please see the articles referenced below to learn more about surveys. However if you are following the "How to Build a Survey" article path, we recommend continuing to learn about surveys following the order of articles presented there.
NPS, Net Promoter, and Net Promoter Score are registered trademarks of Satmetrix Systems, Inc., Bain & Company and Fred Reichheld.