This article will walk you through how to set up your SalesForce survey domain name. After completing the set up, you will learn how to test the survey site. Before you can publish a survey in Gainsight's Survey module, you will need to create a survey domain. The same survey domain can be used to host multiple surveys.
Note: For more information on the Salesforce permissions required to manage domains, see the Salesforce article Manage Domains and Custom URLs.
Navigate to Salesforce Domain Site
To get started you will:
Click on your name at the top right
Choose Setup
In the Search box on the left hand side, search for Sites and click Sites.
If a survey site is created you will not need to move on to the next step.
Create New Survey Site
Fill out the following details:
Site Label = Survey
Site Name = Survey
Site Contact = [this will be your name by default]
Default Web Address = Survey
Active = Checked
Active Site Home Page = SurveyResponse
Inactive Site Home Page = InMaintenance
Site Template = SiteTemplate
Require Secure Connections (HTTPS) = Checking this box will enable a required secure connection. Many survey recipients block non-secure URLs, and if this is not checked your survey could be blocked in those instances. Checking this box is also necessary
Click Save.
Enable Secure Connections (HTTPS)
A secure connection must be enabled for end users to be able to successfully access your survey link. Check The checkbox for Require Secure Connections (HTTPS) described above to ensure access.

Configure Visualforce Pages

Click Edit next to Site Visualforce Pages
Under Available VisualForce Pages find and add the following to Enabled Visualforce Pages:
JBCXM.SurveyEmailOpen (Allows survey email to be opened)
JBCXM.SurveyResponse (Allows responses to be tracked)
Click Save
Assign License (Not Available in Sandbox Environment)
While still in the survey profile click Public Access Settings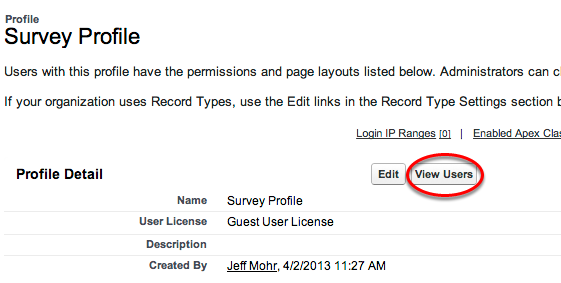 Click Site Guest User, Survey
Scroll down to Managed Packages
Click Assign Licenses*
*Note: The license is used only for survey site setup and does not have an associated cost. The survey license will however be added to your organization's total number of purchased licenses on the Gainsight Licenses page.
Put a check next to Gainsight CSM
Click Add
Activate Site
Click on your name at the top right
Choose Setup
On the left under App Setup choose Develop
Click on Sites
Click Activate (if not already activated) next to the Survey site
Email Template Configuration
A default email template 'Gainsight Survey Template' is available as part of the application which can be cloned and modified. The template includes the ability to send each participant a unique URL that tracks the respondent. You can alter the HTML and plain text version of the template to customize you message including the email subject.
Test Survey Configuration
We recommend testing your survey configurations before sending a survey to customers. This allows you to ensure everything operates as expected and gives you the opportunity to resolve issues without them becoming customer facing. The steps below will walk you through creating, publishing, and deleting a test survey.
Click on the Survey tab > click + Survey
Enter Test Survey name and click Create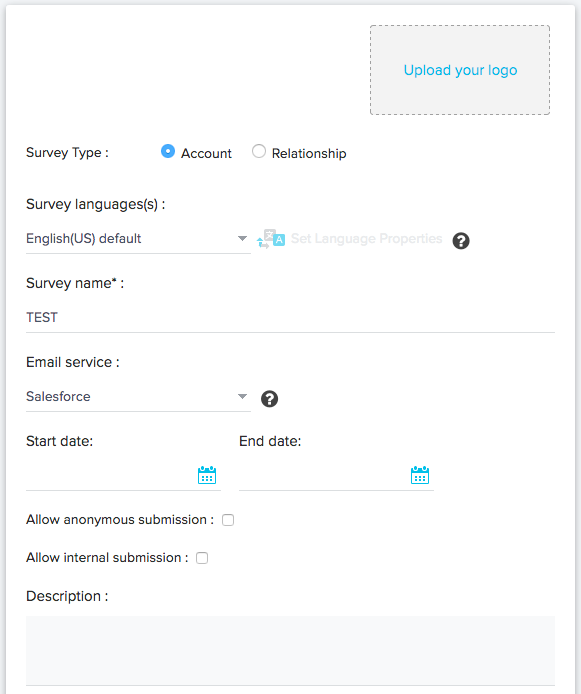 Add Test Question
Click Questions in the left pane
Click +Q to add question
Question Type = NPS®
Click Save
Publish Survey
Click Publish Survey from the left pane
Copy/Paste Newly created Survey Site URL into Published URL

Note: Ensure that you add the URL ending in secure.force.com within the Published URL. This assures that your survey is not blocked by recipients.

Select Email Template
Select From email address
Click Send Test Email
Choose From Email Address
Type Email to send test to
Click "Send Test Email"
Note: The email address the test is going to must be tied to a contact in Salesforce.
Soon you will receive the test email in the inbox the email was sent to. You can click on the link from the email to view the survey from a participant perspective.
Delete Test Survey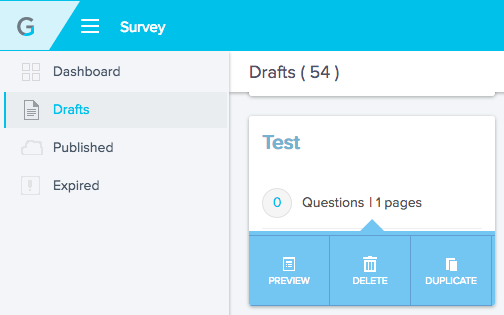 When testing is finished you can delete the test survey:
Click Published in the left pane
Hover over the bottom of the test survey card until you see a blue triangle
Click the triangle and click Delete
NPS, Net Promoter, and Net Promoter Score are registered trademarks of Satmetrix Systems, Inc., Bain & Company and Fred Reichheld