This article guides you through how to add languages to surveys, and configure questions and answers in multiple languages.
To add a language for button labels used in Survey:
Navigate to Administration > Communication > Languages.
Click +ADD LANGUAGE and enter the language name and code.
Click the save icon.
Click Survey Settings. The Translate Survey Settings window is displayed. If you are configuring a survey to display in a language(s) other than English, it is mandatory to enter translation text for the labels in the the Translate Survey Settings window as shown in the following image.
Note: You must enter text in English for these fields, before you will see an option to enter translated text under the Translate Survey Settings window.
Click SAVE.
Note: In the survey, survey respondents can hover on the Reset icon to see the message in their selected language, and the label Select Language will change as per the selected language.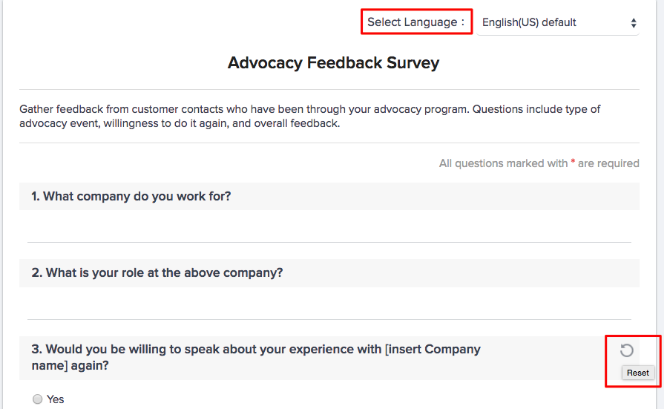 Add a Multilingual Question
Gainsight offers the option to add questions in different languages. First, Admins must configure a new language in Administration > Survey tab. You can find more information regarding this in the article Assign Survey Permissions. When you click +Q, you will have the option to choose from eight different types of questions as described below. We recommend you plan your questions, possible answers, and flow, before adding them in the Survey module. Once you select a question type, you can't change it.
To configure multilingual questions:
Add the preferred languages in Survey > Properties > Survey languages while creating a new Survey.
Click Questions from the left pane.
Create a question from the available question types.
Click Save. After saving the question, the option to translate is enabled.
Click Translate Language icon as shown in the following image.
The Translate Questions & Options is displayed.
Provide the translation text in all of the fields.
Note: If you have opted to translate the survey to multiple languages, it is mandatory to provide translation text in all of the tabs.
Click

SAVE a

fter you provide the translation text.

Click

PREVIEW

. The question is displayed in a new window.