The following are some recommendations/best practices to consider when designing your survey program:
Recommended NPS® Survey Frequency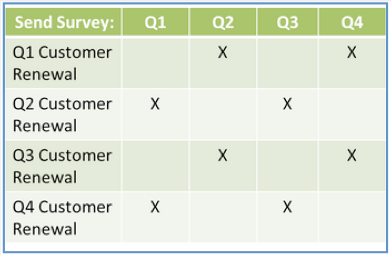 Coordinate survey requirements across departments to create a comprehensive strategy and avoid survey burn-out.

Solicit NPS® feedback quarterly for fresh data every three months, but choose criteria by which to rotate your distribution list.

Solicit feedback from each end-user only twice per year to keeps users engaged, but not overwhelmed.

Distribute the NPS® survey 120 days prior to renewal, to identify priorities or potential issues for renewal team.
Tips for Soliciting Feedback
Consider having CSMs or AMs send personal emails to customers announcing the survey to increase the response rate. (Emails can appear to be from the CSM if you use Journey Orchestrator and configure the Outreach accordingly.)

Convey respect for their time by including an estimated length of time to complete the survey.

As appropriate, provide an example of how previous feedback was addressed by your organization and improved the customer experience

Don't send on Mondays or Fridays, and send a reminder email a few days before you close the survey with the upcoming deadline.

If responses are low, consider allowing feedback via phone with a Success Team member to enter results manually. Note: this activity can lead to skewed results. (this option is not available if you use Journey Orchestrator to distribute your survey)
Tips for Designing the Questionnaire
Identify your primary goal before designing the survey.
Develop your survey questions and their sequence before setting up in Gainsight. Only ask questions that are actionable.
Fewer than 6 questions typically results in a higher response rate.
If you're including the NPS® question, it should be the first question.
Consider identifying 3 perpetual questions so that you can see response trends and how they map to your company initiatives.
Don't create too many dependent fields (question linking). Dependent fields are when you answer one question and another window pops up – this can create survey fatigue.
Use a matrix question to understand customers' view of your product or features.
Use consistent scoring scales among your questions. E.g. The NPS® question starts with 0, or the most negative score on the left, and increases to the right.
Tips for Segmenting Respondents
Categorize recipients by role or job functions, e.g. Users, Admins, and Executive Sponsors. Ask Exec sponsors ROI questions and ask Admins usability questions.

Analyze responses across segments for meaningful patterns.

Look for varied trends between users interacting with your solution day-to-day and those responsible for renewing the contract.
Tips for Follow-up
Trigger Calls to Action on Promoters: funnel those to Marketing for case studies, white papers, or references.

Trigger Calls to Action on Detractors: follow up & address customer concern (establish SLA on turnaround).

Trigger Calls to Action on Passives: since these respondents are on the fence between promoters and detractors, there's a lot of opportunity to help move their sentiment in a positive direction.

CSMs can send Emails to customer contacts directly from Cockpit using Email Assist.

Create GS reports on survey responses and track team follow-up on Calls to Action.

Analyze survey responses to develop action plan to address key areas for improvement.

Communicate your findings or actions that are taken from the input back to customers (close loop process).

Use survey results/NPS® as one input to the overall health of your customers and not the only measure of satisfaction.
NPS, Net Promoter, and Net Promoter Score are registered trademarks of Satmetrix Systems, Inc., Bain & Company and Fred Reichheld