Want to try a new version of Scorecards?
An advanced version of Scorecards known as Scorecards 2.0 is now available. This version of Scorecard is built on Gainsight's cutting edge Matrix Data Architecture (MDA) technology and is much more powerful and efficient than its Scorecards 1.0. Scorecards 2.0 allow you to setup multiple Scorecards thus enabling you to use different measures for different companies, as required. You can use the following resources to get started with Scorecards 2.0
IMPORTANT: In Feb. 2017, Gainsight introduced Scorecards 2.0. We recommend all new Gainsight customers configure Scorecards 2.0, and existing customers migrate to Scorecards 2.0. See Configure Scorecards 2.0 for more information.
This document guides you through the setup and configuration of Account Scorecards, which are used to track Customer metrics, Key Performance Indicators (KPIs), or other measures of Customer Health.
Scorecards can be segmented by groups as well as optionally have weights applied to them to increase their representation.
Scorecards are visible on the Customer 360 Details view, or through a Dashboard as shown in the following image.
Dashboard View
360 Views
Directly underneath the overall health score is a Customer Goals section. You can click the double arrows to expand this area and enter relevant goals (refer the image above).
Below the Customer Goals, individual scorecards are displayed for each health measure your organization is tracking.
There are three views in the Scorecard (1.0) section.
Compact View: Along the right side, there is a button for Compact View, which only displays the numeric scores and the measure names.
Detail View: This view is displayed in the following image.
Historical View: This view shows the overall and individual health scores over time based on the tri-color scale.
Configuring Account Scorecards
To set up Account Scorecards, navigate to Administration > Account Scorecards. The following section describes the Scorecard creation wizards.
Perform the following three steps to create a Scorecard:
Global Settings: Macro-level settings for the Scorecard
Grading Scheme: Methodology for scoring
Measure and Group Configuration: Ability to add measure groups and measures. Groups can be utilized in a variety of ways such as making a group for "New customers", "Customers >1 Year" and "Customers >2 years"
Note: In order to view the "Load Snapshot to Engagement every month" and "Enable history tracking with frequency..." checkboxes as seen above, a user will need the "Modify All" and "Modify Documents" permission sets.
Enable Scorecard: If this check box is not selected, the Scorecard does not appear on the Customer 360 section.This option allows you to select if the Scorecard is active or inactive.
Enable Customer Level Rollup: If this check box is not selected, users will be able to input the customer level health score, as the automatic calculation is disabled.
Load Snapshot to Engagement every week: When this check box is selected, this feature allows you to take a snapshot every week or month (based on the date granularity in usage configuration) and store it in usage data. Once the snapshot is available, you can report on the data in the Engagement tab and from the scorecard section of the Customer 360 view. After you click Apply, a window is displayed that indicates the progress of the measure creation, field creation, and mapping process. This window should not be closed while in progress. Gainsight automatically maps the new fields to the Engagement measure. System Name and Color are determined dynamically. For more information about Scorecard History, refer to the Configure Scorecard History article.
Enable history tracking with frequency: This option is used to reduce the noise in scoring history. When Enable history tracking with frequency is set at 24 hours, any changes to the score within a 24 hour period will not be added to the history. Rather, the current score value will be updated. Using this option will start the history tracking from Sunday of the week.
Important: Enabling history tracking option uses storage space in SFDC and might increase the data storage fees from Salesforce. It is advised to use Scorecards 2.0 as the history tracking data will be stored on MDA.
Numeric: 0 to 100
The numeric scheme allows you to score a measure on a 0-100 scale. These numeric scores can be color-coded based on the score ranges. Click the color block to change colors. Click + to add more ranges (that is, 90-80, 80-60, 60-40, 40-0).
Grading: A to F
The grading scheme uses six different grades, A to F, by default. You can, however, change the number of levels used in the grades by using + or -. The grade level can also be updated by overwriting the grade in the grade level column.
Color: RYG
The color scheme uses three colors by default (Red, Yellow, and Green). You can introduce additional levels or modify the existing levels as needed by clicking + or -. Additionally, the colors can be changed by clicking on the color swatch you want to modify.
This step explains how you can create Measure Groups and Measures. You need to have at least one group before you can create a Measure.
Add Group(s)
You must enter the group name while creating a Measure Group and click ADD GROUP. You will see the newly created Measure Group and a template is presented for adding a new measure.
Add Measure(s)
Enter the measure name, type, and the validity period to configure the new measure.
Type: You can create Manual, Automated, or SmartSign measure(s) as shown in the following image.
Validity Period Example
Notes:
Automated measures can only be set and maintained using the Rules Engine.
Existing manual measures can be changed to the Automated type.
After the existing manual scores are modified to automated scores, users cannot edit the scores manually.
Scorecard comments continue to be editable by end users for both manual and automated measures.
Validity Period is used to identify the shelf life of a measure score. It provides an indication on scores that are out of date. Entering 0 for validity period will mean there is no validity period.
Click the checkbox to save the measure as shown in the image above.
If the validity period expires, the scorecard measure displays a hyperlink that can be accessed by the user to update the measure score, or reset the measure score.
Step 4: Configure Help Text
Click Configure Help Text option.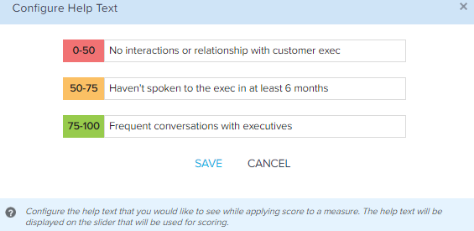 Once saved, you can click Configure Help Text in order to provide guidance to the user for choosing the score.
Help text is displayed when the user selects a score with the score selector. The example above shows the help text from the configuration displayed in step 4.
Note: You can also click REMOVE SCORE if you find the score is not relevant anymore.
Step 5: Set Weights
After saving, you can also assign a weight to each measure. The weight is used to calculate the overall health score. Click the weight in a measure to edit it, or to make changes to multiple measure's weights as shown in the following image. Then, click SAVE.
Edit Weights
Scorecard Calculations
The following image shows a few examples of how weighting is used in scorecard calculation. In Case #1, every single measure has a score. In Case #2, some scores have not yet been filled in.
Note: If all measures have 0 weight, they will be weighted equally. If some measure has a weight and others do not, the measures that will not be calculated into the overall score.
Scorecard Display
To ensure that the Scorecard is visible in the Customer 360 Details view, navigate to Administration > Analytics > C360 Layouts.
Click the Edit icon (pencil) on the Scorecard section and select Show in Customer360.
Note: When you start populating Scorecard with scores, they can not easily be removed or moved between Groups. You will have to first remove the metric from any weight associated with it, and delete all the data from the metric before removing it. For more help, contact Gainsight Customer Success team.
Scorecard Automation
By default, scorecard measures are updated manually by Gainsight users. Gainsight offers the option for Scorecard Measures to be updated automatically based on the measure data upload. For more information about this topic, refer to the Rules to Automated Scorecard Updates article.