Admin Configuration for Sally
Last updated
To access Gainsight Sally within Slack, Sally needs to be added to the Slack team. The members of the Slack team are then brought into Gainsight and given access permissions to Sally. After Sally is added to your Slack team, you can manage users (give/revoke access to users in Slack to Gainsight) and also provide access to users outside of your org.
To view a video about how Sally works, see Intro to Gainsight Sally bot (4 min. video). For end user instructions, refer to Use Gainsight Sally in Slack and Sally FAQs.
To add Sally to your Slack team:
Navigate to Administration > Sally > Slack.

Click Add to Slack. The Sign in Slack dialog appears.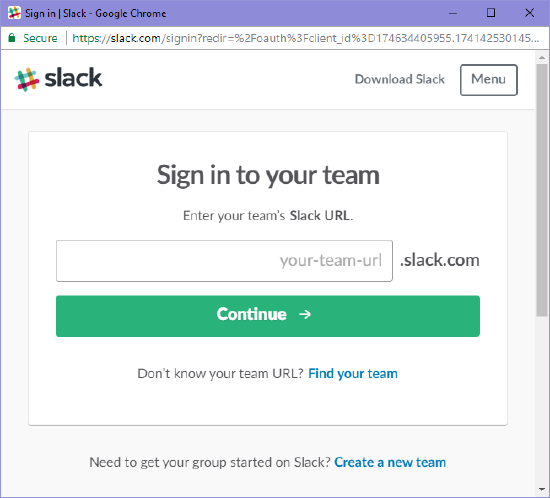 Enter a team name and click Continue. If you have already logged into a Slack team, this dialog will show the list of Slack teams at the top-right corner, and you can select a team to grant access.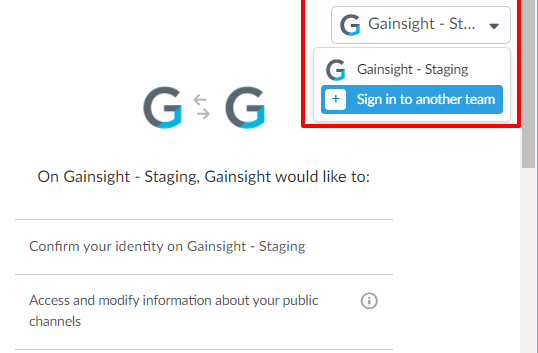 Note: A Slack team can be authorized in only one tenant (Gainsight Org). You cannot authorize a Slack team with more than one Gainsight org. For testing purposes, it is recommended to create a dummy Slack team and authorize it with Gainsight.
Review the information and click Authorize. If authorization is successful, an authorization successful message appears.

After successful authorization, your team will be visible in the Administration > Sally screen.
Hover over your team's name and you will be able to see three options:
Manage Users - click on this option to manage users in Gainsight. You will be navigated to Administration > User Management screen.
Re-authorize - click on this option to re-authorize Gainsight Sally with your Slack team. This option is useful if a Slack Admin's credentials are no longer valid, then a new Slack Admin can use this option to re-authorize Sally.
Revoke - Click on this option to remove access to Gainsight Sally for your team.
Click Manage Users. The User Management screen appears.
This screen shows the list of users that are present in Slack and not added to Gainsight. You can select the users you wish to add to Gainsight and click ADD USER TO GS option to add them to Gainsight.
Navigate to AVATARS > Avatar Type: Slack.
Select your team avatar from the list.
Select users from the screen and click Add Users to GS. The Add Users to Gainsight dialog appears. This dialog shows the number of users to be added to Gainsight and also the number of users already added to Gainsight.
New Users - a new record in GS User object will be created

Users already in Gainsight - users will be mapped to existing Gainsight users.

Conflicting Users - if multiple users exist with the same email ID. A re-map icon appears in this scenario. Admin has to re-map the conflicting users in the 'Users in Gainsight' tab.
Tip: To refresh the list of users from Slack to Gainsight in the User Management screen, click LOAD USERS.
Click OK. After the users are successfully added, the list of users will appear in USERS IN GAINSIGHT tab.
Under the Sally Access column, click the toggle button to enable access for a particular user.
If there are multiple GS users with the same email ID, then a re-map icon appears in the Action column.
Click the re-map icon . The User Mapping dialog appears.
In the User Mapping dialog, select the user you want to map to and click SAVE.
Note: While adding the users to Gainsight, if the system determines that the user has a Gainsight license, then access to Sally is given automatically.
Note
: If you have questions or any feedback about the feature explained in this article, please start a conversation on community.gainsight.com.