Bionic Rules for Account vs. Relationships
Last updated
Bionic Rules can be built for both Account and Relationship levels and support actions based on the option selected.
Action
Account
Relationship
Call to Action ( Create or Update)
Yes
Yes
Call to Action (Close)
Yes
Yes
Load to Usage
Yes
NA
Load to Customers
Yes
NA
Load to Milestone
Yes
No
Load to Feature
Yes
NA
Set Score
Yes


(only for existing customers)

No
Set Score 2.0

*

Yes
Yes
Load to SFDC Object
Yes
NA
Load to MDA Subject Area
Yes
NA
Load to Relationship
Yes
NA
Load to Company
Yes
NA
Success Plans
Yes
Yes
Load to Relationship Related Objects
NA
Yes
Load to Company Person
Yes
No
Load to Relationship Person
Yes
Yes
Load to Scorecard History
Yes
Yes
For general information on Relationships, see Relationships Overview. If you have Relationship types setup in your org, you can also create a rule for a relationship. You must select the appropriate Relationship Type from the drop-down list.
The following image shows the Relationship Type field and the options available in the drop-down list for this field.
All data sources are supported as source objects in the left panel in the Setup Rule screen. Source objects are categorized as:
Relationship related objects
All other objects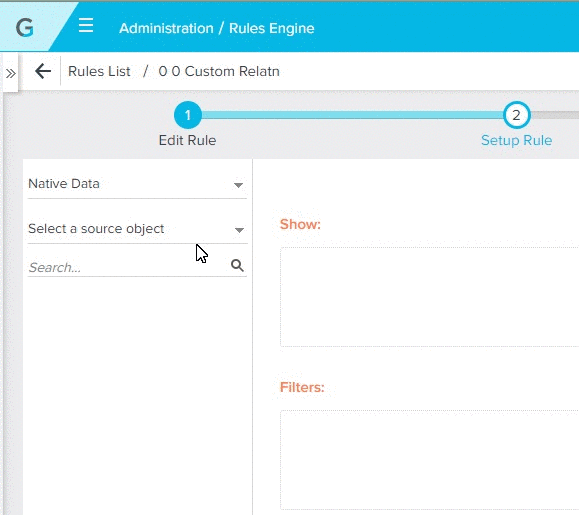 Note: When you set up a Bionic Rule for Relationship Type, key fields related to a particular object are automatically added in the Show area. For example, if Relationship object is selected, Relationship ID and Relationship Account fields are automatically added in the Show section. The fields are dependent on the Relationship Setup.
Additional Resources
The following articles walk you through the basic steps to create a Bionic Rule: