This article walks you through how to add a new report type, to be utilized in Salesforce reporting. This enables you to report on additional Gainsight objects such as Call to Action, Surveys, etc. The below example explains how to create a report on Call to Actions (CTAs).
Creating Custom Report Type
To create a Custom Report Type:
Navigate to Salesforce Setup page.
Navigate to App Setup > Create and select Report Types.
Click New Custom Report Type.
Define the Custom Report Type
In this example, the Primary Object is Customers Info, and in the next step we add Accounts and Call to Action objects.
Note: Under deployment, if you check "In Development", report type is not be visible to all users. Selecting "Deployed" activates the report type.
Define Report Records Set
The three related objects are: Customers Info, followed by Accounts and Call to Action.
Review Custom Report Type
After selecting all of the objects, you can now see an overview of the newly created report type. You can even access fields from each object. To add more available fields for filtering and data points, click Edit Layout, next to Fields Available for Reports.
Fields Available for Reports
From the above view, you can see each object and the associated fields in it. To add additional fields from the lookup objects:
Select the object on the right window.
Click "Add Fields Related Via Lookup".
Click the lookup field in the current object. You can now see the fields from the lookup object.
Select the fields you would like to add and click OK.

Click Save after you have added all the fields. Your Custom Report Type is now created and is ready for use while creating new reports.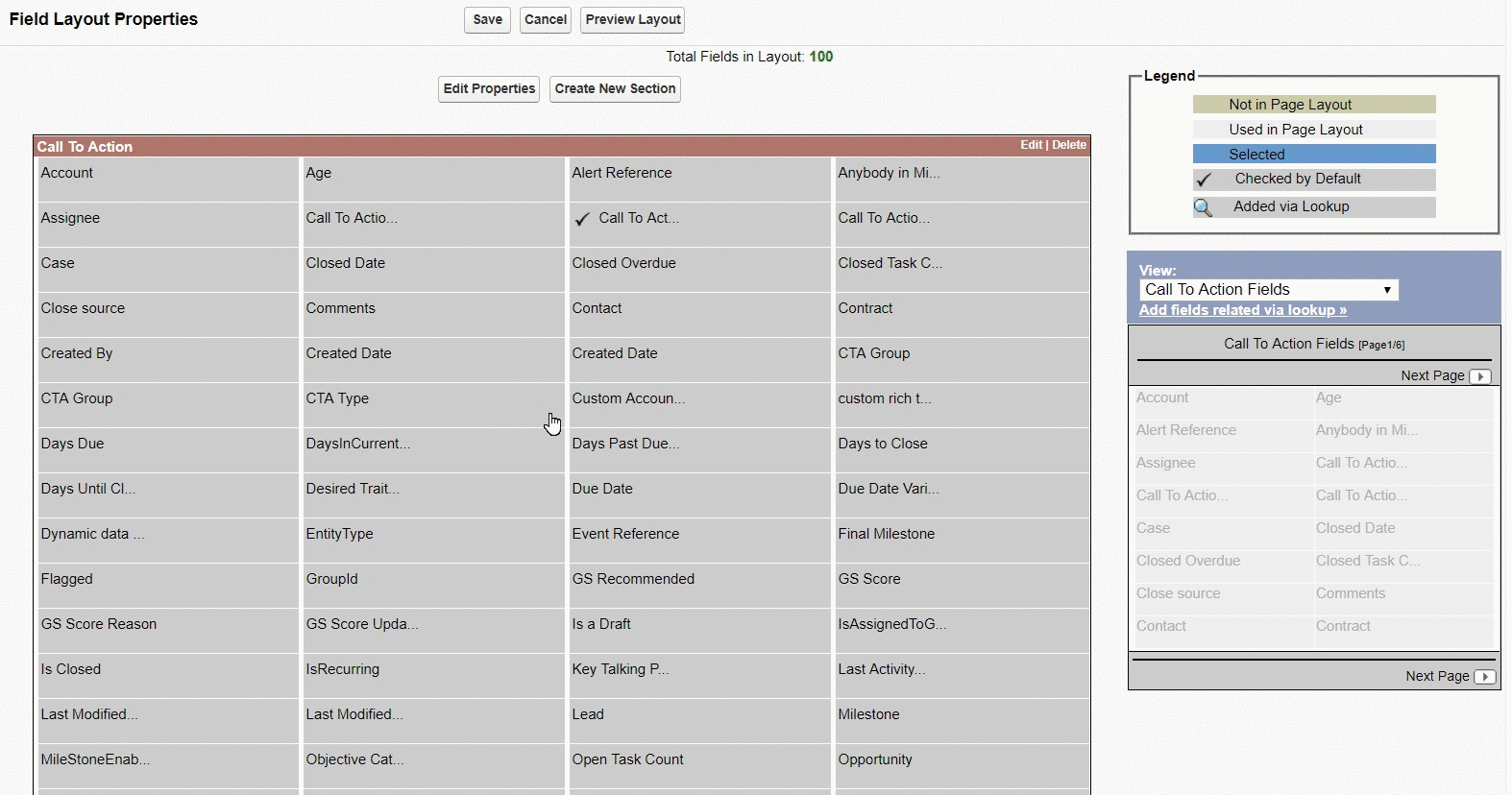 How to Create a Salesforce Report on CTAs
Under the + button in the Salesforce ribbon, click Reports.
Click New Report to create a report.
Select the report type created above (Report type: Customer Info + Accts + Objects + Call to Action).
Drag and drop the required fields from the left menu. In this example, I have chosen: Account Name, Account Owner: Full Name, Call to Action Name, CTA Type Name, CTA Priority, CTA Reason, CTA Status and CTA Due Date.
Note: You can even search the specific fields in the top left search box.
5. Click Run Report to view the results of the report, and export as needed.