Dashboard Permissions (Older Version)
Last updated
Introduction
This article explains how admins can assign permissions to dashboards. All the Gainsight users can view all of the dashboards on Gainsight Home by default. However, Admins can enable/disable user's access to individual dashboards using the Dashboard Permissions.
Important
If your org is > v 5.15, and is upgraded with New Dashboard Permissions, click Dashboard Permissions.
Assign Dashboard Permissions
This section explains about how Admins can configure individual dashboard permissions for users with the Older Dashboard Permissions UI.
To enable Dashboard Permissions,
Navigate to Administration > UI Views > Dashboard Permissions > ON/OFF.
Select ON to enable check box.
Assign Permissions
Navigate to Administration > Dashboard Builder.
Click PERMISSIONS.
Under Dashboard Permissions, by default, Show Dashboard Permissions By is selected to Dashboards and a list of all the available dashboards are displayed.
Note: By default, every user has access to view all dashboards.
Select the check box next to the dashboard if you wish to modify permissions.
Dashboard Permissions by Individual Dashboard
Click View Permissions.
Note: Only users with the Gainsight license are visible in the Configure Permissions window.
Under Configure Permissions, select the users whom you want to grant access to this dashboard.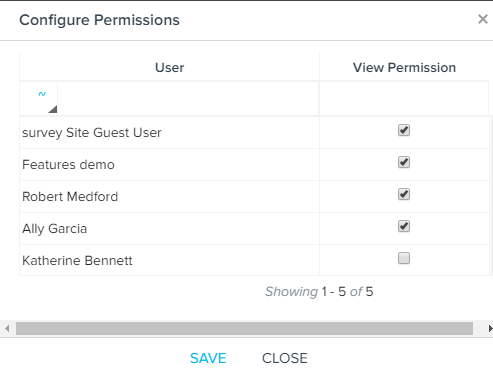 Click SAVE.

(Optional) You can choose to assign dashboard permissions by User.
Dashboard Permissions by User
For the desired user, click on the Dashboards link to display all the available dashboards.
Note: If you are unable to change the selection under View, it's probably because dashboard permissions are not enabled for that particular dashboard.
Select the Dashboard Name you wish to grant access to the user.
Click SAVE.
Limitation:
Permissions must be configured per user; there is no bulk upload option at this time.