Catch-up on Data Management Enhancements
Last updated
March 2020: 6.12 Release
The MDA (Matrix Data Architecture) is Gainsight's proprietary back end infrastructure that serves as the foundation for any instance of Gainsight. From data storage to Gainsight's Rules Engine, the MDA is the invisible layer that Gainsight operates on outside of Salesforce. Gainsight designed the MDA in a very similar fashion to Salesforce, so that we can replicate multi tenancy within our product. Each Salesforce environment in which you have Gainsight installed and active will have its own tenant associated with the MDA.
Create Bulk Dropdown List Items through CSV file
Admins can now create dropdown list items in bulk by uploading a CSV file with the list of items. For example, if an Admin wants to create a dropdown list containing a list of 50 US states, they can be added as dropdown items through a CSV file, into the States category. The CSV file may contain the following headers:
Name (required)
Description
Short Name
Active
Color
Note: Adding Name header in the CSV file is mandatory, but the remaining headers are optional.
For more information, refer to Dropdown List and Multi Select Dropdown List.
Color Assigned to New Dropdown List Category items
When an admin creates a new item in the dropdown list Category, a random color (other than White) is assigned to the item. Also, while creating items using a CSV file, if the item color is not defined in the CSV file, then a random color will be assigned for each new dropdown list item created. Previously, when a new item was created, by default the color White was assigned to the item. This change enhances the visibility of graphical reports on the dropdown list items.
To view this enhancement:
Navigate to Administrator > Data management > Dropdown Lists.
Click any category name.
Click +ITEM and select Add Manually. You can see that a random is assigned to the new item that you are going to create.
Note: In a CSV file, Item color should be defined with a valid Hex code. For example, blue- #0000ff.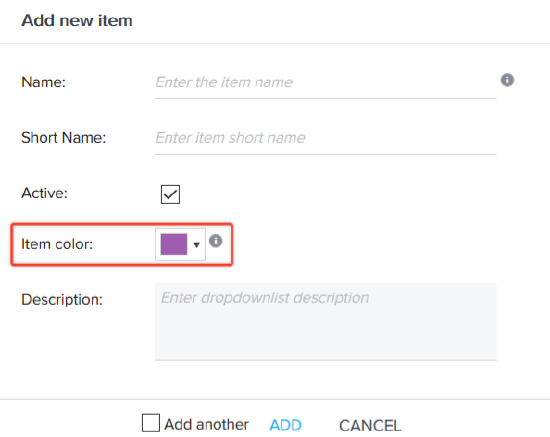 Increased Character Limit for Dropdown Category Name
While creating a new Dropdown Category, Admins can now enter the Category Name with a character length of 3 to 100. Previously, the character limit maximum was 50. For more information, refer to Create a Custom Category.
Increased Low Volume Custom Objects and Fields
Admins can now create a maximum of 100 Low Volume custom objects in an org, from the Gainsight Data Management page, and a maximum of 100 fields can be created in each Low volume custom object. Previously, Gainsight only permitted 50 low volume custom objects and 50 fields in each low volume custom object. For more information, refer to Low Volume Custom Objects.
February 2020: 6.11 Release
N/A
January 2020: 6.10 Release
N/A
December 2019 : 6.9 Release
N/A