Release Notes Version 6.12 March 2020
Last updated
Short on time? Watch this 4-min. video overview to see what's new in the 6.12 release!
Gainsight CS Release Notes Version 6.12 contains the following subsections:
Announcements section describes important changes to the application that are implemented now or will be in the near future.
Enhancements (per module) describe improvements made in the existing product capabilities.
New Components which are introduced and modified in every release.
Permission Sets section contains the list of the updated Gainsight and SFDC permission sets for several features in a release.
Issues Addressed contains issues which were reported by customers and are fixed in this release.
: This symbol indicates that an enhancement originated as a customer suggestion on the Gainsight Community.
Announcements
Browser Compatibility for Gainsight
Background
Gainsight Audience is broadly classified into the following categories:
Gainsight Users: These are registered authenticated users who can login to Gainsight through Salesforce and perform various actions.

Non-Gainsight Users: These users are not registered authenticated users which means these users cannot login to Gainsight. However, they can view some of the Gainsight pages and take a few actions using the links shared by Gainsight Users. For example, the Survey Participant end user page (where participants can submit survey responses), and External sharing end user pages.
Upcoming Changes
At present, the end user pages accessed by Non-Gainsight users with an older version of Internet Explorer (older than IE v11), will display a warning message. Although the warning is displayed, end users may still be able to perform the intended actions.
After May 2020, these end user pages used by Non-Gainsight users will not be supported on an Internet Explorer browser older than IE version 11. The user should open the same page on the latest stable version of Internet Explorer v11, Microsoft Edge, Google Chrome, Mozilla Firefox, or Apple Safari.
Cockpit
Retiring "Gainsight Recommended CTAs"
With this release, we're retiring the "Gainsight Recommended CTAs" feature (more info on this feature). This feature was originally released in the Fall of 2017 and is not widely used, with most users opting instead to create custom filtered Cockpit views. We're removing this feature as part of a larger simplification effort that we are undertaking with regard to Cockpit and CTAs, which is intended to improve the experience for both admins and end users.
Journey Orchestrator
Archive Email Logs and Raw Events Data
In the next release (v6.13), Gainsight will be archiving data for Email logs and Email Raw Events. Only the data from the last one year is stored for logs and the last six months data is stored for raw events. The remaining data will be automatically archived into customers' S3 bucket, where you can still access it.
Success Snapshots
No new Success Snapshot 1.0 templates can be created: With the April v6.13 release, you will no longer be able to create new 1.0 Snapshots. Existing 1.0 Snapshots can still be exported and edited. We have improved the functionality in Success Snapshots 2.0, including enhanced control over the template layouts, better support for your branding elements, and support for slides with multiple content types. Click here to learn more about Success Snapshots 2.0.
Enhancements
Journey Orchestrator
Journey Orchestrator is your center for automated communications. It leverages the power of automation to make your job easier as you communicate with customers at scale. Gainsight enables customer success teams to launch automated emails based on customer attributes such as health score, product usage, survey results and lifecycle stage. Through automation, you can scale customer touches and engage with a growing list of customers often and effectively.
Query Builder Execution History in Programs
Previously, admins were unable to monitor the execution history of the Query Builder source in Programs. As a workaround, you had to create a rule with the same sources to monitor the execution history. However, Gainsight now provides detailed logs for the activities that admins perform while building and fetching data in Query Builder. Apart from logs, Gainsight also provides other details such as execution history of query builder source in programs, status, data flow diagram, and downloading option for the result set.
Beside each Query Builder source in the Participants Configuration page, an Execution History Preview option is added for admins to view the logs, history, status, and flow diagram of the Query Builder.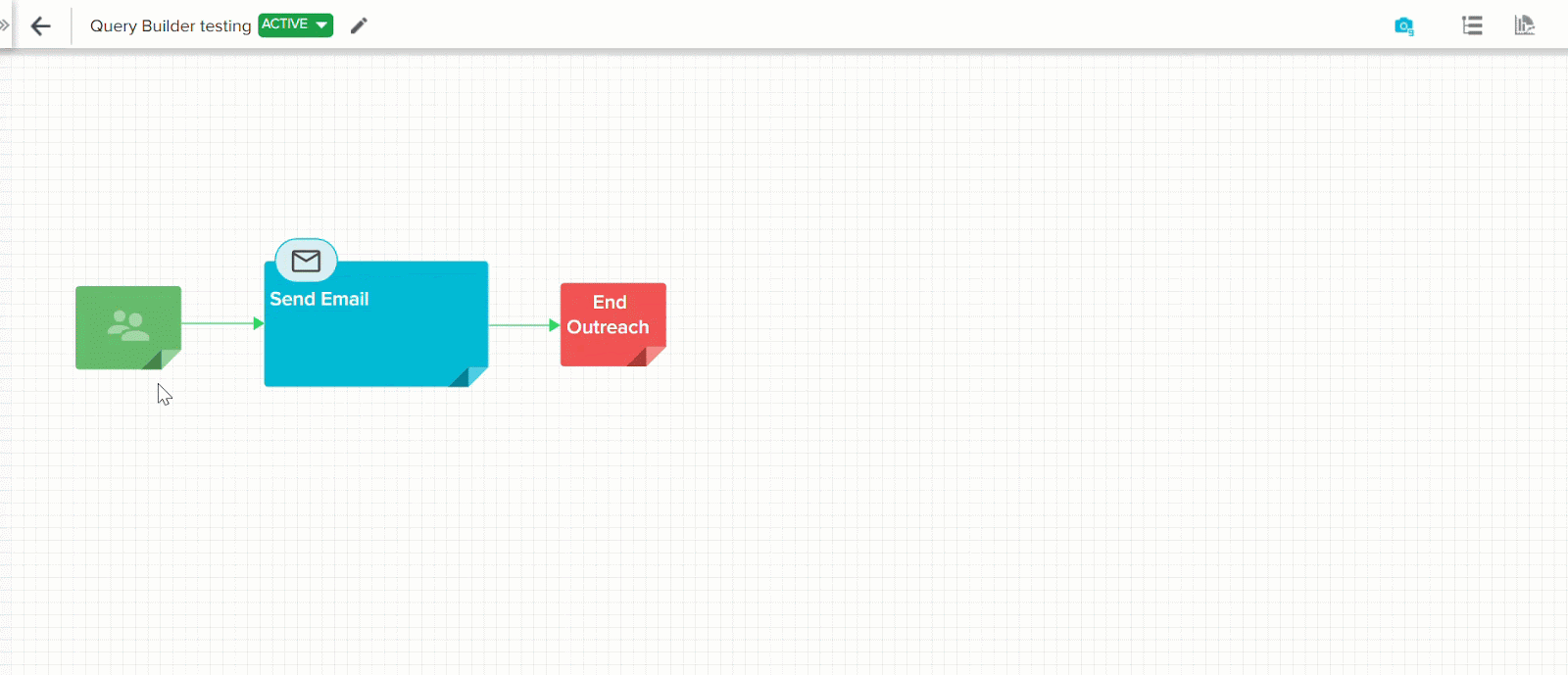 Admins can view the following status symbols as Execution History Preview options:
This status is displayed when the query builder source is successfully executed.

This status is displayed when the query builder source is partially executed.

This status is displayed when the execution of the query builder source has failed.

Admins can click the Execution History Preview option to view the preview of that particular Query Builder source in the following tabs:
QUERY SETUP
EXECUTION HISTORY
For more information on Query Builder Execution History, refer to the Add Participants to a Program article.
People Management
Capture your contacts in an organizational chart to understand the roles and relationships of the people you do business with across your customer base. Explore the org chart to understand who influences whom within a company and drill-into a person for deeper insights.
Add Gainsight Users As Influencers in People Maps
CSMs can now add Gainsight users as Influencers to People Maps from the C360/R360 > Person section > People Map page. This allows you to more accurately identify all of the key sources of influence on a customer, including internal teammates. Previously, only people within the customer's organisation (Company/Relationship) could be added.

Note: If you add Gainsight users to People Maps, they are added from the Gainsight User object.

To add a Gainsight user as an Influencer:
Navigate to any Company or Relationship's C360/R360 page > Person section > People Maps.
Select Add Influencer from any person card's menu. Add Person's Influencer View is displayed.
Select Within Company/Relationship from the Influencer Type dropdown.
Enter the remaining details of the Influencer. For more information, refer to the People Maps article.
Click SAVE.
Note: To add Influencers to a person from the people within your customer's organisation (Company/Relationship), select Within your Organisation.
You can now see all of the influencers on the left pane of the People Maps. These influencers are People from:
Within Your Organisation: your customer's organisation (Company/Relationship) and another Company/Relationship (People)
Within Company/Relationship (C360/R360): Gainsight User
To see the list of Influencers:
Select the Influencers icon from any person card's menu. List of Influencers is displayed on the left pane.
Select either Within your organisation or Within Company/Relationship or All Influencers from the dropdown to see the respective influencers, as listed above.
Note: Gainsight users that you want to add to People Maps can be Active or Inactive in the User Management page. For more information, refer to the User Management article.
Renewal Center
Renewal Center helps quota carrying CSMs and Renewal Managers forecast and manage their book of business. By enriching Salesforce Opportunities with Customer Success insights, as well as calculating a Likelihood to Renew score for each opportunity, Renewal Center enables your team to efficiently manage and predict renewals and related upsell, recognize risks in a timely fashion, and report on key metrics.
Easier Access to the Opportunity Detail View
You can now access the Opportunity Detail view by clicking the Opportunity name. Previously, clicking the Opportunity name took the user to Salesforce.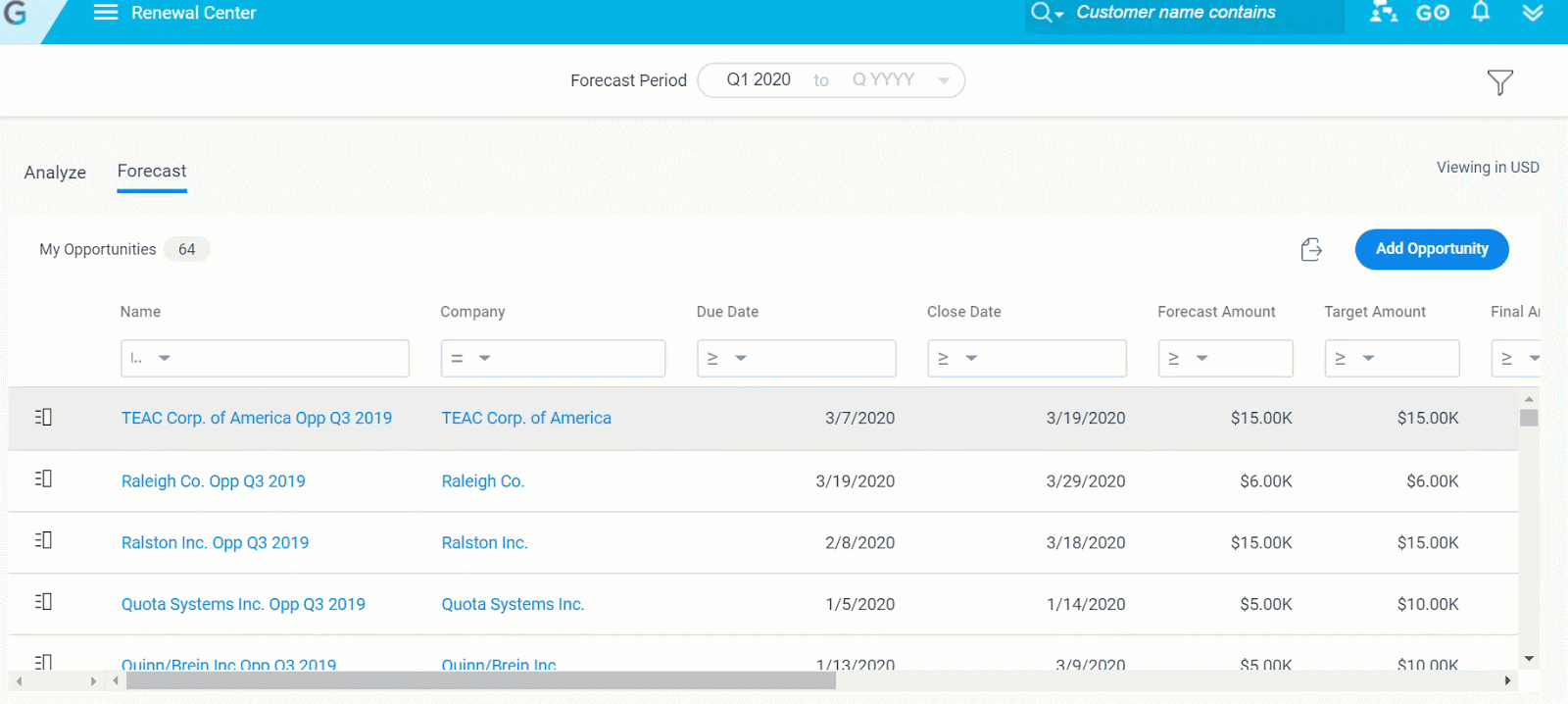 To view the Opportunity in Salesforce, a new View in Salesforce button is introduced in the detail view.
Likelihood Score Explanation
You can now view the factors contributing to the Likelihood Score in the Opportunities At Risk Action card. The Likelihood Score and the associated factors were previously available only on the Forecast page.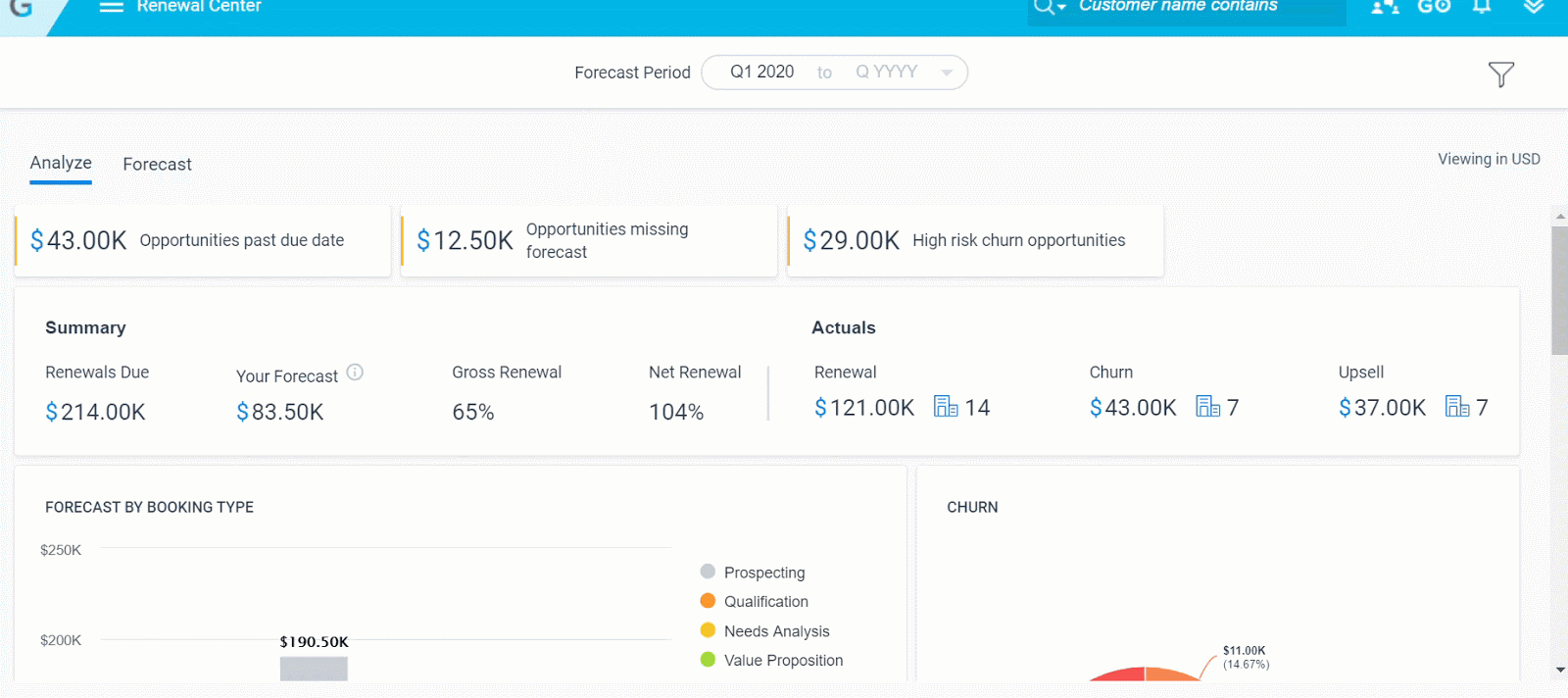 Simplified Configuration Navigation
Renewal Center Configuration has been re-organized to improve clarity and flow for Admins. Some of the configuration items are renamed and some are now nested.
Surveys
With Surveys, you can create highly customized surveys that capture customer insights and transform them into actionable next steps for your organization. You can easily create multi-page surveys with a variety of question types, including multiple choice, matrix, and a standard NPS® question type. Surveys 2.0 gives admins the ability to design and distribute surveys in Gainsight without a dependency on SFDC sites or features.
Survey Source Information in C/R360
In the C/R360 > Survey section, CSMs can now view the Survey source for all surveys that are either published through Gainsight Surveys or imported from external sources, such as SurveyMonkey, Gainsight PX, or Qualtrics.
To view the Survey 2.0 responses in the C360 survey section, Admins must enable the NATIVE_SURVEY_PRIMARY Custom Setting. For more information on how to enable, refer to the Survey 2.0 FAQ article.
Survey Responses Tab
NPS® Responses Tab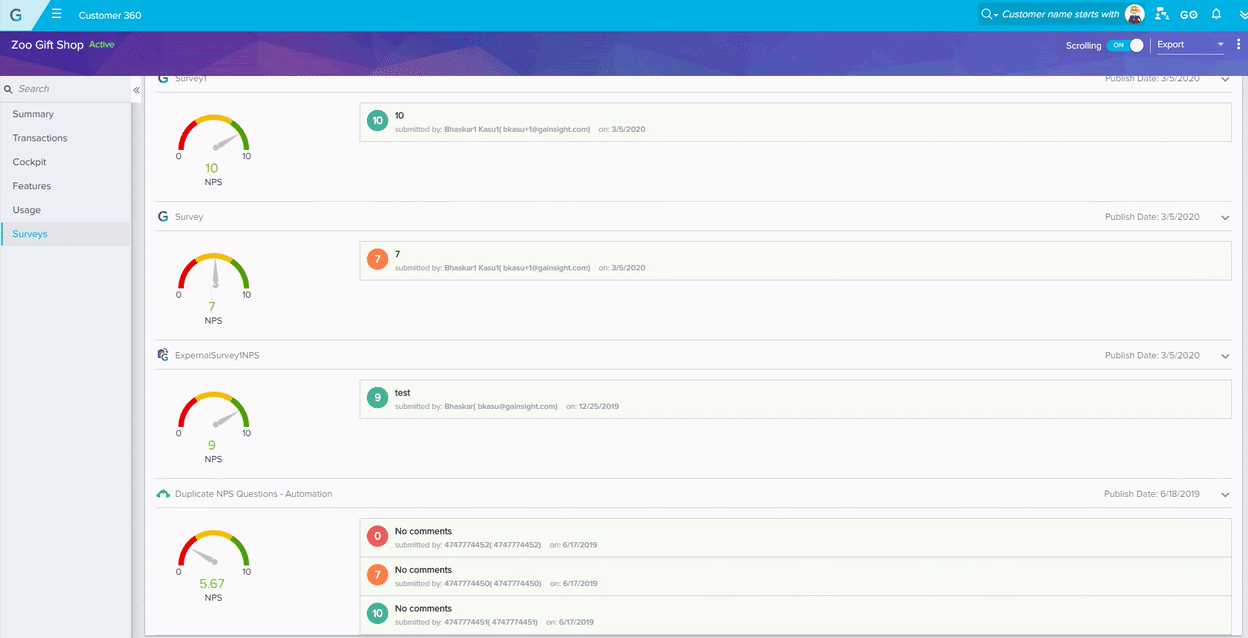 Note: This enhancement is applicable only for Survey 2.0. For Survey 1.0, source information will not be visible.
Data Management
The MDA (Matrix Data Architecture) is Gainsight's proprietary back end infrastructure that serves as the foundation for any instance of Gainsight. From data storage to Gainsight's Rules Engine, the MDA is the invisible layer that Gainsight operates on outside of Salesforce. Gainsight designed the MDA in a very similar fashion to Salesforce, so that we can replicate multi tenancy within our product. Each Salesforce environment in which you have Gainsight installed and active will have its own tenant associated with the MDA.
Create Bulk Dropdown List Items through CSV file
Admins can now create dropdown list items in bulk by uploading a CSV file with the list of items. For example, if an Admin wants to create a dropdown list containing a list of 50 US states, they can be added as dropdown items through a CSV file, into the States category. The CSV file may contain the following headers:
Name (required)
Description
Short Name
Active
Color
Note: Adding Name header in the CSV file is mandatory, but the remaining headers are optional.
For more information, refer to Dropdown List and Multi Select Dropdown List.
Color Assigned to New Dropdown List Category items
When an admin creates a new item in the dropdown list Category, a random color (other than White) is assigned to the item. Also, while creating items using a CSV file, if the item color is not defined in the CSV file, then a random color will be assigned for each new dropdown list item created. Previously, when a new item was created, by default the color White was assigned to the item. This change enhances the visibility of graphical reports on the dropdown list items.
To view this enhancement:
Navigate to Administrator > Data management > Dropdown Lists.
Click any category name.
Click +ITEM and select Add Manually. You can see that a random is assigned to the new item that you are going to create.
Note: In a CSV file, Item color should be defined with a valid Hex code. For example, blue- #0000ff.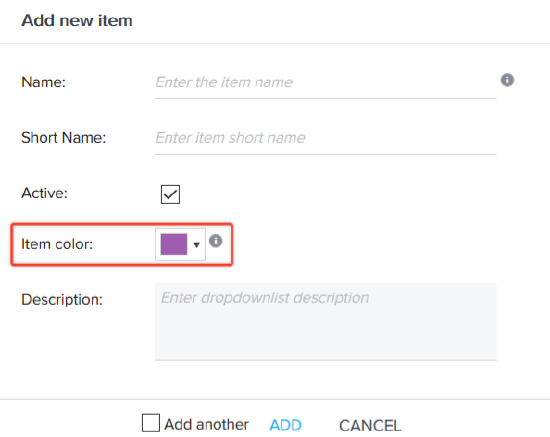 Increased Character Limit for Dropdown Category Name
While creating a new Dropdown Category, Admins can now enter the Category Name with a character length of 3 to 100. Previously, the character limit maximum was 50. For more information, refer to Create a Custom Category.
Increased Low Volume Custom Objects and Fields
Admins can now create a maximum of 100 Low Volume custom objects in an org, from the Gainsight Data Management page, and a maximum of 100 fields can be created in each Low volume custom object. Previously, Gainsight only permitted 50 low volume custom objects and 50 fields in each low volume custom object. For more information, refer to Low Volume Custom Objects.
Sandbox Management
Gainsight Sandbox Management provides the tools needed to manage your Gainsight Sandbox. A Sandbox is a copy of your production org, used for testing the latest features and functionalities that Gainsight has introduced with new versions.
Create New Sandbox
Admins can now create a new Sandbox from the Sandbox Management page. Earlier, Admins had to contact Gainsight Support to create a new Sandbox. A new Sandbox can only be created if you have available Gainsight Sandbox licenses.

A new option +Sandbox is introduced to create new Gainsight Sandboxes from the Administration > Sandbox Management page. For more information, refer to the Sandbox Management article.


To create a new Sandbox:
Navigate to Administration > Sandbox Management.
Click +Sandbox.
Enter the Salesforce Sandbox Org ID, to which you want to connect from the Gainsight Sandbox.
Click Ok in the confirmation message.

Note: If you want to purchase new licenses for Sandboxes, contact your Gainsight CSM.
Success Snapshots 2.0
Success Snapshots enables admins to generate PowerPoint presentations with customer data and graphs from Gainsight, using your own customized presentation (business review deck) uploaded to the Success Snapshots repository, which helps CSMs run their customer meetings (such as EBRs and QBRs).
Retain configurations in existing Snapshot
Success Snapshots 2.0 is now enhanced with a new feature called Update Snapshot. With this feature, the existing configuration is retained when the associated PPT is updated with new content.
Use Case: For instance, you might have spent a lot of time configuring a snapshot with reports and tokens. And now, you may want to update the same snapshot with a recently edited PPT from your local folder. With this enhancement, you can replace the PPT without losing the existing configurations in the snapshot.
To use this enhancement:
Navigate to Administration > Success Snapshots 2.0. You can see the list of existing snapshots.
Hover on the required snapshot you wish to update and click Edit.
Click Update Snapshot. Update Snapshot window appears.
Click Browse and select the updated PPT.
Note: You can also download the existing PPT from Success Snapshots 2.0 and make changes in your local folder, and upload the PPT back to Success Snapshots 2.0.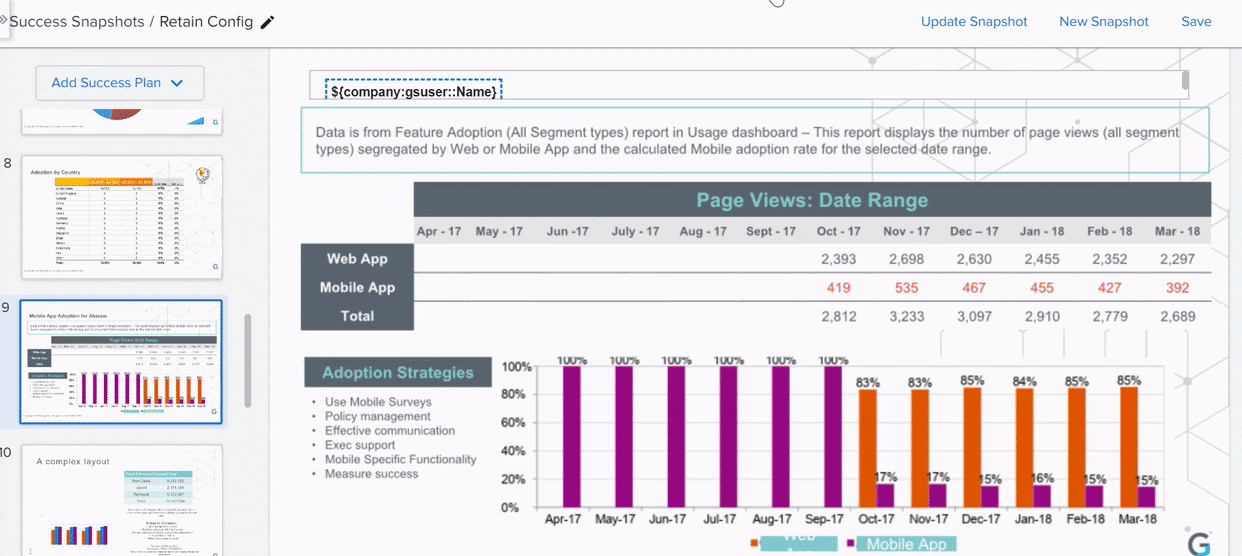 Important:
If you have cloned a slide in the snapshot, ensure that you don't delete the parent/original slide, otherwise you may encounter an error while uploading the PPT.
Assume, a CSM has downloaded a 20 slide snapshot from Success Snapshots and deleted 2 slides and added 1 slide and then uploaded back to Success Snapshots using Update Snapshot feature. Here, the already configured 18 slides will retain the configuration, and only the one new slide needs configuration and there is no impact because of the 2 deleted slides.
Activate the Success Snapshot
In Success Snapshots 2.0, a new toggle called Active is introduced using which admins can activate or deactivate a snapshot. By default, the Active toggle for a snapshot is off because admins consume a lot of time configuring a success snapshot, assume if the toggle is ON before the snapshot is finalised by admins, CSMs in the meantime can unknowingly download the snapshot which is not configured completely. To overcome such situations, toggle is off by default and once the snapshot is configured completely, admins can Activate the snapshot, and then CSMs can download it from the 360 page.
Notes:
By default, all the existing snapshots are marked Active.
The snapshot can be seen on the 360 page only if you Activate it on the Success Snapshots 2.0 listing page.

Rules Engine
Rules Engine is designed to improve your underlying customer data to produce superior customer outcomes. It can perform powerful multi-step, in-memory data transformations for large datasets in Gainsight within one rule. Transformations include aggregations, multi-dataset merges, formulas and time-series calculations; helping your team to better identify meaningful data signals.
OAuth 2.0 Authorization
Gainsight Custom Connectors now use Oauth 2.0 as an authorization method to establish a connection to an external application. OAuth 2.0 is a protocol that allows a user to grant secure and limited third-party access to their assets without having to expose their credentials.
When you create a connection to an external application, you can now select Oauth 2.0 as the authorization method to establish the connection and then setup parameters for this authorization mechanism.
Business use case:
A user wants to create a rule to post a message to Slack when high revenue customers give a low NPS® score. The user is reluctant to provide his Slack login credentials to Gainsight. With this enhancement, he can leverage Oauth 2.0 authorization to securely call external API to trigger this action.
To use OAuth 2.0 authorization:
Navigate to Administration > Operations > Connectors 2.0.
Click Custom Connector.
Click Create Connection. The Create a Connection window is displayed.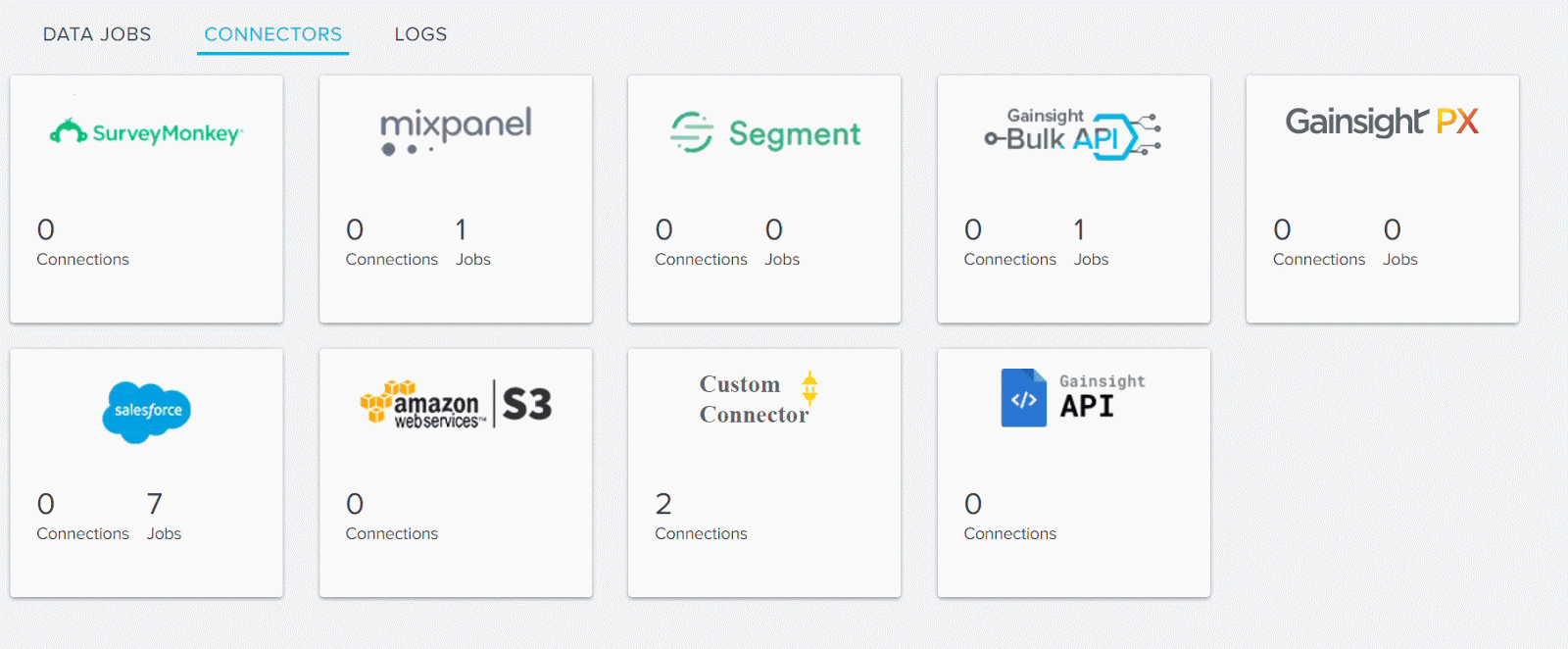 Perform the following tasks:

In the Connection Name field, enter a name for the connection.
From the Authorization Type drop-down menu, select either Oauth 2.0 Authorization.
Configure the following fields:
Content Type: Select the content type that is compatible with the external authorization provider.
Authorization URL: Provide the authorization URL that is given in the external API documentation.
Access token URL: Provide the access token that is given in the external service API documentation)
Client ID: Provide the Client ID from the external application.
Client Secret: Provide the client secret from the external application.
Scope: Provide the permission scopes of the connection. The permissions represented by the Access Token, in OAuth 2.0 terms are known as scopes.
Now you can create an external action with the connection.
Issues Addressed
Connectors
Unable to download failure records file: Previously, Users were unable to download Failure records file in the Connectors 2.0 > LOGS page. This issue is now resolved and Users are able to download the Failure records file.
Unable to access API key for Gainsight API Connector:

Previously, when an API access key was created from the Connectors 2.0 > Gainsight API Connector, Admins could not retrieve API access key from the Gainsight API Connector. This issue is now resolved and Gainsight Admins can retrieve API access key at any time.
Rules Engine
Incorrect Values Displayed in S3 Export File: When you export data from Gainsight to S3, the exported file displayed GSID values for all the drop-down fields and not the actual drop down values. This issue is now resolved and the exported file now displays the right values.
NPS, Net Promoter, and Net Promoter Score are registered trademarks of Satmetrix Systems, Inc., Bain & Company and Fred Reichheld.