Release Notes Version 5.16 July 2018
Last updated
Gainsight Release Notes Version 5.16 contains the following subsections:
Notifications section describes important changes to the application that are implemented now or will be in the near future.

Enhancements (per module) are about the improvements made in the existing product capability to a totally new capability.

New Components which are introduced and modified in every release.

Permission Sets section contains the list of the updated Gainsight and SFDC permission sets for several features in a release.

Issues Addressed section contains issues which are fixed in this release and also issues reported by customers.

Known Issues section contains a list of issues whose cause have been identified and cannot be fixed at the time of current release; but most of the time these issues have useful workarounds.
Notifications
Survey Links
Survey 1.0 issue (broken links) can be resolved with the latest Salesforce update: Enable the Allow topics in Salesforce Sites and Portals option from Salesforce Setup > Chatter > Chatter Settings for the guest and authenticated external users to have access to the topics in Salesforce Sites and Portals.


Note: If your org was upgraded to the SFDC Summer 18 release, you may face this issue (such as broken Survey Links, etc.). The Allow topics in Salesforce Sites and Portals option will be available for you to select on/after July 19th when Salesforce will implement the permission on the Topics object in their production org.

Impacted areas:
Survey 1.0 (Breaking in the area where response is captured.)
CoPilot > Outreaches > Survey
CoPilot/Advanced Outreach
CoPilot and Advanced Outreach name change: CoPilot is renamed Journey Orchestrator and Advanced Outreach is renamed Programs. The name changes for these features will be visible throughout Gainsight and will not affect the functionality of these features. The names of the data objects associated with these features have not changed.
Rules Engine
In Rules > Setup Action > Action type dropdown list, Load to MDA Subject Area is now renamed Load to Gainsight Object.
*Custom Rule deprecation plan*: After Gainsight's October 2018 release, all new rules must be created as Bionic Rules. Your existing custom rules will continue to run and still be editable. Although Gainsight is developing a utility to migrate custom rules to Bionic Rules, we recommend that Admins begin reviewing their custom rules to look for opportunities to combine multiple rules into single Bionic Rules. You'll have plenty of time for this process which is outlined in this FAQ.

Please see this series of articles for assistance in creating Bionic Rules. We also offer a free e-learning course on Bionic Rules.

If you aren't familiar with Bionic Rules, watch this 2-min. video to learn how they're more powerful than custom rules, but not that different in terms of how to configure them!
Enhancements
Components Introduced and Modified in 5.16 Release
The following objects are introduced:
CSTask__c.object

CTA__c.object

SurveyResponse__c.object
Permission Sets updated in 5.16 Release
With every new release, the Gainsight and SFDC permission sets are updated for several features to give access to new objects, fields, apex classes, and visualforce pages. The following table lists the components for which the Admin, Standard, Limited, and/or Special permission sets are updated in this release.

Permission Set Label
Permission Set Name
Description
Gainsight Admin
Gainsight_Admin

Has:
*Read and write on all GS objects and fields (including the customerinfo field)

*Access to all Gainsight objects (except dataload config)

Assign to admins, e.g CS Ops or Success Designers.

Gainsight Limited

Gainsight_View_Only

Has:

* Read access to all Gainsight Objects and Fields (including Customerinfo Object)

* Access to all Classes

*Only widget pages (Account, Opportunity, Cases etc)

* No tabs

Gainsight Special
Gainsight_Special

Has access to one visualforce page related to data load configuration.

Assigning to the user who can decide which objects can be used in Gainsight's Rule Load Action page.

Gainsight Standard
Gainsight_Standard

Has:

* Read and Write on all GS Objects and fields (Customerinfo field on Account)

* Access to all Gainsight pages (except admin), classes, components and tabs.

Assign to CSM type who would not administer GS
Issues Addressed
Programs (formerly known as Advanced Outreaches)
Programs Listview Displayed Incomplete Filter Results: Previously, when certain filters in the Programs list view were applied, only the top 10 results would display, even if more results were available. This has been resolved by enhancing filter functionality.

Note: Your org must have more than 10 Programs of any type to see the enhancement.
Activity and Timeline
Grammatical error on UI has been corrected: Previously, activity type with the name 'Use Case', that is the "Log an Use Case" option had grammatical error (wrong usage of article) in it. This is now fixed.
Scorecard
Gainsight Account Widget was showing incorrect Scorecard: Previously, when you logged in, the correct Scorecard was shown in the Gainsight widget, but when you tried to switch between relationships of an account, it was not changing the corresponding scorecard after you refreshed the page.
Unresponsive Set Aggregation button in Usage Configuration: Previously, the Set Aggregation button was not functioning in the Administration > Usage Configuration page. This issue is resolved and you can now click the button to access the Column Aggregation Type dialog box to set the aggregation.

Unable to apply filter for NULL values while excluding NA values: Previously, Habits and standard reports on History/Snapshot were throwing the following error: "Error occurred while fetching data from external service." when you applied scorecard name filter (A) and adoption !=null (B) in filters. In changing filter order for adoption != null as filter (A), you got the results. But, when you added scorecard name as filter (B), the first filter was removed and the scorecard name was shown as filter (A). This issues is now and filters are working properly as expected.
Account Scorecard History showed duplicate dates when the Setup Action > Action Type was selected as Load To Scorecard History: Previously, when you created Bionic Rules with the source object selected as Account Scorecard History in Matrix Data, Load to Scorecard History as Action Type and used upsert operation, the rule was successful but there were duplicate values created in Account Scorecard History. When you built a report on the same object, the duplicate values were observed in the Report Builder as well. This issue is now resolved.
Customer 360
Grammatical error on UI has been corrected: Previously, when you created an activity type from Customer 360 > Timeline with the name 'Use Case', the option in the +ACTIVITY dropdown showed as "Log an Use Case" which is wrong.(wrong usage of article). This is now fixed. 'Log a/an' is now removed from all the options and only the Activity Type names are listed in the dropdown list.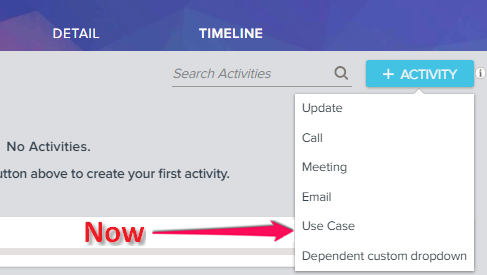 Widgets checkboxes get unchecked for summary section after reloading page: Previously, when you edit configuration of the Summary section in C360 Layouts > Layout Configuration and save, the widgets were unchecked automatically in reloading the page. This issue is now resolved and the enable/disable checkboxes are working properly as expected. Refer the following image.
Survey
Error Message Displayed on Survey Page: Previously, the error message, "An exception occurred while trying to retrieve the surveys," would display when users would attempt to access the survey page if there were more than 100 jobs running in the background of their org. This issue has been resolved, and the survey page now displays regardless of the number of jobs running.
Survey failing to preview when 6 conditions are added in display rule: Previously, surveys would not display a preview when six conditions were added in a display rule for survey questions. This has been resolved, and surveys now preview as expected.
Picklist field not displaying values: Previously, fields with the datatype picklist were not displaying any values in the set CTA section of Relationship type surveys. This issue has been resolved, and the values are now displaying as expected.
Opt-out messages displaying for opted-in participants: Previously, the message, "Selected participants are opted out email communication," would display for certain participants who were not opted out of communication. This has been resolved, and this message now only displays when participants have opted out as expected.
Connectors
S3 Connector Authorization failed: Previously, the error message "Failed to Setup S3 Connector" would display when users would attempt to authorize themselves in the S3 connector. This issue is now resolved and you can now successfully authorize yourself with the S3 connector.
Data Jobs in the S3 execution Logs were out of order: In the S3 Connector execution logs, S3 execution history does not show the data jobs in the order of the time they were executed because of this all the data jobs are not in a specific order. This issue is resolved now and you can see the data jobs in the order of their time of execution.
Search field in an Object page does not show all characters: Data Management > Schema Tab > Search field doesn't show all characters while typing the search word in all the columns. This issue is now resolved.
Rules Engine
Rule Migration Failure: Previously, when the Cross Org Migration tool was used to migrate the Rules, the rule migration failed, if the reference fields were not used in the Rule Show section. This issue is now resolved and you can successfully migrate rules using the Cross Org Migration tools.
While applying a Pivoting condition in a Bionic Rule Pivot task, if a field of long text is selected in any dropdown, another field label in the screen is either missing or trimmed. This issue is now resolved and Pivoting is working as expected.
In the Load to Company Person action type, in the field mappings, when you tried to load values into the target fields of data type Date and Dropdown list, the values are not loaded. Loading values into the target field of data type Date from the existing field was also failed. These issues are resolved now and the action type is working as expected.
If there is a field having self lookup to ID field in an object (Relationship), that field is added to Show section in the Setup Rule page automatically. This field is considered as Relationship resolvable field even after adding Relationship: Id manually into the setup Rule page and results into not showing all action types in the Setup Action page.
Journey Orchestrator (previously known as CoPilot)
Log to SF Activity from Outreach Failed: Previously, the Log to Salesforce Activity feature for certain outreaches failed due to NullPointerException. This has been resolved, and activity is logged as expected.
HTML not honoring Table tag correctly in GS Email template: Previously, when a table tag was included in the HTML code, and it was added to a GS Email template, the style did not display correctly. This has been resolved, and style of the tag now displays as expected.
Power list not pulling the data: Previously, when running a power list with multiple account lookups, the data is not pulling as expected as per the selected account lookup. This has been resolved, and data is now pulling as expected.
Unable to view long field names in Outreach filters: Previously, it was not always possible to view long field names when they were selected in an Outreach filter. This has been resolved, and there are now options to view long fields names when selected.
Resizing image issues in CoPilot Email Templates: Previously, images in a CoPilot Email Template would not resize correctly or resize at all. This has been resolved, and it is now possible to resize an image within a CoPilot Email Template without issue.
Shared 360
MDA Widgets were not working in External Sharing: There was an error found in the shared layout as MDA widget report was not appearing here correctly but it was visible in preview. The same issue was observed in Gainsight 360. This issue is now fixed for both Shared360 and also Gainsight 360.
Known Issues
Survey
Incorrect button displaying in Surveys 2.0 Properties tab in IE: When navigating from other Surveys 2.0 tabs to the Properties tab, the blue plus icon and the blue checkmark icon displayed in the other tabs will display in the Properties tab. This button will also sometimes appear in the Properties tab when after clicking on a survey from the survey list view. The button does not normally display in this tab. This issue is occurring in Internet Explorer.
Icon used in this Doc
Description
This symbol indicates that an enhancement originated as a customer suggestion on the Gainsight Community.

If you have feedback or questions on the Release Notes, please share them on community.gainsight.com.