Release Notes: Version 4.13 September 2014
Last updated
Version 4.13 release of Gainsight includes the following new features and updates:
Gainsight Mobile
Customer 360 Summary Updates
Rules Engine Updates
Cockpit Updates
Cockpit Migration Tool
Default Permission Sets
Gainsight Mobile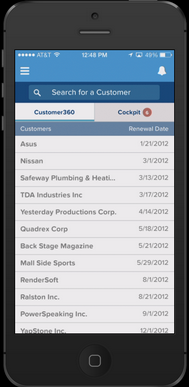 Availability
Gainsight mobile is currently available to Transform customers. Gainsight mobile is accessed through the Salesforce1 app, which can be downloaded for free to your phone from the app store. Please contact your CSM to discuss enabling Gainsight for Salesforce1.
Supported Devices
Salesforce1 works across iPhone and Android devices. The Gainsight app is optimized for a phone experience – it will work on tablet but visually hasn't been optimized for the larger screen.
Why Mobile?
Customer success can't wait! CSMs, Account Managers, and Executives need quick customer information while on the go – heading to a customer meeting, traveling, meeting customers at conferences, juggling a busy schedule. With limited time and many customers, CSMs and AMs also need to quickly see if key customers are in trouble.
Capabilities
Customer 360 Summary
Account Stats - Renewal Date, Stage, Lifetime, ARR
Scorecard - View and edit overall comments; view and edit component scores
Engagement Chart - View engagement data and milestones
User Level Data - If Segment.io or Mixpanel is enabled, see your most active users and more commonly performed events
NPS® - This section is displayed only if NPS® is enabled in the Administration > C360 Sections, and there is at least 1 response. The summary number displayed is the average rating for the most recent NPS® survey. Drilling in shows responses for that survey.
Support Cases This section is displayed only if enabled in Administration > C360 Sections and the standard case object in Salesforce is being used. The number displayed is the number of open support cases. Drilling in shows brief details about each open ticket.
Customer 360 Timeline A timeline of all Milestones and CTA's
Cockpit
Browse all open CTAs that you own
Browse open CTAs that you own for a specific customer
Edit and add comments to a CTA or task. Comments can be added in a general text area, or as Chatter comments
Add tasks to a CTA
Lifecycle Management Actions On the Customer360 Summary screen, a blue plus sign at the bottom of the screen can be tapped to quickly log a Milestone.
Customer 360 Summary Updates
Customer 360 has been updated to include a new and improved summary section. The summary section is visible in Customer 360 Tab, Account Widget and Opportunity Widget. In this release you are now able to configure what shows in the summary section. You will automatically see the new summary section once your org has been updated to Gainsight Version 4.13.
Configuration
To configure this section to meet your needs you will:
Click on Administration
C360 Sections
Click Edit next to Summary
To learn more about configuration options, see Customer 360 Summary Section Configuration.
Rules Engine Updates
The following enhancements have been added to the Rules Engine.
To learn more about the Rules Engine, see Rules Engine List View, Timeline View, Rule Chain View and Navigation.
Set Score Action
Set score on both Engagement and Custom Rules
When running a rule in test OR live mode you will receive an email with a spreadsheet attached which details the scores that were updated or would be updated on the rule run. The spreadsheet will show the old score, new score and the trend along with the colors selected in the grading scheme.
Email Enhancements
Email is sent on actual run of the rule, earlier it was sent only on test runs. No email is sent for scheduled runs.
Account names have taken the place of Account ID in the attached spreadsheet
When running a rule in test OR live mode you will receive an email with a spreadsheet attached which details the scores that were updated or would be updated on the rule run. The spreadsheet will show the old score, new score and the trend along with the colors selected in the grading scheme.
Support for Switching Scorecard Grading Scheme
If you change the grading scheme in the scorecard admin screen, you can expect the changes to be reflected all through the product including the rules in rules engine.
Add Playbook in Custom Rules
We have added the ability to add playbooks when you create a CTA action. Once you pick the CTA type, you will see the playbook option enabled and the dropdown will be populated with the available playbooks in that type.
If there is a CTA that already exists with the same criteria ( Priority, Status and Reason) then the playbook won't be added/modified even if there is no playbook associated with the previously existing CTA.
User Locale Date/Time
All user facing date/time setting now utilize the user locale setting that is set in SFDC.
Oauth Authorization
When you land on schedule screen in Rules Engine and you have not authorized Gainsight app with Oauth permissions, then you will see the following screen.
Cockpit Configuration Updates
In this release the following options have been added to the Cockpit Configuration. To access this section you will:
Go to the Administration Tab
Click Cockpit Configuration
To read a full overview of Cockpit Configuration click here.
Auto Sync Tasks with SFDC
In Cockpit all tasks are added in Gainsight and optionally tasks can be synced to be shown in SFDC using the the sync option in the summary view. If you want all the tasks to be automatically synced to sfdc, turn on 'Auto-sync task to SFDC' option. This will not automatically sync or un-sync all the existing tasks and this settings will apply only on a go forward basis.
For the Sync functionality to work correctly make sure all the task priority and status values between Gainsight and SFDC are done and also the default values should be set.
Snooze Calls to Action
You can now:
Define a reason when Snoozing a Call to Action
Set a Default Snooze Reason
Note: If a CTA is snoozed, no new update will be made on the CTA form rules engine. Snoozed CTA's will not be visible in the list by default, to view Snoozed CTA's click on the Show Snoozed CTA's icon from the quick filters in the top right corner.
Definition of New
In the General Settings section, you can now set Definition of New which will determine which CTA's show as new. Options include Today, Last 7 Days, Last 30 Days, This Week or This Month.
Other Cockpit Updates
Creating Milestones from Calls to Action
Quickly convert a Call to Action into a Milestone to visualize the impact on customer usage. From the detail view of a CTA, click on the milestone icon to create a 'Risk Identified', 'Opportunity Created' or 'Event Created' milestone for a Risk, Opportunity, Event type CTA respectively with the date the CTA was created. Once the CTA is closed a corresponding 'Risk Resolved', 'Opportunity Won' or 'Event Completed' milestone is created.
Replace Playbook
After a playbook is applied to a CTA, we can replace that playbook with another. While replacing a playbook, all the existing open tasks created from the previous playbook will be deleted.
Chatter Post from Rules Engine
If Chatter is enabled, all posts from rules engine will be added as a post to the corresponding CTA.
Note: Updates from Survey responses will not be posted to Chatter. This is currently a limitation.
Reporting on Calls to Action
You can now go to Administration > UI Settings to create a new UI View based on Calls to Action. These views can be used in Gainsight Home reports. To learn more about this click here.
Cockpit Migration Tool
Gainsight now offers a guide tool to make converting from Action (Alerts and Events) to Cockpit (Calls to Action) easy! To inquire about using the new migration tool please reach out to your CSM.
Default Permission Sets
3 Default permission sets are now included in the Gainsight package:
Gainsight Admin - This permissions set would have access to all Gainsight Objects(ViewAll, ModifyAll), Class & VF Pages.
Gainsight Standard - Access to all the Gainsight classes, VF pages except admin pages(i.e. Administration, Usage configuration etc..) & all objects with Read, Create, Edit, Delete.
Gainsight View Only - Access to only widget's, service cloud pages, mobile app pages & Read only permission on all Gainsight objects.
To learn more about the default permission sets click here.
NPS, Net Promoter, and Net Promoter Score are registered trademarks of Satmetrix Systems, Inc., Bain & Company and Fred Reichheld.