Overview of Relationship 360 Details
Last updated
Overview
This article explains the contents and purpose of the various sections typically included in the Relationship 360 (R360) DETAILS page. The DETAILS page gives you a 360-degree view of your Relationship in one place - various products sold by your customers, People associated with different products, Health score for relationship etc. To access the Relationship 360 view, click the Relationship name hyperlink from Relationship section of the C360 page. To learn more about the 360 Timeline view, refer to Use C360 or R360 Timeline to Log Activities.
Header section in R360
The various items available on the Global header section R360 page are displayed in the image below
Customer Name
Relationship Name
Search bar to quickly find a section in R360
Scrolling bar switch: If this switch is turned off, scrolling is disabled. You need to manually select each section from the left pane.
Export menu: You can use this menu to export the current view of R360. The logged in user receives the exported file.
Sections in R360 page
Admins can configure different sections on a R360 Details page using Configure R360 Page and Section Types. The sections that an admin can configure are:
Summary
Embed Page
Success Plans
Surveys
Cockpit
Milestones
Sponsor Tracking
Scorecard
Scorecard 2.0
Person
Note: If an admin does not configure any of the sections, you cannot view it on the Relationship 360 page. Apart from the above sections, an admin can also configure Associated objects to be displayed on the R360 page.
Summary
In the summary section, you will see current contract values and important dates and data including:
Status Gainsight field with options of Active or Inactive
Industry Salesforce Account field
Stage Gainsight field used to track the stage such as Go Live, Implementation, etc..
Comments Gainsight field used to add important notes about the customer.
You can add a maximum of 6 fields in the left pane of the Summary section. For example, you can add the following fields in the left pane of the Summary section:
Orig. Cont. Date
Renewal Date
Lifetime in Months
Days to Renew
ARR MRR
One-time Rev
ARPU
Users
NPS® Score - depending on the configuration of this section within the C360 layout, this score might be displayed as an average of all responses to the survey, or the 'actual' score that has not been calculated as an average.
Click Edit to make changes to the following data:
For more information on how to configure the Summary section, refer to the Customer 360 Summary Section Configuration article.
Success Plans
Success Plans help CSMs monitor and drive success with individual customers based on objectives and criteria that you define. With Success Plans, a new Call to Action (CTA) type is introduced called Objectives. Success Plans may be composed of one or more Objective CTAs, and may include associated Tasks, either manually created or applied through Playbooks. For more information on success plans, refer to Create Success Plans in the R360.
Surveys
The survey section includes two tabs that display survey data that was collected using the NPS® methodology:
NPS® Responses Displays aggregated customer ratings using the NPS® methodology
Note: Depending on the configuration of this section within the C360 layout, this score might be displayed as an average of all responses to the survey, or the 'actual' score that has not been calculated as an average.
Survey Responses Displays User-specific with a link to the actual survey responses
To learn more about Surveys check out the article NPS® Analytics.
Cockpit
Cockpit is a replacement for Retention/Actions. In the Cockpit section you will see all of your Calls to Action (CTA) for a particular customer which could be a combination of Events, Opportunities and/or Risks. You can view open and closed CTAs in this page. These CTA's can be added manually or can be triggered based on business rules to warn of issues or flag opportunity. To learn more about managing Cockpit, check out How to Use Cockpit to Manage Your Daily Routine.
Milestones
Milestones are sub tasks which must be completed to achieve a goal. On the R360 page, you can add, edit, or delete milstones.
Sponsor Tracking
You can track the contacts associated with this Relationship in Sponsor Tracking section. Sponsors for an Account can be added from the Sponsor Tracking tab. Once you add a sponsor for the relationship associated with an account, you can view that Sponsor in the Sponsor tracking section of the R360.
Scorecard
In the Scorecard section, you can track customer health over time from qualitative (e.g. relationship) and quantitative (for example, usage) metrics to quickly prioritize engagement and boost revenue. To learn more about Scorecard Configuration, refer to Configure Relationship Scorecards.

Scorecard 2.0
Scorecard 2.0 are an advanced version of Scorecard. Scorecards 2.0 store all the data in Gainsight MDA.
Related List
Related List is a type of R360 section which displays a Report created on any SFDC or Gainsight object. Report that should be displayed in this section is configured by Admins. Records that belong to the corresponding Relationship are displayed in this Report. Admin can assign a different Name to this section rather than Related List.
Add or Edit Records in the Low Volume Custom Object
If Admin has configured the Related List section with a Report created on any Low Volume custom object, CSMs can add or edit records in this object through the Related List section in the R360 page. For more information on this object, refer Low Volume Custom Object.
To view or edit existing records in the Low Volume custom object:
Navigate to the R360 page > configured Related List section of a customer. You can see all of the records from the Low Volume custom object through the report.
Click the View button against a specific record. VIEW RECORD window is displayed which shows values in all the fields.
Click the Edit button against a specific record. EDIT RECORD window is displayed.
Edit values in the required fields.
Click UPDATE.
To add a new record into the object:
Click ADD to create a new record in the object. ADD RECORD window is displayed.
Enter values into the fields.
Click SAVE.
Person
The Person section displays list of contacts associated with this relationship. You can add, edit, or delete Person records from this section.
View Person Details
The R360 page now becomes a single source of truth for all the associations of a Person. You can now view all the Company or Relationship associations of a Person, from one of the associated R360 pages. For example, an employee at an organization who manages the installation process for three of your products will be associated in three relationships.
You can click any of the Company or Relationship names and navigate to the corresponding C360/R360 page, in a new tab.
Add a Person
To add a Person:
Click + PERSON. The Add Person window is displayed.

Enter Name and/or Email and click SEARCH to check if the person already exists.

If you get a person record that matches with Name and/or Email, click on the record to add association details of the current Relationship.

If you see a message Person Not Found, click Add New Person. This action adds a new person into Gainsight.
Note: Gainsight searches the existing person by matching with Name and/or Email entered in this window. As per the result, you can either add association details to an existing person or you can add a new person to Gainsight.

Enter the Person details.
Note: You can see only those fields in the Add Person window, which were added in the Administration > Person > Search Configuration page by admins.
Edit a Person
To edit a Person:
Select the required Person. The Person Detail view is displayed.

Click the Edit field icon, for the fields to be edited. You can view only those fields which were added in Detail View tab of Person Configuration page.

Click Save field icon after making the required changes.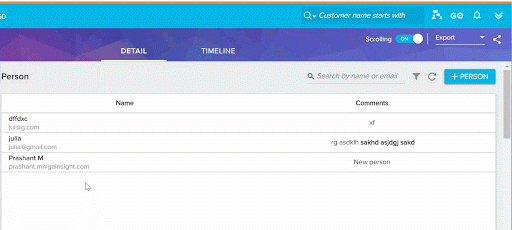 Delete a Person:
To delete a Person, click the delete button of the person. This deletes the association details of the Person to this Relationship but it does not delete all occurrences of this person.

When you delete this record, fields in other objects that are joined with the current object (Relationship Person) will honor the On Delete option selected in the MDA Joins of those fields. The Delete operation is applied to multiple dependency levels. You can find these dependencies (MDA Joins) in the Object Graph of any object. To see Object Graph of an object, navigate to Administration > Data Management > [Select an object] > Object Graph left pane. For more information, refer Creating Object Graph in MDA Objects.

NPS, Net Promoter, and Net Promoter Score are registered trademarks of Satmetrix Systems, Inc., Bain & Company and Fred Reichheld.