Gainsight offers a flexible way to define what a relationship is based on a variety of criteria including products, business unit, opportunities (created in Salesforce), geography, or projects. You can create relationships from both SFDC and MDA objects, as long as an Account lookup field is available.
Professional Services Available
Relationships are a foundational element of your Gainsight instance. If you are interested in deploying Relationships for your company, you may want to consider working with Gainsight's Professional Services team to ensure a smooth and accurate implementation. Please reference your contract to determine if this Services Package has already been included, or contact your Gainsight Sales Representative or CSM for more detail.
Enable Relationships Feature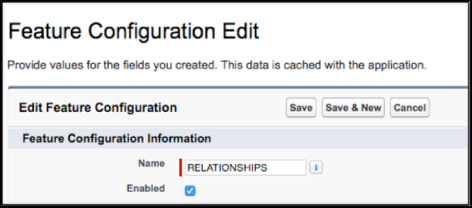 To use Relationships, you must enable them using the Salesforce setup.
Navigate to Setup.
In the left pane, go to Build > Develop > Custom Settings.
Under Custom Settings, in the Feature Configuration row, click Manage.
Click RELATIONSHIPS
Select the Enabled checkbox.
Click Save.