Reports in Journey Orchestrator help you to email personalized reports to an account or contact. For example, you can send daily/weekly personalized usage reports to an account/contact.
To include a report in an Email Template when sending an Outreach:
1. Navigate to Journey Orchestrator > Email Templates.
2. Click Insert Report. The Import a report drop-down box appears in the Email Template body. For more information on how to create reports, see the article How to Build Basic Reports. (Only reports built with the Report Builder are available.)
Note: The Import a report feature described above refers to Email Templates 1.0 functionality. With new Email Templates 2.0 feature, reports are added during the Outreach configuration, not in the templates themselves. For more information, refer to Email Templates 2.0 FAQ.
Email Templates 1.0:
Email Templates 2.0:
Select Don't send an email when the report is empty, if you do not want to send the Outreach when there is no data in the report. Otherwise, the outreach is sent with an empty report.
While configuring the outreach, you can add a maximum of 2 filters from the Account and/or Contact. You must add these filters so that the target contact or account receives a personalized report. If you want to add additional filters, you can include them while building reports.
When applying a filter to the report (while configuring the outreach), you must select an account/contact identifying field from the Select a Field drop-down-box that displays fields from the Report object. Then select the account/contact identifying field from the --None-- drop-down-box that displays fields from Power List. This ensures that you are sending reports to the correct account/contact.
Note: Reports built off of MDA objects will not display as options that can be added to your Outreach unless the object you are reporting on has its Account ID mapped back to SFDC. The filters within Journey Orchestrator look for a specific formatting of an object's Account ID field when searching for reports that can be added to an outreach. If your MDA objects do not have an 18-digit format for the Account ID field, then reports built off of these objects will not appear as available options to add to an Outreach. You can check this mapping and change it to SFDC by navigating to Administration > Data Management then select the object you are reporting on. Click the "Pencil" icon next to the Account ID field to view the mapping.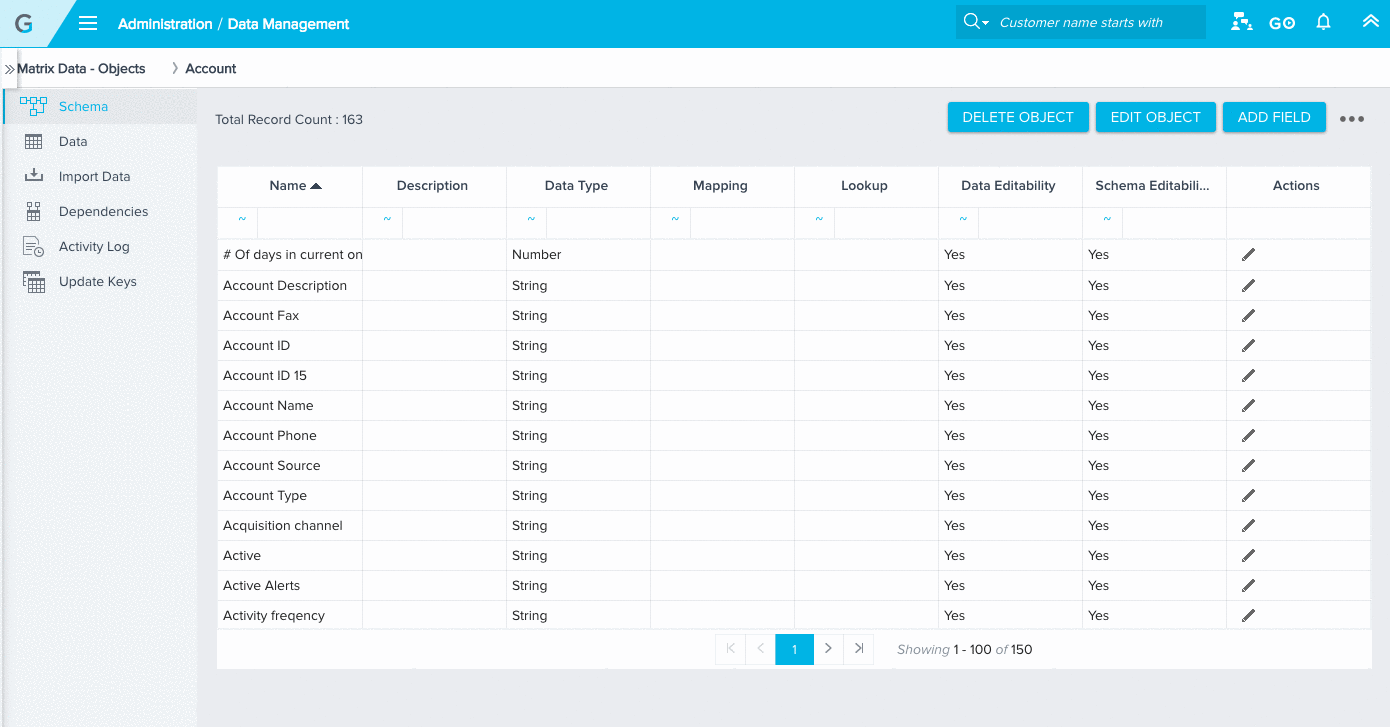 Apply Filter/No Filter User Strategy in Journey Orchestrator Emails with Reports
Previously you could only filter using an Account ID and Contact ID; now an option is provided to filter the reports on a user level in Journey Orchestrator > Outreaches.
Current Limitations
Reports from Redshift are available and also supports MDA joins.
Limited to 5 reports per email
Limited to 200,000 contacts
Tabular visualization type for reports is not supported.