This article walks you through how to verify Gainsight Email is turned on in your environment. You will create a test survey to confirm the availability of the email service, and then delete the test survey.
Create Test Survey
Navigate to the Survey tab.
Click +SURVEY.
3. Select New Survey and enter the name of the test survey.
4. Click CREATE.
Choose Email Service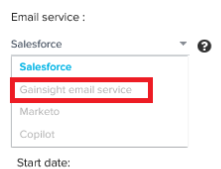 Under Email service, verify that you have the option to choose the Gainsight email service.
Delete Test Survey
1. Navigate to the Survey tab.
2. Hover over the blue triangle at the bottom of the test survey card.
3. Click DELETE.
Note: You must have permission to perform this task.