The Email Validator helps Admins check whether an email address is blacklisted from receiving an email communication. If the email is present in the blacklist, Admins can remove the email ID from the blacklist, so that the contact can receive further email communication. Admins can also view the reason for blacklisting when they validate an email address. Distinction between hard bounce and soft bounce emails is clearly mentioned in the Email logs. You can know a hard/soft bounce using the following methods:
From Report Builder, using Email Log or Email Raw Events.
Administration > Email Configuration > Email Validator

, enter an email address to see their status.
Notes:
An email ID is added to the blacklist when a hard bounce occurs.
It is assumed that you already know the email address.
To validate an email ID:
Navigate to Administration > Gainsight Email Configuration.
In the text box, enter the email ID.
Click Validate.
If the email ID is valid and is not in the blacklist, the following message appears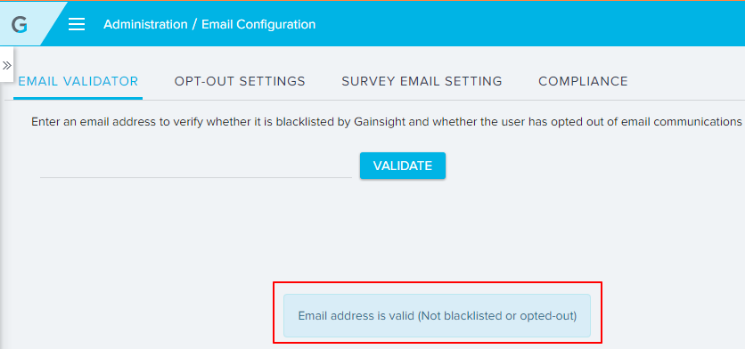 If the email ID is blacklisted, the reason for blacklisting appears on the screen.
To remove the email ID from the blacklist, select the Blacklisted check box and click Remove.