With the July 2016 release, we updated and improved the overall navigation experience in Gainsight. This document describes the global search option, as well as the primary and secondary navigation.
Primary Navigation
From any page, you can click the three lines (circled below) to navigate to another Gainsight or SFDC page. (Note: Your Admin may include additional pages here.)
Use the Search option to quickly locate a page or feature: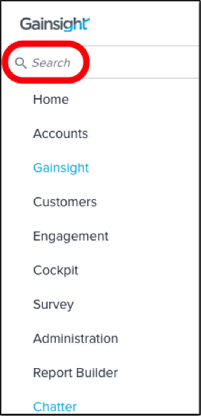 By default, all Gainsight pages open in the new full screen mode to maximize page viewing. To expand (or collapse) the SFDC ribbon and view your tabs, click the chevron in the right corner. The header is sticky, meaning that the app will remember your last action with regards to whether tabs are displayed or not.

Global Search
From any page, you can search for a customer (or a relationship) to navigate to their Customer360 page. (Search parameters are configured by your Gainsight Admin. Refer to Configure Customer Stage, Status, Bands, & CSM for more information.)
Search for a relationship type globally: Users can search for a specific relationship type from the global search in the Gainsight application using two options. A minimum of 3 letters are required to initiate the search. Once a match is found, a drop-down displays the matching relationship types. Clicking on a relationship type from the drop-down opens a new tab with the Relationship 360 page. The input search term remains in the search bar (sticky) even if you navigate to a different tab.
Relationship search 'starts with'
Relationship search 'contains'
Secondary or Feature-level Navigation
To access features, click the chevron on the left. (Click the chevron again to close the left pane.)
Administration Navigation
From the primary navigation menu on the left, click the Administration link to access all of the Gainsight Administration tools.
All of the sub-tabs that were previously under Administration are grouped into meaningful categories, such as Workflow, where you can find most of the old Cockpit Configuration options.