Customers engaged in the renewal process may not be best suited to provide a reference. A customer's Reference Edge Reference Status will be automatically updated to "Caution" when a customer enters into the renewal process.
Create a rule to change the Reference Status based on an upcoming Renewal Date
a) Define Rule Criteria
Go to the Gainsight Administration tab > Rules Engine. Click to create a new Rule using the "+Rule" on the right hand side. See Rules Engine Overview for more information on setting up Rules.
Fill in the following in the rule detail screen:
Rule Type "Custom"

Rule Name: "ReferenceEdge: Change Ref Status for Renewal" (or name of your preference)
Click on Next to navigate to the Rules Configuration Screen > Click the 'Native Data' radio button > Click in the dropdown to select the 'Account' or 'CustomerInfo' object (depending on where your Renewal Date is stored.
From the list of fields in the left-hand column, add the following fields to the Show box by selecting and dragging:
ID from Account Object (Account:: ID) - Required

Renewal Date from your source object (Customer Info:: Renewal Date)- Required
As filters, add the following: Customer Info:: Renewal Date (Subtract N Days from Rule Date) '60'
Click 'Next' to move to the Action Configuration Screen.
b) Setup a Load to SFDC Action
Click '+Action' so create a new Action

Select 'Load to SFDC' from the Action Type dropdown on the top left of the Action box

Select 'Reference Profile' from the 'Object Name' dropdown

Click 'Update' from the 'Operation' dropdown

Map the 'Account::Id' field in the left-hand column to 'Account (String)' in the dropdown on the right-hand column and check 'Include in Identifiers'

Click '+Field Mapping' in the top right to add another field

From the dropdown in the new field, select 'Reference Status'

In the dropdown box that appears below, select 'Caution'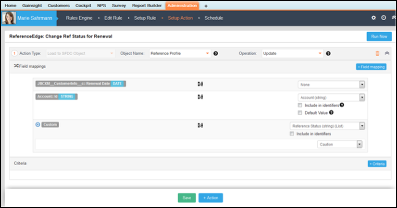 Click Save > On the Schedule Configuration screen. Schedule to run on a daily basis.