Provides objectivity and visibility of a customer's reference vitality.
Create a Reference Scorecard Measure
Go to Gainsight Administration > Scorecard > Scroll down to 'Step 3: Measure and Group Configuration'
Click to add a new Measure > Create a new Scorecard measure in Gainsight and name it 'Reference' - associate it with an existing Group, if applicable. See Configure Scorecards for more information on creating new Scorecard Measures.
Create a rule to populate the 'Reference' Scorecard Measure
a) Define Rule Criteria
Go to Gainsight Administration > Rules Engine. Click to create a new Rule using the "+Rule" on the right hand side. See Rules Engine Overview for more information on setting up Rules.
Fill in the following in the rule detail screen:
Rule Type "Custom"

Rule Name: "ReferenceEdge: Baseline Scorecard Rule" (or name of your preference)
Click Next to navigate to the Rules Configuration Screen > Click the 'Native Data' radio button > Click in the dropdown to select the 'Reference Profile' object.
From the list of fields in the left-hand column, add the following fields to the Show box by selecting and dragging:
ID from Account Object (Account:: ID) - Required

Reference Stats from Reference Profile (Reference Profile:: Reference Status) Required
In Filters, add the following: Reference Profile:: Reference Status (not equal to) 'Null'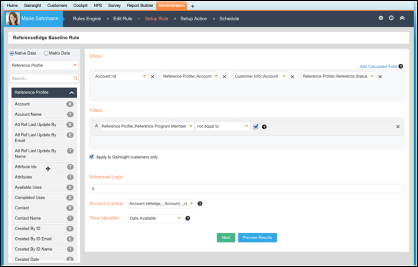 b) Setup the Scorecards Actions
Click '+Action' to create a new Action.

Select 'Set Score' from the Action Type dropdown on the top left of the Action box

Select 'Reference' from the 'Select Measure' dropdown

Click on the grey box that displays 'NA' next to the text 'Set Score from' and select the corresponding score

Click '+Criteria' in the bottom right of the Action box

Select 'Reference Profile:: Reference Status' from the dropdown

Set the operator to 'Equals'

Select the Reference Status value that corresponds to the Score you selected
Create three 'Set score' Actions; the Score and the Reference Status criteria will correspond to the following:
Score = Green; Reference Status = Active

Score = Yellow; Reference Status = Caution

Score = Red; Reference Status = Inactive
Set Score Action 1

Click Save > On the Schedule Configuration screen. Schedule to run on the same frequency as your other Scorecard rules.