The Gainsight Administrator sets up business rules to automatically trigger Calls to Action (CTAs), but you can also quickly create a CTA manually from Cockpit. You might need to add a CTA manually to track an impromptu meeting, or another customer event or risk that you've identified. The Cockpit helps provide visibility for you and your team into your workload.
Create CTA from Cockpit
Perform the following steps to create CTA.
In Cockpit, click +CTA. Add CTA dialog appears.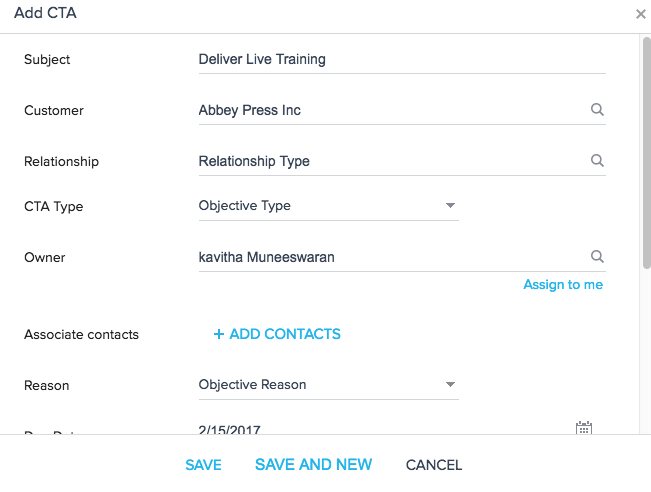 In the

Subject

field, type a name for the CTA.

In the

Customer

field, search and select the desired customer name.

(Optional) If your organization uses

Relationships

, search and select the desired Relationship.

Select CTA type from the drop-down list.
Note: Once you select the CTA type and save it, it will always hold the "type" and you will not be able to change it later. Ensure that you select the correct CTA type before you save it.
In the

Owner

field, the currently logged-in user's name appears by default. This is the new '

auto assign'

feature. You can also change the owner's name manually using the search icon.

Select a reason for the CTA.

Set a due date.

Select the appropriate Status.

Select the appropriate Priority.

(Optional) Type notes in the Comments box.

Select the appropriate Playbook. After you select a Playbook, all tasks inside the Playbook appear. Also, you may modify the owner of each Playbook task.

Click SAVE, or click SAVE AND NEW to open another dialog to create another CTA.
Note:
You cannot modify Playbook/Playbook Tasks while creating a CTA.
If you do not select a playbook here, you can still apply a playbook from the CTA detail view. You can also replace the playbook.
You can apply a playbook while creating a CTA from the Cockpit tab, Account Widget, Opportunity Widget, Case Widget and

C360/R360 Cockpit sections.
Update CTA
To update the CTA:
Click the CTA in the list view. The details are displayed in a new pane. 

In the Status field, select the option from the drop-down list as shown in the image above.

(Optional) Complete the relevant task fields.
Continue working the CTA and associated tasks.
Create Recurring Event CTAs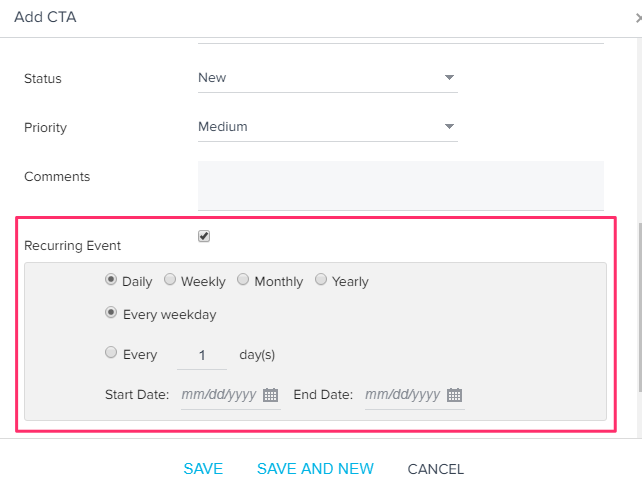 Select the Recurring check box to mark a CTA as a recurring event. You can set it to recur Daily, Weekly, Monthly, or Yearly.
For example, if you have weekly or monthly check-ins with a customer, and you want a CTA to automatically remind you to prepare for the check-in, this might be useful.
Note: The ability to create Recurring Events is available only in Lifecycle CTAs.