Users can now save Cockpit filter conditions as a private view. The new custom view can be modified, as well as re-named.
Users can also add up to 6 Account or Relationship fields to the Cockpit List View using List View Configuration in the filter area.
Note: 'Apply' does not save the custom view; it just applies the filters on the existing view for your current session. If you are in My CTAs or All CTAs, you have the option to save as new or apply.
For commonly used filters that can be saved as private views, refer to Cockpit List View: Commonly Used Filters.
Modify or Create New View
Perform the following steps to update an existing view, or create a new view:
Navigate to the Cockpit tab.
Click the Filter icon. (Alternatively, select the My Custom View in the drop-down on the left, and modify it based on your needs.)
The Filter window is displayed just below the filter icon as shown in the following image.
FILTERS tab has seven default filters: Assignee, Snoozed, Status Report Category, Flagged, Priority, Reason, and CTA Type. you can remove any default filter.
Click +FILTER to add fields, Operators, and values based on your requirements.
(Optional) In the COLUMNS tab, click +ADD to add up to six fields.
Notes:
ASV, Renewal Date, Account Rating, Annual Revenue, Year Started and MRR are the six default list view columns. The list view fields can be different for different views. For example:

Account, customer Info, relationship, and call to action fields can be selected.
You can only see all 6 list view columns if you set your browser resolution to 1920. Click Browser Resolutions to learn how the view varies based on various browser resolutions.
If the length of the attribute is greater than available space, ellipses are displayed and the full value is shown in a tooltip.
Long text area fields can not be added as list view fields.
In the list view, the existing ASV, Renewal Date, Account Rating, Annual Revenue, Year Started and MRR columns will be replaced with the ones that you select, as shown in the following image.
Click SAVE (or SAVE AS NEW if you're modifying an existing view).
Note: 'Sort by' and 'Group by' selections are also preserved in saved custom views.
In the View Name field, provide a new name for this view. (80 characters maximum)
Click SAVE.
Note: You can see the newly created custom view in the drop-down list as shown in the following image. Custom views are private and cannot be viewed by others.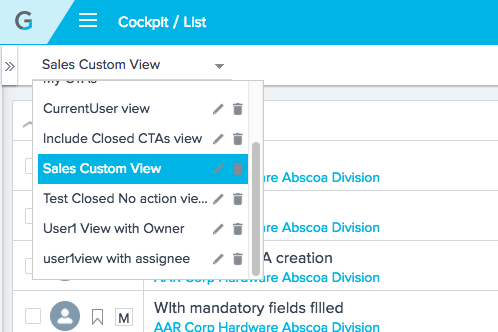 The following icons are available with each custom view in the list as shown in the image above:
Edit: to edit the custom view name
Delete: to delete the specific custom view
Custom Views Honored in Export and Calendar
When you click export, the data and fields will be exported based on your currently selected view. Also, your filters are honored in the Calendar view.
Is there a limit to the number of custom views a user can create?
No.
Are Cockpit List Views sticky?
Yes. If you log out of Gainsight, and log in later, the last Cockpit List View you were using will automatically be displayed.
Can Admins create views for users or departments?
No, not at this time.
Can I sort by CTA Assignee in custom views?
Yes, there are two ways to do this. You can use the Assignee default filter under the Filter icon if you just want to look at one user's CTAs, or all user's CTAs. To see CTAs for more than one user, add another Assignee filter and select another user value and save the view. For more information, refer to Cockpit List View: Commonly Used Filters.
If a User or Account doesn't meet the criteria for a layout, will the default layout be used?
Yes. And if an Account matches more than one criteria for a layout, the first matching layout will be applied.
Is there a recommended view for new Gainsight users?
The default Cockpit List view is "My CTAs," without any filters applied. If your org is starting out by triggering just a handful of CTAs, then this view is a good option. But as your organization expands its use of CTAs to include manually created CTAs, or Survey-triggered CTAs, and CTAs triggered off of health scores, for example, then you will probably want to use more of the filters and create custom views. For instructions on how to create some commonly used filters/views, refer to Cockpit List View: Commonly Used Filters.