Enabling CTA PRIVATE FILES allows users to attach files from their computer in the CTA detail view, and to share the files with a specific group, per your org's chatter group configuration. NOTE: CTA file attachment was built to work with private chatter groups. You will need a SFDC Admin profile to make this edit.
To enable CTA file attachment:
Navigate to Salesforce Setup.
In the search box, search for Custom Settings.
3. Click Custom Settings and click Feature Configuration.
4. Click Manage; then click CTA PRIVATE FILES.
5. Click Edit; then select the Enabled check box.
6. Click Save.
7. Navigate to Administration > Calls to Action (CTA) > Account. Under General Settings find the field Auto post files to. Then select the object where you would like attachments to be stored.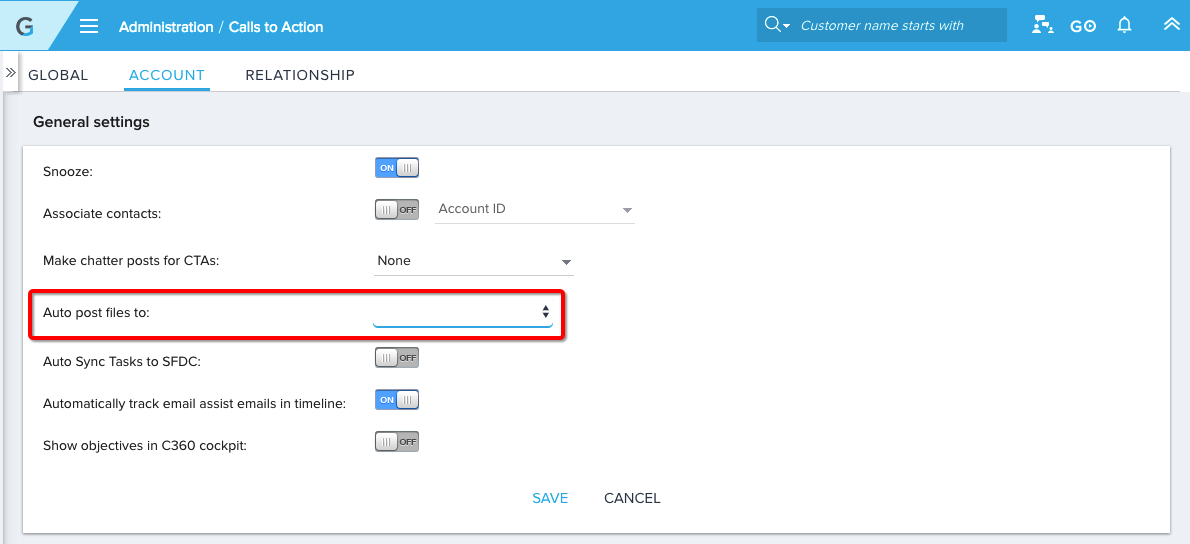 When the CTA Private Files option is enabled, and an object has been selected to store the files, you will see a new File Attachments section in the CTA detail view:
Report on CTA File Attachments
Admins can build a report using the GSFileLink object to search for CTAs that have files attached to them. The file size must not exceed 2 GB. Also, you can create a new C360 section at Administration > C360 Layouts to add the CTA files report on the Customer 360 page as a section.
Note: the GSFileLink object will only store information on files uploaded through the CTA "File Attachment" option, not from Chatter.