Gainsight Support Tickets: How to Update and Check Status
Last updated
This article explains about how to check the status of and update your Gainsight support tickets. For more information about how to submit a ticket to Gainsight Support, refer to the How to Submit a Gainsight Support Ticket article.
Perform the following steps to check and update status of the Gainsight support tickets:
If you have an existing login with Gainsight support, click Submit a Ticket from the Support dropdown. This should be visible from any page.
Note: If you do not have an existing login with Gainsight support, click Request a Login from the Support dropdown. You will then be directed to where you can send an email to support@gainsight.com to request a username and password.
2. If you are not logged in already, enter your Gainsight Support username and password and click Sign in. If you are already signed in, proceed to step 3.
3. In the profile name drop-down menu, click My activities.

Note: You can also view your activities by navigating to the home page of the Gainsight Help Center and clicking on the "Check your existing requests" widget.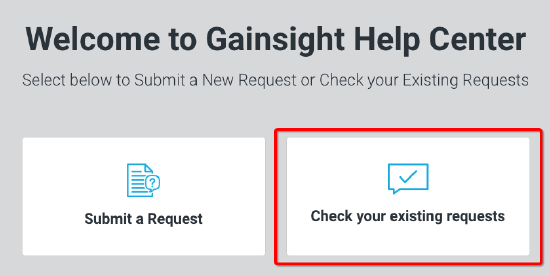 4. Click the My requests tab. This displays a list of tickets where you are the primary point of contact on the ticket or you initiated the ticket.
Note: By default you will see tickets with Any status. However, you can filter the list by using the drop down at the far right side called STATUS. In this section, you will see up to 3 sub tabs.
Click the Request I'm CC'd on tab. If you have been added as a CC or secondary contact on a ticket, it will show up in this tab. You will not see this section if you are not CC'd on any tickets.

Click on the subject which is hyperlinked to the page that contains the details of a specific ticket.

6. From the details screen you will be able to see all ticket comments from you, other users within your org and Gainsight.
7. Click Add Reply after you type your reply at the bottom to update the ticket.
8. Click Create follow-up to reply and update the ticket when the ticket is closed. Refer to the following image.
9. Click Submit as New.
Note: When a Gainsight Support agent updates a ticket, you will receive an email notification. You can also reply to that email notification to update the ticket. If a ticket has a status of Closed you will not be able to update the ticket however you will have the option to create a follow up request.