Milestones represent major events in the customer journey. Examples of milestones include key onboarding stages, health check, training delivery, QBR/EBR, annual renewal, and marketing campaigns. (Admins, refer to Configure Milestone Types for more info.) Once milestones are configured, they may be identified manually by a CSM, or loaded via the rules engine.
Milestones are helpful in identifying the effects of various interventions with customers. You can pinpoint which types of milestones (EBRs, Trainings, etc.) have the biggest impact on key outcome metrics (e.g., usage, renewals, upsell, etc.). They also provide a visual illustration of the customer's lifecycle, which can indicate if it's time for a particular event to occur.
Marking Milestones Manually
From the Cockpit List View, click a CTA name to view its details. In the detail view, you can mark an individual CTA as a milestone. A milestone record is automatically created after you mark a CTA as a milestone. You can view these records either in the C360 usage section or by building a report off of the milestone object. For more information on building reports, refer to How to Build Basic Reports.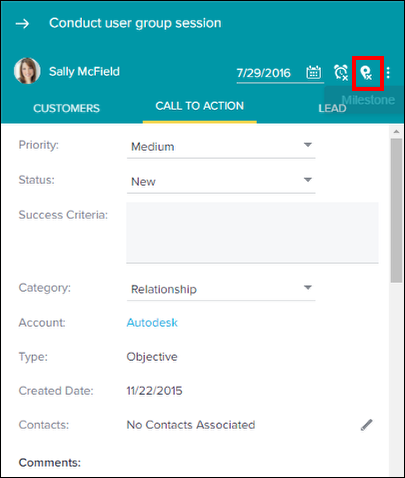 In the C360 > Usage section, you can add Milestones manually:
Milestones in C360 Reports
Following are tips for viewing Milestones in relation to your customer's usage or engagement data:
Overlay Milestones on the Engagement or Usage section of the C360 screen to better understand the impact of that touch point.
In the Usage tab on the C360 section to see a clear picture of a particular customer's journey in a pre-built tabular view.

Add Milestone based reports to Dashboards to rollup summaries of how many customers are at what point in the journey with your company.
Relationship Milestones
Users can add milestones from the Relationship 360 (R360) page and view them in a tabular or list view. The milestone options are specific to the Relationship Type.
Notes:
Contact your administrator if you are unable to add milestones on R360. Additionally, the tabular and list view icon is only available in the R360, and not the C360.
Milestones created from Relationship CTA are not shown in the Milestone section of R360, but can be seen in the Milestone section of C360.
Milestone Best Practices
Admins: create rules so that when CTAs with a certain reason and status are closed, the milestone is automatically created. This avoids the possibility that the CSM will forget to manually identify the CTA as a milestone.

CS Leaders: 


Provide business process guidance to your CSMs on what are appropriate manual milestones. For example, if the CSM is authorized to provide extra training for a customer (free of charge), or if they deliver an 'out-of-cycle' business review, advise the CSMs to capture the CTA as a Milestone to document the extra attention provided. 

Provide a sample list of milestones for your CSMs during training.

To reinforce the habit of identifying manual milestones, talk in 1:1s about instances where the CSM has gone above & beyond for a customer, for example, and how a milestone can reflect that effort in the customer's journey.