Best Practices of Success Snapshots
Last updated
Introduction
The purpose of this document is to outline the best practices of Success Snapshots, which helps in creating optimized and review ready slides.
This document outlines the best practices and provides tips to create the perfect input deck for an optimized and review ready Success Snapshots.
Intended Audience
The intended audience for the document includes individuals by role Gainsight Administrators/Solutions Architects/Customer Success Architects/Technical Success Architects etc.
Core Functionalities of Success Snapshots
The core functionalities of Success Snapshots are:
Ability to maintain the default formatting/settings made in your uploaded pptx file, unless otherwise modified. For example: font size, color, table properties, slide size and other elements will be consistent with the default selections in the pptx file you have uploaded.
Success Snapshots honors most of the properties in the Slide Master, so make the best use of Slide Master while creating EBR decks.
You can select any element in the slide and mark it dynamic for data. For example, you can choose an element and insert a Company Name, Last Reviewed Date tokens, insert Reports, etc.
To configure a Success Snapshot in Success Snapshots, refer Configure Success SnapshotsTemplate.
Best Practices
The following are some recommendations and best practices to consider while designing your Executive Business Review (EBR) decks.
Design your ideal BR Deck in Microsoft Powerpoint
Customers who get the most out of Success Snapshots have first created their ideal business review decks using powerpoint software offline. The ideal BR deck standardizes the look and feel of the presentation which includes template design, colors, themes, table colors, fonts, etc. Additionally, the ideal BR deck can be a starting point in bringing standardization across the Business Reviews conducted by your CSMs. A very common use case would be the introduction of new products. For instance, assume that your company is launching a new product and may want all your CSMs to talk about it during their business review meetings. With Success Snapshots, you would need to only include the new product slides only once in your input review deck and it will appear in all the BR exports so that none of the CSMs in your company miss talking about it.
Note: Over Standardizing a review deck might feel dis-empowering, and you might want to leave enough room for CSMs creativity on EBR decks. One way to do that is to use ample Help text to communicate with CSMs.
Once the EBR deck is finalized, you can now upload the deck to Gainsight's Success Snapshots, and then include the required reports and tokens from Gainsight, wherever needed.
Tabular Report Standards
Whenever you insert a Tabular Report from Gainsight to Success Snapshots, we honor the default theme of the report that you have set in the powerpoint. So, whenever you upload a pptx file to Gainsight, make sure to select your ideal table from table design tab and set it as Default.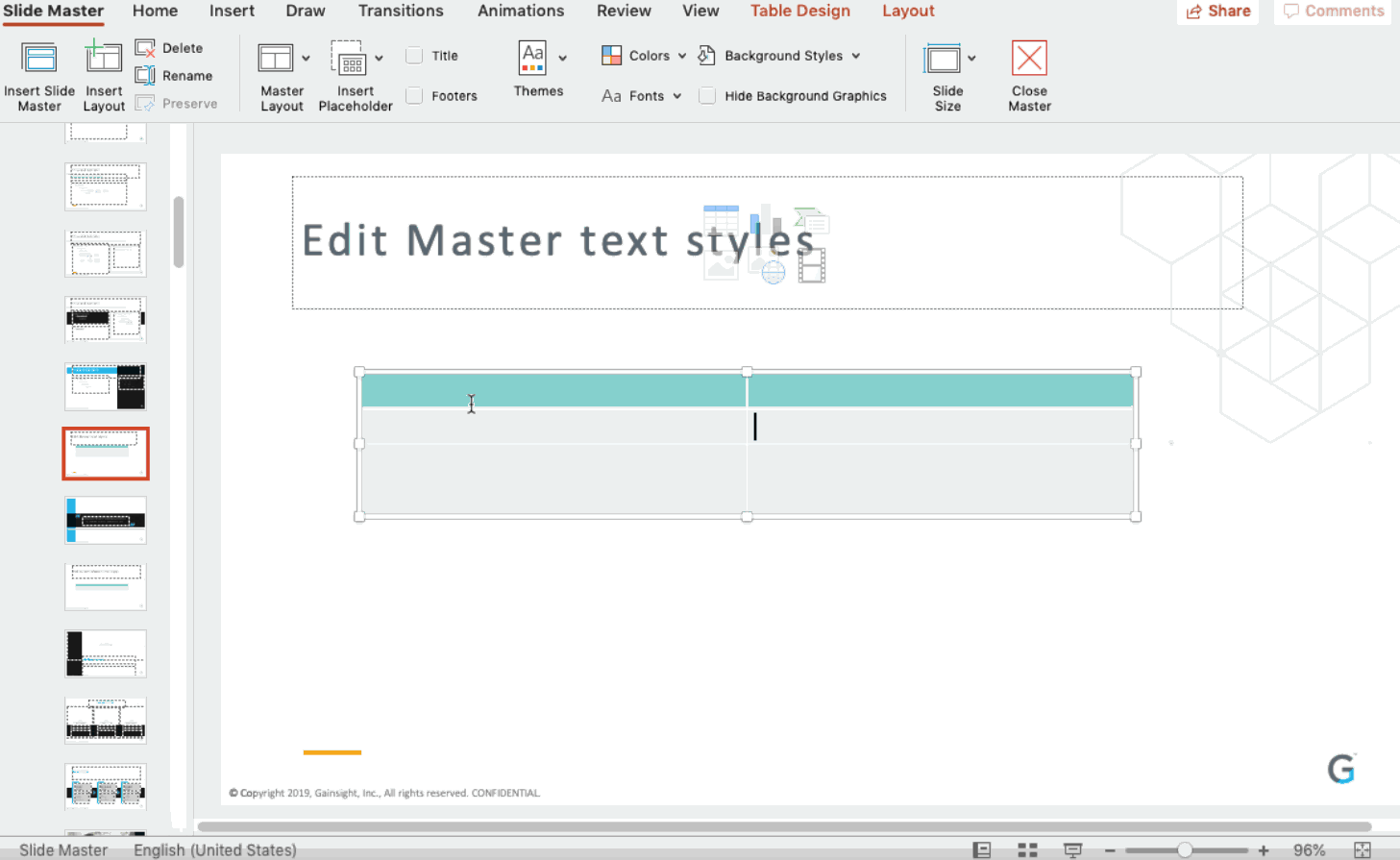 Text Elements
For instance, assume you have inserted Text Boxes in your pptx file, and have set the required formatting - Font, Font Size, Styling and Alignment. After you upload this pptx file to Gainsight, you can insert text into entire text available in any element, using the available text editing options. Now you have a choice to formatting the text in the element again on right hand pane or you can choose to leave it as Default as shown in the image below in which case, we honor the formatting defined in the input pptx file.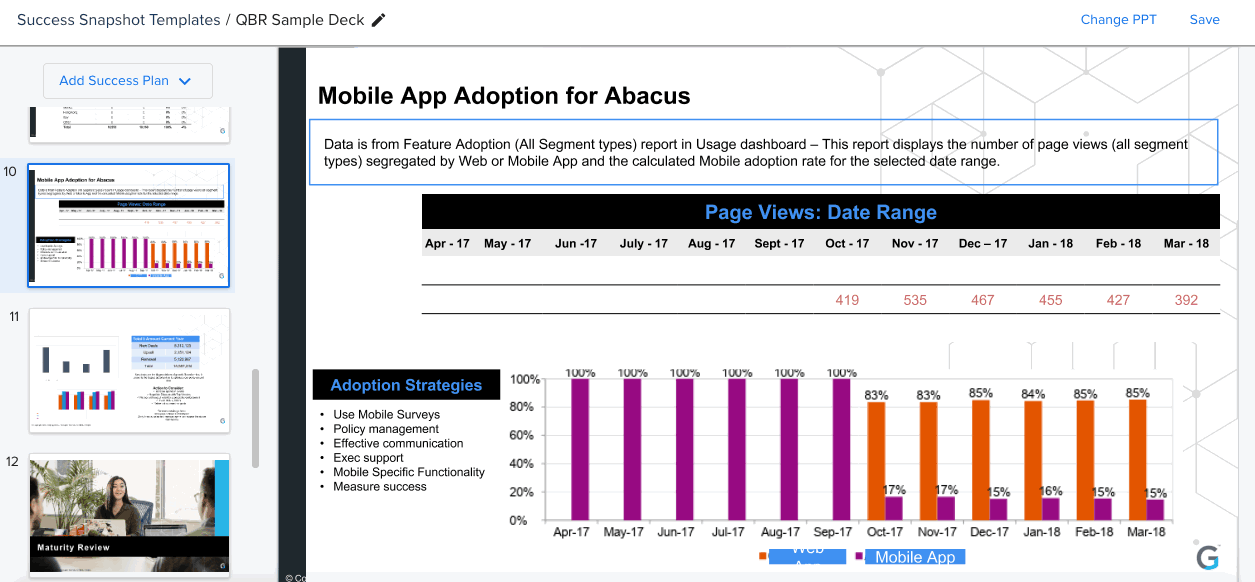 Note: If your uploaded pptx has a text box that has multiple fonts and sizes, and if you want to edit the text in Success Snapshots, the default settings that are available on the first word of the element are applied to the newly modified text.
Usage of Help Text
Help Text in slides allows the admins to have open communication with CSMs. For instance, assume that you may want your CSMs to perform some actions in few slides, such as manually updating a subtitle or last reviewed date or deleting the previous score, if the current score is less than the previous, etc. before attending the review meeting.
Tip: Ensure that the position the help text in the slide is eye-catchy, and the font colors/sizes used are attention-grabbing.
Use Tokens for Dynamic Texts
Adding dynamic tokens reduces the CSMs manual effort. Insert Tokens in the Text Box for the text you think that keeps changing frequently. For example, you may want to add the Last Modified Date, Last Reviewed Date, Renewal Date, etc.
Use Case: For instance, if you are managing the success of your customer using Success Plans in Gainsight, and you may want your CSMs to talk about the Action Plan of a specific success plan in the review meeting, you can add the Action Plan (rich text) token to the required slide and then present the goals/plan and status of the Success Plan to your customer.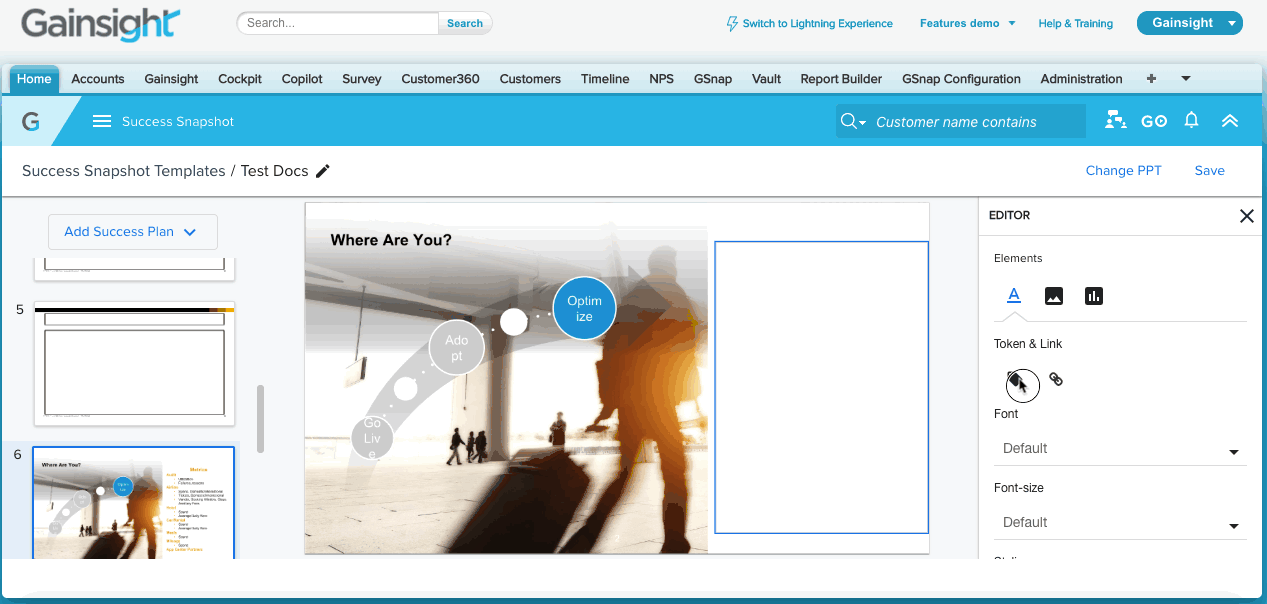 Use Multiple Text Elements for Dynamic Formatting
For instance, your business needs may want you to add 2 Tokens (Company Name and ARR) with different fonts and sizes, so while creating your deck in powerpoint, ensure to insert 2 elements in the required slide, so that you edit the Text style in Success Snapshots template.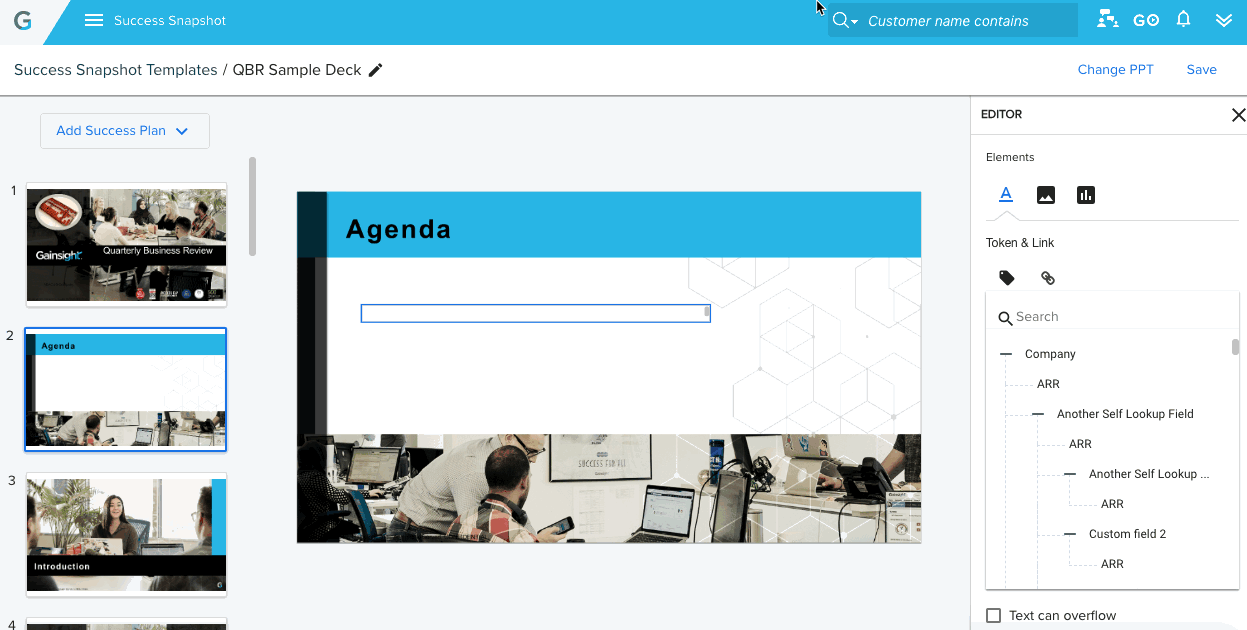 Success Plan in PPT Export
If you are managing your Customer Success using Success Plans, you can export them to your business review decks using the Add Success Plan feature available in Success Snapshots.
Success Plans have a dedicated space in Success Snapshots. A Success Plan's information in a Success Snapshot is categorized into 4 sections, namely Summary, Objectives, Tasks and Timeline. You can select the required section based on your business needs.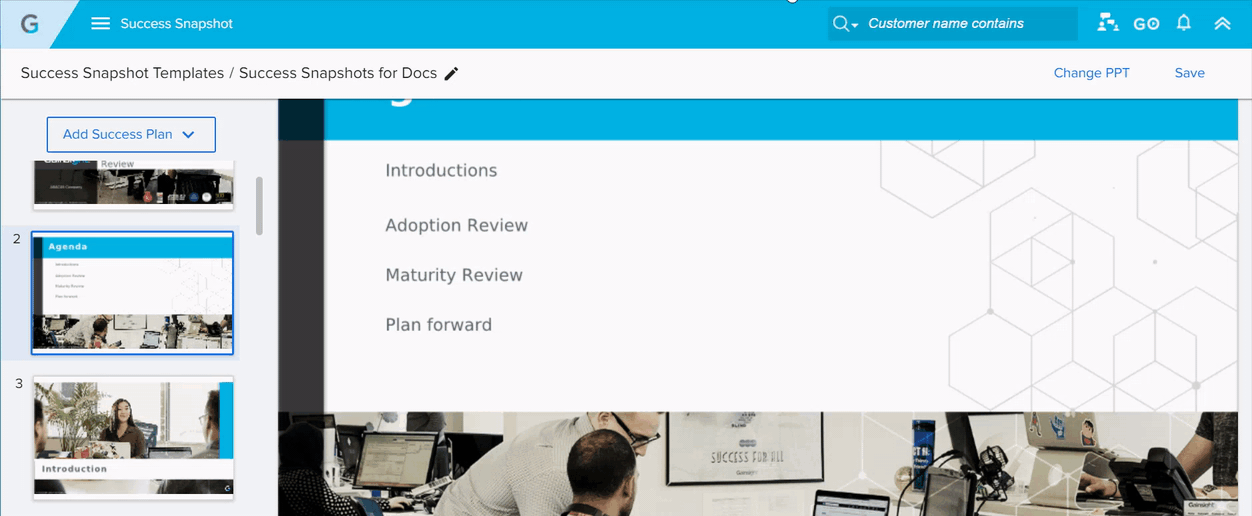 When a Success Plan is added to a Success Snapshot, out-of-the-box reports are created under the System folder in Reporting. You can customize these OOTB Reports to get the data you want to review with your customer, etc.
The following image shows how the Success Plan's slides appear in the downloaded Success Snapshots template.


For more information on how to add a Success Plan to Success Snapshots template, refer Configure Success Plan in PPTX.
Significance of Blank Slide in Master Template
While creating your business review decks in Powerpoint's Master Template, ensure not to modify, rename or delete the Blank template. Success Snapshots uses the Blank Slide, for the table that overflows from the previous slide. If there are no blank slides in the template, the text from the tabular report overflows to the next available slide.
Cloning
For instance, you have created an Agenda and Action Plan for High Touch customers using powerpoint and have uploaded the review deck to Gainsight. Using Success Snapshots, you will just insert the High Touch Customers Report from Gainsight to uploaded review deck. But now, after the review deck is almost ready, you understood that you have missed to create a slide for Low Touch customers as well, which is almost similar with minor changes in Agenda and Action Plan. To achieve this, you can clone the existing High Touch Customers slide and make the required changes in Agenda and Action Plan, and then insert the Report for Low Touch customers from Gainsight.
Upload Images
Upload all the required images to the Repository if you think you will use them frequently. A good use case would be adding your company logo, product logo, etc.
Tips & Tricks
Always use larger sized containers for the best view of your Reports.
Hyperlink to an external cloud-based link that contains appendix slides rather than having to constantly customize the deck.
Include text boxes wherever necessary, on the slides where you'll be tokenizing reports, text, and/or images.

We recommend watching this 6-minute video for Success Snapshots - Tips and Tricks when Setting up Powerpoint.