Overview of Success Snapshots
Last updated
Introduction
Success Snapshot enables admins to generate PowerPoint presentations and Google Slides with customer data and graphs from Gainsight, using your own customized presentation (business review deck) uploaded to the Success Snapshot repository, and help CSMs run their customer meetings (such as EBRs and QBRs). You can navigate to the Success Snapshot page from Administration > Success Snapshots. Success Snapshots is available for both Company and Relationships (if your org has configured Relationships in Gainsight). Once a Success Snapshot template is created and saved, CSMs will be able to export them from C360 and R360 pages respectively.
IMPORTANT: You will also see the earlier version of Success Snapshots in the Administration pane, both features can be used in parallel with each other. But, Gainsight strongly recommends you to use Success Snapshots as a primary method for creating a Success Snapshot template.
As a CSM Manager, to review your CSM activity with your customers during EBRs and QBRs, you may have your own customized business review deck, which is created outside of Gainsight. And now, if you want your admin to add any customer data (like; Success Plans, Reports, Images, Tokens etc.) from Gainsight to your business review deck, the admin can create a Success Snapshot template within Gainsight. The previous version of Success Snapshot had limited control over the template layouts and contents which didn't allow your admin to create a template that looked similar to your business review deck. Admins were restricted to the 5 default template types which were available, which diminished the usefulness of Success Snapshots for CSMs. For example, slides could not accommodate a Report and a write-up in a single slide, and the feature limited your ability to use your branding, as well as it couldn't accommodate multiple elements in a single slide.

To address the above issues, Gainsight's Success Snapshots has been introduced to upload your customized business review presentations (pptx) to Gainsight's Success Snapshot repository, and once the PPTX is uploaded, you can then insert the Gainsight data to the uploaded PPTX, as per your business requirement. For example, you can insert Customer Info fields, add Adoption reports from the C360/R360 and reports from Report Builder, etc.
The below flow diagram explains the flow of how a Success Snapshot is configured and exported, within Gainsight.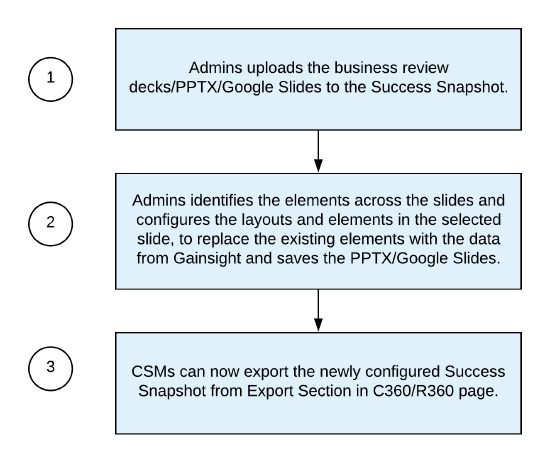 Use Case: For instance, you may want to add a report from Gainsight to one of the slides in the PPTX and describe the report in the form of a story. You can achieve this by selecting an element or a placeholder in the required slide and replacing it with the required Report. Similarly, you can insert any kind of data like; an Image, Text, or Tokens from Gainsight into the appropriate elements on the slide. Once admins configure the PPTX, as per their business requirement, CSMs can then be able to export the Success Snapshot PPTX from the Exports section in C360.
The benefits of using Success Snapshot include:
Efficiency - help reduce the time it takes for a CSM to prepare for customer meetings and presentations.
Flexibility - based on your business requirement, you utilize multiple options to tailor the information in your business review PPT. For example, you can insert a Report, update Text, insert Tokens, upload Image, etc using the customer data available within Gainsight.
Integration - connect with other Gainsight features like C360 and R360.
Example Use Cases for Success Snapshot:
Your CSM has created a presentation for QBR, outside of Gainsight, fully formatted and customized according to your corporate/company standards etc., and may want to add a Usage Data Report from Gainsight to the presentation.
Your Director of Customer Success may want ARR of a customer to be shown in the presentation, which you have created outside of Gainsight for your QBR meeting.
Your Executive may want a write-up for a particular report inserted from Gainsight.
Additional Resources
To create a Success Snapshot, admins must first upload the fully customized business review presentation (pptx) to Gainsight, and can setup one or more Success Snapshots. For more information on how to create a Success Snapshot, refer to the Configure Success Snapshots Template article.
For more information on how to export a Success Snapshot from the C360 page, refer to the Export Success Snapshots Presentations article.