Catch-up on X-Org Migration Enhancements
Last updated
May 2019: 6.3 Release
In Administration > Migration, Gainsight offers a migration tool to migrate your Custom Object's schema, Reports, Rules, Playbook assets, Data Spaces, Power Lists, and Reports from a source org to a target org. For example, if you have built and tested rules in your sandbox org, you may want to migrate them to your production org. This feature saves Admins valuable time and is enabled by default. For more information, refer to Cross-org Migration FAQs.

Note: The Migration tool can be used to migrate Scorecards 2.0 and Surveys 2.0 configurations. For more information, refer to Migrating Scorecards 2.0 using Cross-Org or Migrate Surveys 2.0 with X-Org.
Migrate Scorecard Mass Edit Reports: Admins can now migrate Scorecard Mass Edit Reports along with the report's associated fields, measured filters, and measured groups. Scorecard Mass Edit Reports are built off of either the Unified Scorecard Fact - Relationship object or the Unified Scorecard Fact - Company object in report builder. Previously, it was not possible to migrate reports built off of these objects. Only the fields, filters, and groups associated with the report will be migrated.
For more information on Scorecard Mass Edit Reports, refer to Edit Scorecards 2.0 with Mass Edit Report.
Migrate Import Lookup Configurations with Rules: Previously, Admins did not have the ability to migrate import lookup configurations as part of a rule migration, and had to manually set up the configurations in the target org. This defeated the purpose of the migration, as the setup was already tested in the source org, and then had to be tested again on the target org. Now that migrating import lookup configurations is supported as part of rule migration, Admins do not have to spend time manually setting up configurations or testing them a second time.
Lookup configurations are part of the Setup Action step of a rule when Load to Company is set as the rule's action.
For more information on configuring Lookup field mappings, refer to the Load to Company section of the Setup Rule Action Types article.
Migrate Relationship Types with dependent assets: Previously, when migrating assets dependent on Relationship types, it was not possible to migrate Relationship type with the asset. Now admins can migrate Relationship types implicitly along with a dependent asset, such as a rule. The relationship type on which the asset is dependent is migrated automatically along with the original asset being migrated.

Only the relationship type name will be migrated with the asset. Any objects and layouts associated with the relationship type are not migrated. It is not possible to explicitly migrate Relationship Types, along with any associated objects and rules, at this time.

Rules with the following action types can be successfully migrated:
Load to Company
Load to Relationship
Load to Company Person
Load to Relationship Person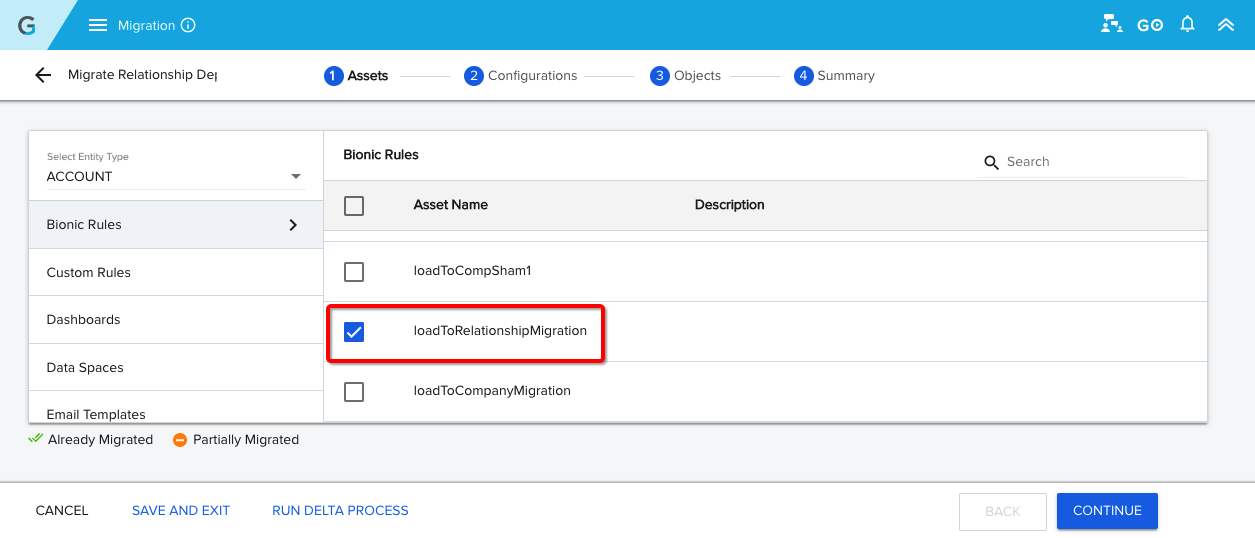 Ability to migrate Activity types and Activities sync configuration: You can now migrate Timeline Activity types and sync configuration from a source org to a target org. When you migrate an activity type, the associated layout is also migrated. If you modify the Activity type after migration, only the updated layout configuration of that Activity Type is migrated during subsequent migrations.

When you migrate Activity Sync configuration, the Salesforce Status and Salesforce Priority fields, along with the field mappings, are migrated. For a detailed step by step procedure, refer to the <<Migrate Activity types and Sync configuration>> TBA article.
Ability to Migrate Load to Milestones Action Type: Now when you migrate a rule with the Load to Milestones action type, the action type is also migrated when the rule is migrated.
April 2019: 6.2 Release
N/A
Feb 2019: 6.0 Release
X-org is a tool which is used to migrate data from a source org to a target org (for example, sandbox to production org).
Ability to Migrate Surveys 2.0: With this release, Gainsight now supports the migration of Surveys 2.0. Survey and Surveys 2.0 are listed as assets on the migration page. You can choose Survey 2.0 as the asset to be migrated and then select the required Surveys to be migrated. Surveys are migrated to a Draft status in the target org, regardless of their distribution status in the source org. When you migrate a survey, its associated analytical attributes and Permission attributes are not migrated.

Unique Name Constraint
With X-Org support, Gainsight now mandates you to use unique names for Surveys across Account and Relationship entities. No two surveys with the same entity type can have the same name. However a survey with the Account entity type can have the same name as a survey with the Relationship entity type, and vice versa
When you migrate Survey 2.0, the following dependencies are also auto-migrated:
Entity level dependencies will be migrated to destination org. For example , if a survey is created for a relationship type and the corresponding Relationship type is not present in target org, the dependencies are also migrated.
Language Level dependencies
Dependent objects for transactional surveys.
Title, Languages, and Logo.
Thank you message: custom messages, custom pages for Thank you messages, and redirection URL.
Header and Footer messages.
All questions including pages, section and all DISPLAY and SKIP logic rules.
Note: If any logic rules contain custom field attributes based on the company, company person, and relationship person objects; and those fields are not available in the destination org, then the rules will not be migrated.

Limitations
Associated Objects are not auto migrated. However, if the corresponding associated object already exists in the target org, it is auto mapped (both SFDC and MDA objects). If the corresponding object does not exist, associated object field of the Survey is set to null, in the target org.
Relationship Types are not auto-migrated for Relationship Type Surveys, if the target org does not have a Relationship type with the same name.
Logic rule conditions configured to lookup Company or User object are not auto-migrated. An entry for this will be documented in the migration logs.
Logic rules with matching picklists (based on name) are auto-mapped. However, if a picklist with same name and category is not found in the target org, the picklist is removed from the rule. An entry for this will be documented in the migration logs.
The Survey questions which are linked to a Question Library in the source org, will not retain the link after migration.
For a detailed step by step migration process, refer to Migrate Surveys 2.0 with X-Org.
Ability to Migrate Standard Picklists: Previously, Gainsight supported the migration of only custom Picklists. However, with this release you can now migrate Standard Picklists, using the X-Org Migration tool. Using this enhancement, you can migrate both single select and multi select picklists.
For more information about the migration process if picklists, refer to the Migrate Custom Picklist using X-Org article.