Catch-up on Surveys Enhancements
Last updated

09:03, 23 Mar 2017
February 2017: 5.5 Release
Browser detection for Surveys: When loading a survey response page, Gainsight will detect which browser is in use. If it is an unsupported browser, the survey responder will see a message that includes a link to a list of supported browsers. The full text of the message is "Your browser is not supported, please find the supported browser list here".
Surveys honor start and end dates: If the start date and end dates are set, a survey cannot be published outside of this date range, and a respondent won't be able to complete the survey after the end date passes. While these fields were previously located under Properties, they can now be selected on the Publish Survey page. For existing surveys, this option is visible but not enabled by default. For new surveys, this option is enabled.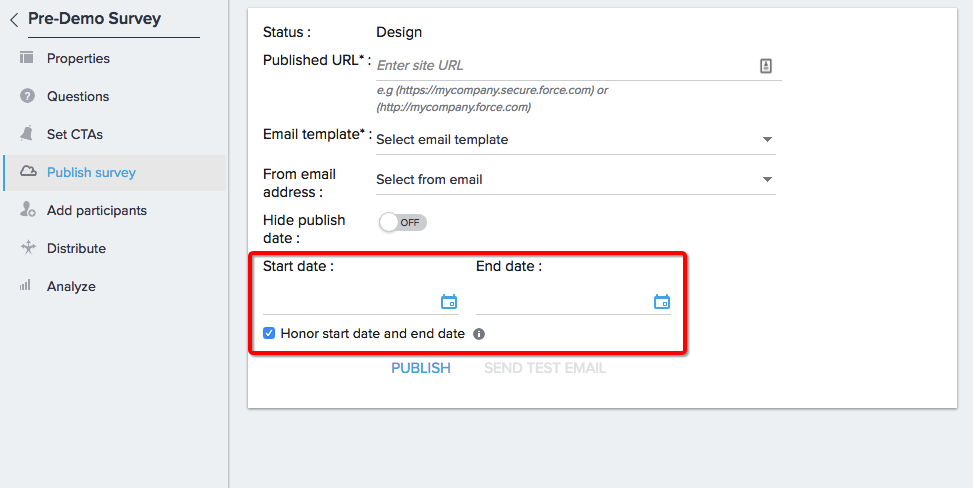 NPS Summary information is available in the Survey > Analyze sub-tab. This is the same information from the summary section of the NPS tab. Additionally, for a given survey, we display overall NPS Score in addition to a breakdown of the data. This information is added to the C360 and R360 Survey sections.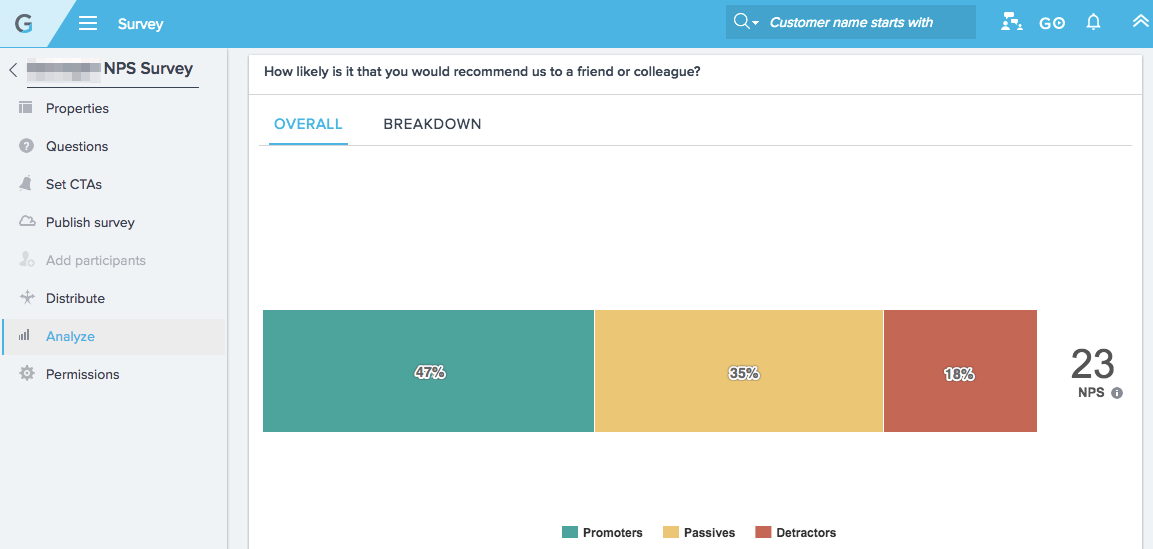 Add languages to live Surveys: Admins may select another language for a survey after the survey is published from the Survey > Properties page.

Analyze NPS Text Responses: The NPS Text Analytics feature examines the content of NPS comments and categorizes each sentence as either positive, negative, or suggestions. The goal is to identify important themes or "aspects" mentioned by customers from their NPS comments. After the feature is enabled, the results will be stored in an SFDC object called JBCXM_GSNPSTextAnalytics__c. The best way for all users to view this information is to build a report off of the object and share it on Gainsight dashboards or the 360. For more information on how to enable this feature, and how to build a report containing NPS Text Analytics, see How to Enable NPS Text Analytics.

Note: The comments themselves are not categorized, rather the individual sentences making up the comment are analyzed and tagged accordingly. The accuracy of the feature is typically between 75-80%. For every 10 sentences that are selected for analysis, the feature can accurately determine the opinion of 8 of them. These results will be stored in an SFDC object called JBCXM_GSNPSTextAnalytics__c. Sentences with less than five words, and sentences with more than 25 words are excluded from analysis.
Send Survey responses to an Internal team: Now survey responses can be sent to internal stakeholders through email. To enable, contact support@gainsight.com. Once the feature is enabled, navigate to Survey > Publish. Under the option Response Email Subscribers, enter email addresses with comma separated values. Now, whenever a survey response is submitted, an email is triggered to these users.
Deprecation notice for Survey > +Survey button: The "Pre-built" Survey option is removed. We recommend using Vault Survey templates.
Deprecation notice for Survey > Set CTA > Action: The Alert sub-tab is removed. Use the CTA tab to configure your Call to Action details.
November 2016: 5.4 Release
October 2016: 5.3 Release
New location for adding languages: As an admin, you can add a new language at Administration > Languages. Once the new language is configured, you can use it for multilingual surveys and on the email preferences page. Earlier, you could add a new language for surveys at Administration > Surveys.
August 2016: 5.2 Release
Enhancement: Create Surveys based on Relationships. You can now create a survey for a relationship type under Survey > Properties. In the Properties screen, select the Survey Type as Relationship, and then the specific Relationship Type.
2. Enhancement: Add Participants to Surveys based on Relationship Contact Role. In the Survey > Add participants screen, you can select contacts to add to your survey using the relationship contact role option.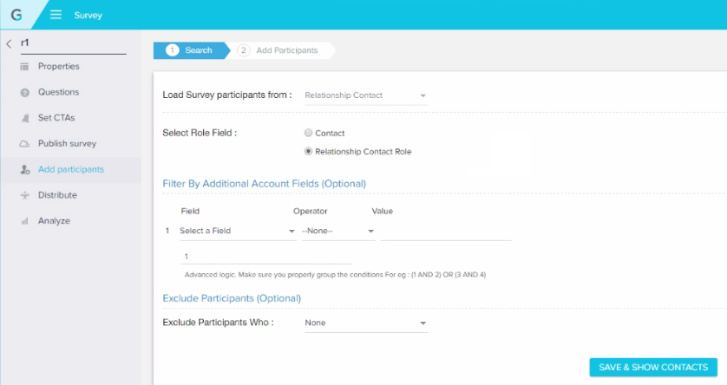 Enhancement: Survey NPS analytics support is available for Relationships. On the NPS tab, you can select a Relationship Type to view associated Survey NPS results.