Catch-up on Rules Engine Enhancements
Last updated

05:53, 1 Jun 2017
May 2017: 5.6 Release
Automatic Updates:
1. Support for Standard Objects in Bionic Rules Fetch Tasks: Previously when you selected Matrix Data, the Company, Relationship, or User objects were hidden as these objects were not supported in Bionic Rules.
Standard objects are now supported while creating CTA lifecycle from Company Object. You can start using MDA data sources such as SFDC Id, GSID, Picklist, Currency, Percentage etc. in rules without having to sync Account or Relationship data from SFDC through separate rules. Scorecard 2.0 related rules would also be easier. In short, you can incorporate Standard objects as sources and perform a wide variety of transformations, merge with SFDC objects, and perform actions.
a. Click +RULE from Administration > Rules Engine > RULES LIST tab.
b. Navigate to the Edit Rule screen where you provide the following information: the Rule Type (Bionic), Rule For (Account), Rule Name (new MDA Datatypes) and Description (optional). Click NEXT.
c. Navigate to Setup Rule > Source Standard object.
d. Select Company/User/Relationships as source standard object. All the data types which are now supported in Bionic Rules will be shown here. The following image shows the standard object (Company) and the datatypes available in it.
Note: MDA Joins (example, Company Objects has a User lookup) will not be visible in Bionic Rules. MDA Joins are not yet supported in Bionic Rules for both Custom and Standard objects.
2. Scorecard 2.0 fields are supported in Bionic Rules: You can now access the Scorecard Id, Current Score, Previous Score, and Trend fields in the standard objects such as Company and Relationship objects.
Limitations:
Since MDA Join is not supported in a Bionic fetch task, you need to create two fetch tasks if you want to include both the scorecard fact and company, and merge the data in a third task.
In Bionic Rules, you will not be able to set scores for scorecards created using Scorecard 2.0 option. The Set Score 2.0 option will not be available in the list of Actions. For this purpose, Gainsight recommends using Custom Rules to set the score for Scorecards 2.0.
3. Bionic Rule Config Preview available: Admins can now view the information about each Bionic Rule at a high-level. Perform the following steps to view the information.
a. In Rules Engine, click on any Bionic Rule name.
The Preview > RULE INFO tab is displayed. This tab displays summary information for that specific Bionic Rule.
b. Navigate to the RULE SETUP tab. High-level information is displayed:
Task Description
OutDataset Label (if any)
Source Type and Source Datasets
Export Enabled (True/False)
Merge Details: includes the Merge Details if the Bionic Rule was merged while transforming the task
Task Dependency Graph (Data Flow Diagram)
Note: Previously this was called 'Tasks Execution Flow Diagram' and appeared at the bottom of the window. Now it appears at the top.
Note: The RULE SETUP tab does not display all of the selected fields, filters, and Join conditions in the task.
RULE ACTIONS tab displays the list of actions as before. The EXECUTION HISTORY tab displays the basic details (existing feature) of tasks, including the link to download the final task output as csv.
4. Tasks dependency graph (DAG) in Bionic Rules > Setup Action: The Data Flow Diagram (DAG image) of every Bionic Rule was already available in the Rules Engine > [click on any Bionic Rule name] > Preview > RULE SETUP tab.
The same DAG image is also available at Rules Engine > [Click edit icon of any Bionic Rule] > Setup Rule screen as a task execution flow diagram.
5. Field Deletion option in Setup Rule screen: The fields that you use for setting up a Bionic Rule can now be deleted from the Gainsight Data Management page. Refreshing the specific Bionic Rule page will no longer show the particular datatype under the source object and will display a message as shown in the following image.
You can navigate to Administration > Data Management page > [add the deleted field] > Rules Engine > [re-edit the rule].
For more information about how you can delete fields that are used in Rules Engine > Bionic Rule, refer to the Field Deletion in Rules Engine article.
6. Alert appears while closing any Bionic Rules task with unsaved changes: Admins will no longer lose unsaved changes while creating or editing Bionic Rules. If you have any unsaved changes, you will now receive the following alert message if you click on CANCEL, BACK, or any other widget.
Incremental Improvements:
1. Formula Builder integration with Bionic Rules: The Formula fields in Bionic Rules are now supported, but the +Formula Builder button can be seen only when you perform the Transformation* (previously called Aggregation) tasks. This enhancement allows you to create different types of formulas so that you can avoid creating them on the Object directly in SFDC or MDA.
The following image shows the Transformation task as an output task where you can click the edit icon.
You can see the new +Formula Field button only when you aggregate the fetched data while transforming the task.
This feature is very similar to Calculated Fields in Custom Rule, but simpler. This will be shown as Number Field to add in the Show section while setting up a Bionic Rule. The following list describes each field available in Formula Builder > formula Field (refer the image below):
Output Field Label: This name contains only alphanumeric and underscore characters. The label should always start with an alphabetical character.
Output Header: This name is used as CSV Header to process action. This is view only and is generated based on the Output Field Label (but without space).
Decimal Places: Number should be between 0 and 9
Formula Type: When you add a Formula Field, you have the following Formula Types available:

Expression: All arithmetic operators are considered as Expression.
Function: Any predefined function (calculations already available in Engagement Rule) that Formula Builder supports. Bionic Rules now fills the gap of Engagement Rules as this will be deprecated soon after this release.
Note: When you select the Function check box, the following alert message appears stating that Date field is mandatory to use Trend Function type of formulas.
IMPORTANT:
You cannot create both Trend Functions and Expression in the same tasks. You can create two tasks in the same Bionic Rule - one with Trend Functions and another with Expression.
When you create Trend Function, at least one field in GroupBy section is required.
When you create Expression, the GroupBy section should not have any fields.
For more information about Formula Builder and different formula types, refer to the Formula Builder in Bionic Rules article.
2. 'Create CTA' action enhancements in Rules Engine: Create CTA action is now more flexible. You can map/populate Custom fields and Associate Contact.
Custom Fields: If you want to create a CTA with Custom Fields along with the Default Group of fields in Rules Engine > Setup Action, perform the following steps:
a. Ensure that you have configured the Default Group containing the Custom Fields first from Administration > Calls to Action > GLOBAL tab > Select the Default type > Detail view layout configuration section > CALL TO ACTION tab.
i. Standard fields are Read Only by default as shown in the following image. Custom fields that are marked as Read Only, will not be displayed in the Setup Action screen in Rules Engine.
ii. Custom fields that are marked as Mandatory, values must be provided in the Setup Action screen in Rules Engine.
b. In Administration > Rules Engine > + RULE (Bionic Rule - Custom Fields in Bionic Rules) > Setup Rule screen, click NEXT after adding the required datatypes in the Show and Filters sections and navigate to Setup Action screen.
c. Click +ACTION and from the Action Type drop-down list, select Call To Action.
d. Select the CTA Type. Depending upon CTA Type, it will show all the custom fields (under Additional Fields) that you Configured in Detail view layout configuration section > CALL TO ACTION tab. The following image shows an example of Additional fields section that contains custom fields configured from Calls to Action > GLOBAL tab > Select the Default type > Detail view layout configuration section > CALL TO ACTION tab.
Associated Contact Field: For Custom Object, Standard object, and Gainsight Object, if there are any contact lookup fields available, the same can be added in the Setup Rule > Show section.
Once the lookup field is added in the Show section, it will be available in the Associated Contact field in Setup Action screen > Call to Action (Type) > Create CTA section (as shown in the following image).
3. Load to Company Action Type available in Bionic Rules: Whenever you want to update the action on Company standard object in a Bionic Rule, you can now update by selecting the Load to Company option from the Action Type drop-down list on Setup Action screen. Only Update operation will be supported.
4. Dropdown Lists support in Rules Engine > Bionic Rule and Custom Rule: With this release, 'Dropdown Lists' feature is introduced in Data Management.
This enables Admins to create their own Dropdown Lists by creating a new Category in MDA Account and adding new items to be available in the list.
a. Navigate to Administration > Data Management > Dropdown Lists where you have the Categories listed, or you can also add new categories by clicking +CATEGORY.
In the following example, Department is selected as Category. In this category,
b. Enter the name of the Object in the category. (here, Test for Standard Object) with in MDA Account.
c. Click +ITEM. (here, Marketing, Sales, and Business are some of the items added)
d. Navigate to Rules Engine > [click on any Bionic Rule (here, Dropdown Lists Usage)] > Setup Rule screen.
e. Select Matrix Data.
f. Select the source object (Test for Standard Objects) that was created in MDA Account in Data Management > Dropdown Lists page.
g. Drag and drop the Dropdown type in the Filters section. You can now see the same drop-down list that you created (as items) is available here. (refer the following image).
5. Aggregation Task in Bionic Rules is renamed as 'Transformation' Task: When you click +TASK in the Setup Rule screen, the 'Transformation' task option is now available in place of 'Aggregation'.
February 2017: 5.5 Release
Rules Engine supports new data types in MDA: With this release, Gainsight Data Management (GDM) supports Currency, Percentage, Email, Picklist, SFDCID, and GSID data types. These new data types are also supported by the Rules Engine module. Earlier, the Percentages and Currency fields were defaulted to Number; the SFDCID and Email fields were defaulted to String; but now you can see the currency and percentage data type fields. You can also add these fields in the Show and Filters sections and map them in the Action stage. In a rule, you can also fetch fields from the standard objects like GS Company or GS User (shipped with this release).

The following image shows an example where Currency, Email, and SFDCID fields are selected.
Note: Standard objects will not be available to be used as Source in Rule setup. Admins can import the data from SFDC more frequently using Gainsight - Connect. Customers cannot load Standard objects using Rules Engine, but when an object in MDA is selected and that has a lookup on a standard object, the standard object will be accessible in rules. This is not supported in Bionic Rules, since MDA joins is not supported
Create Milestones for Relationships: In Rules Engine, Admins can configure rules to automate milestone creation for Relationships. The list of the milestones are now displayed for both Account and Relationship types. Relationship tokens (based on the selected Relationship type) are available while adding comments. Refer Create Milestones for Relationships in Rules Engine.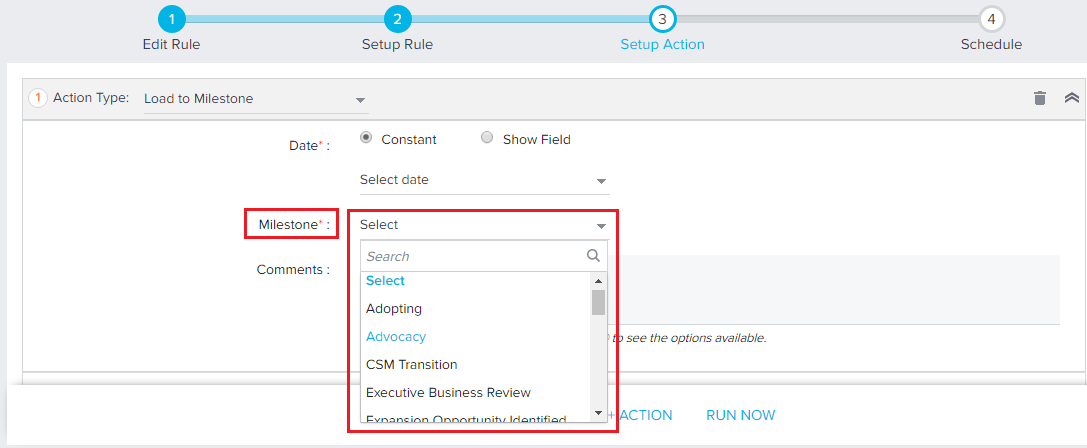 Bionic Rules in Rules Engine: A new rule type is available in Administration > Rules Engine > + RULE > Edit Rule > Rule Type which can perform multiple fetches and transformations in a single rule; including tasks to fetch data from multiple sources, merge, aggregate, pivot and then load to an object. Previously, multiple objects used to be joined and flattened by a series of Custom Rules, but now this can be accomplished with a single bionic rule.
Data is not required to be duplicated or loaded to temporary tables to get the Account Lookup and aggregate. For more information, refer to the Getting Started with Bionic Rules.
Bionic Rules helps you reduce the rules created and all MDA custom objects (Redshift only) created by enabling Admins to work with multiple data sets from multiple data sources; as well as process the data and perform actions.
Also see the following Tutorials:
Enhanced Filter Component is integrated in Bionic Rules and Custom Rules. This new improvised Filter component honors the Custom Lookup options based on the Rule/Relationship Type options chosen and shows only those values in the Filters.
Link the 'Linked Objects' to CTA through Rules Engine: Previously, CSMs used to manually search for a specific record and link it in the CTA Detail View, but now with this enhancement, all CTA relevant records can be linked through Rules Engine. All Linked Objects that are linked to the CTA type will be available in the drop-down. When a linked object is selected in the drop-down, Admins can choose the field to which it should be linked from the Show fields.
Prevent the creation of repetitive CTAs: Admins can select the Create CTA once in check box in the Create CTA action to prevent the creation of CTAs based on the timeframe selected. A separate check box will be available for separate actions.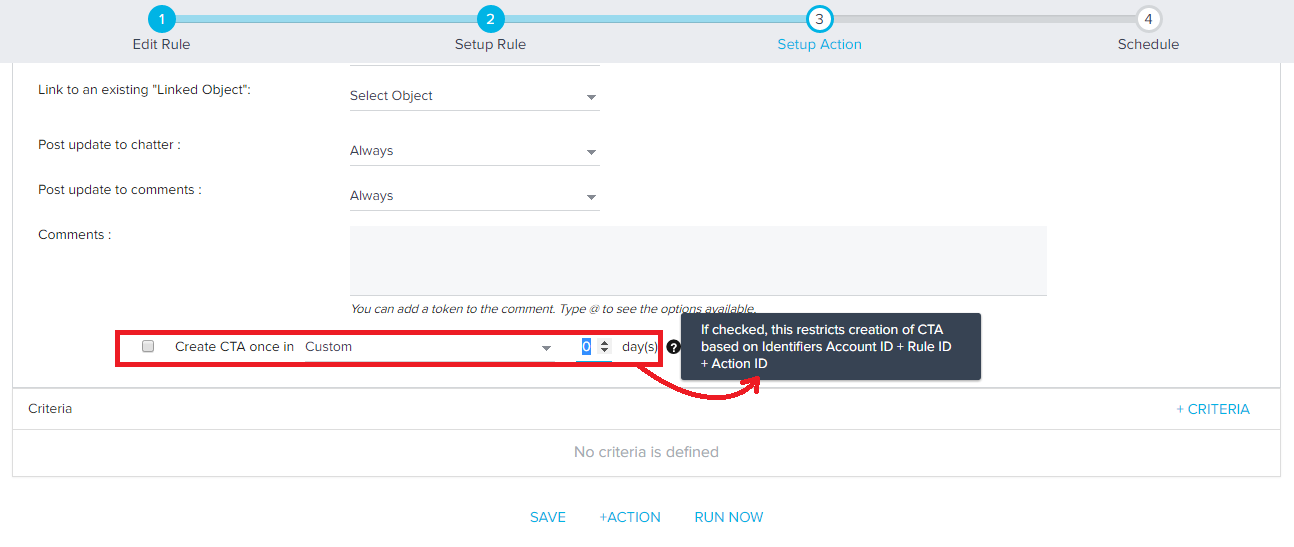 Include CTA ID as Identifier: In the Close CTA action, Admins can now select the CTA ID > Include in identifiers check box to validate if the CTA ID should be included in identifiers while closing CTAs.
Note: When you select the Include in identifiers check box, the Type, Source, Reason, and Set CTA status to fields will become disabled and restricts the rule to mapping only with the CTA ID field. Only CTA ID will be used as an identifier while closing the CTA.
Close Success Plan Objective CTAs: Admins can now select the Objective option from the CTA Type drop-down list to close Objective CTAs from the Rules Engine.
If the CTA type is Objective, the Objective Category field will be visible instead of Reason, and the Survey option is disabled in the Source drop-down as shown in the following image.
'Close CTA' action for Relationships in Rules Engine: CTA types associated with relationship types are available in the CTA type drop-down. CTA status associated with the Relationship type, CTA type, Global active All, and Private All are available. CTAs of the selected Relationship type can be closed.
November 2016: 5.4 Release
Rules metadata will be migrated to MDA.

AutomatedAlertRules__c and ActionTemplates__c objects will no longer be used for storing rule definitions. All rule definitions will be migrated to MDA. If you are using these objects in any form, such as reporting, please get in touch with Gainsight Customer Support.
Note: This change will not have any impact on existing rules. You will be impacted only if you have a report configured, or a workflow configured using these objects.
October 2016: 5.3 Release
N/A