CS Patch Release Notes: Version 6.5.X series
Last updated
This document contains information about new functionality or issues that were resolved in patch releases of the 6.5 version.
Note: Releases are not always contiguous, and do not always contain customer-facing issues or enhancements. Occasionally, a release number is skipped due to SFDC restrictions on what can be released as a patch, or patches may be consolidated into a single customer-facing release.
Version 6.5.6 (Hotfix), September 9, 2019

Note: Version 6.5.4 and 6.5.5 were rolled into an internal release.
Issues Addressed
Journey Orchestrator
Unable to Display the Date from the Powerlist in Emails from Program: Previously, the date from the Powerlist was not displaying properly in the Emails which were sent from Programs. This issue is now resolved.
Version 6.5.3 (Hotfix & Patch), September 4, 2019
Issues Addressed
Dashboard Builder
Issue with Dashboard Permissions: Previously, there was an issue where the Dashboard Permissions icon was grayed out for all tenants. During this time, users were unable to view Dashboards. This issue is resolved now.

Unable to enable the Dashboard Permissions: Previously, when Admins tried to enable dashboard permissions for users, the system threw an error. This issue is resolved now.
Journey Orchestrator
Change in Derived Mapping in JO Stopping Display of Synced Participants: Previously, participants were affected if Admins performed the following steps in Journey Orchestrator:

Create a JO with one source.
Select mapping and create a derived mapping.
Sync participants.
Modify derived mappings for Custom field.

The participants were not displayed when Admins navigated to the participants screen, without syncing, after performing any of the above steps. This issue is now resolved.

Unable to Send Mails using Outreach for the users with Program Distribute Permissions: Previously, users with Program distribute permissions were unable to send mails using the Outreach feature. This issue is now resolved.
Version 6.5.2 (Hotfix), August 26, 2019
Issues Addressed
Scorecards
Picklist Values Displayed for Scorecard History/Snapshot Standard Reports in Dashboard: Previously, when you used a Standard report and a habits report on a dashboard, picklist values were generated for the standard report, which were created using a measure. With this solution, you must manually enter the filter values for the Standard report in the Dashboard and also in the Report Builder page.

Note:

If you have applied measure filters in a Dashboard for Standard Reports on Scorecard History/Snapshot, you must now clear the filter or reset the filter.

If a Standard report created on the Account/Relationship history object has a scorecard filter, and a measure filter, the values for the measure filter will be displayed as a range, instead of the respective color.

For example, measure_value = red [0-25] is now displayed as measure_value = [0,1,2,3,4,....24,25]. To change this, you must re-configure the report.
Version 6.5.2 (Patch), August 20, 2019
New Feature
Enablement Engine
Please note that Enablement Engine is available as an add-on to our Customer Success platform. For more information on how to license it, please contact your Gainsight account manager.

Gainsight Enablement Engine helps you supercharge your CSM team by streamlining onboarding, reinforcing trainings, and boosting productivity.

You can use Enablement Engine to:
Analyze Gainsight CS feature usage to quickly and easily see what your CSMs are doing.
Launch personalized in-product engagements based on each CSMs behavior to onboard new CSMs systematically and, drive adoption of new team processes and Gainsight CS.
For more information, refer to the Enablement Engine Overview document.
Enhancements
Connectors 2.0
Customer data is collected and stored in various data stores in any organization. Connectors are integrations that are offered out of the box to connect the varied data sources and sync information in Gainsight.
Ability to delete any Field Mapping in the Connectors: Admins can now delete any out of the box or custom field mapping, except a few mandatory out of the box mappings. Previously, you could not delete any field mapping. The non deletable mappings are required even if you create a custom job and select target object as Company, Company Person, or User. This enhancement is applicable to the following Connectors:

PX Connector
Segment
Mixpanel
Adoption Explorer
Adoption Explorer helps manage your customer's usage data in the Gainsight environment, and quickly surface the most relevant view of usage data across your customer base. Adoption Explorer offers powerful segmentation capabilities to manage multiple product lines, more robust control of aggregations and calculations, and totally re-imagined visualizations to surface deep insights. Customer's usage data at Company and/or Person level can be stored at both daily and weekly level along with their entitlements. Using the ingested data, Admins can define new derived fields without the need of Rules Engine.
Ability to Delete Unused Usage Sections: A new page called Usage Sections is introduced under Adoption Explorer Layout page. You can view all the Usage Sections created in the Layouts, for a selected project. This page allows you to delete the unused usage sections. The delete icon is visible only for the usage sections that are unused.
Ability to Hide/Show all the Weekends: Hide/Show all the Weekends feature in the Layout Detail view page allows users to include or exclude the weekend usage information to calculate metrics.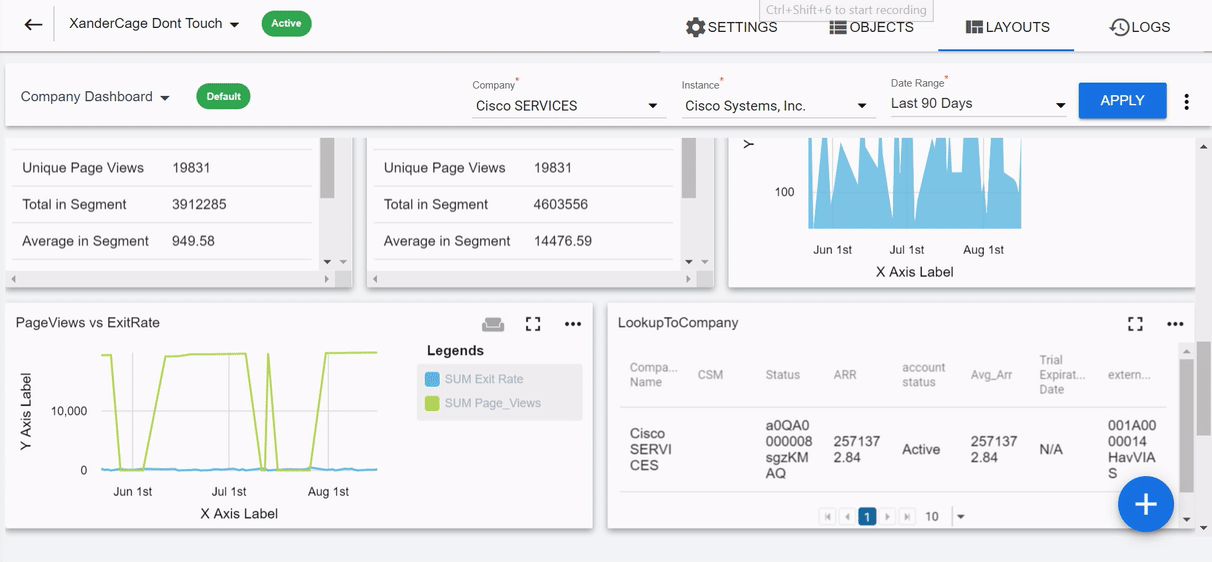 Ability to Export a Usage Section as CSV: Users can now export the individual Usage Section in the Layout as a CSV file.
Ability to Export a Layout as PDF/Image: From the Layout Detail view page, users can now export the complete Layout as a PDF/Image.
Ability to support Missing dates as Nulls on the Usage Sections: With this enhancement, while building usage sections in a project, you can now include the dates for which the usage data is Null, for the selected date range. Once you enable Show Missing Dates With Nulls, the visual representation includes the Null data, and users can interpret more thoroughly and make better-informed business decisions.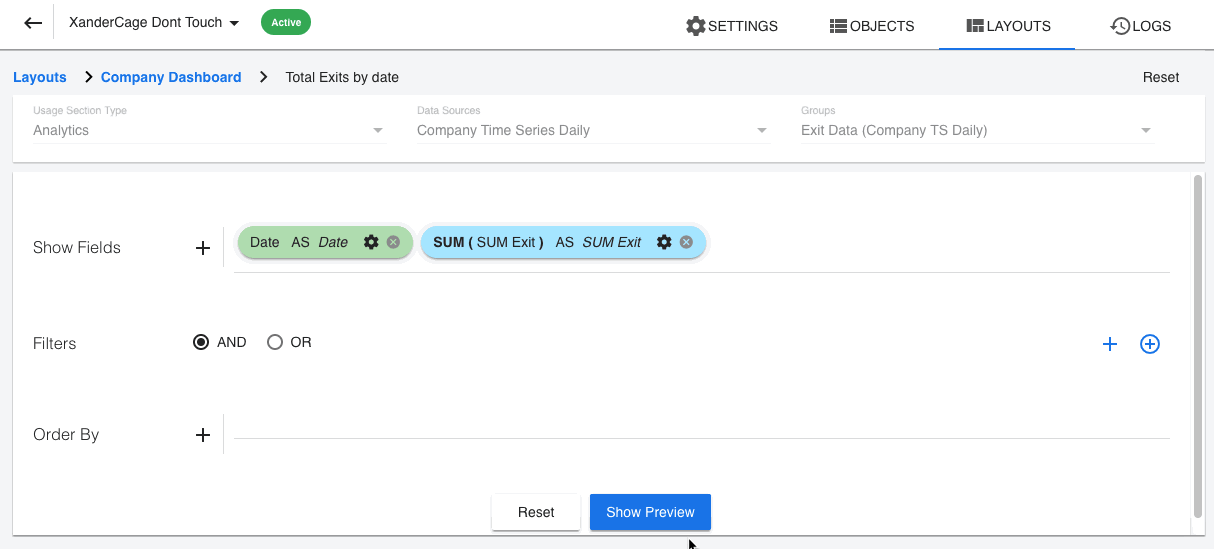 Configurable Functions on Auto-Rollup from Daily to Weekly: Previously, while creating derived fields, when you selected the RollUp to weekly checkbox, it aggregated the data on this field only with the Sum function. With this enhancement, Admins can now select the function type of your choice from the Aggregate Function Type dropdown list, while rolling up weekly data.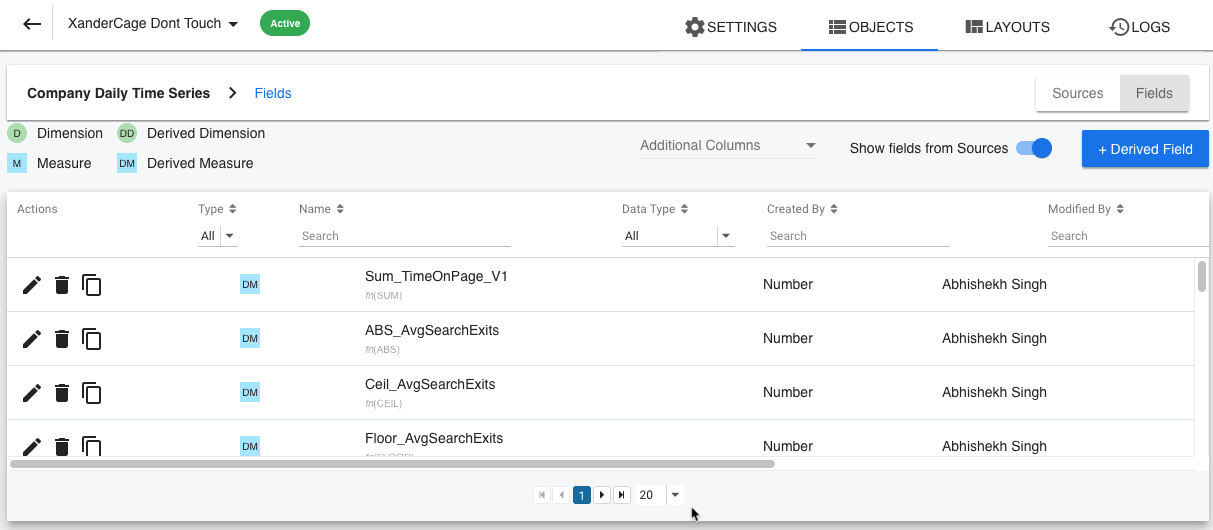 Cockpit
Two emails were sent for a single Email task, and two Timeline activities were created: Previously, while sending emails from Cockpit, sometimes the system displayed an error message on the UI stating "The request for sending email failed". Users after seeing the error message might have clicked Send Email again, which sent the email a second time, and two Timeline activities were created. This issue is now resolved and Send Email works as expected.
Version 6.5.1 (Hotfix & Patch), August 11, 2019
A few enhancements and an issue were planned in SFDC V6.5.1 for one customer. The items which were planned for the V6.5.1 patch release and hotfix were rolled into the Version 6.5 customer release.