This article will walk you through how to view and report upon survey responses. From the Analyze menu in surveys you can run reports about the survey and see answers to specific questions.
Analyze
To access Analytics for a specific survey:
Navigate to the Survey tab > click the survey name on a survey card
Click Analyze
Within each report, the views available are:
Tabular
Graphical
Detail View
At the top right of the page, click the filter icon to filter the results on the whole page. You might use this to filter by a specific account, by industry, etc.
Survey Response Statistics
Thie Survey Response Statistics report displays all end user responses in a graphical format by default.
Tabular
Click the Table icon to switch to a tabular format where you will see:
Participant
Account
Responded (Date and Time)
Question - Column for each question with answers
Export
Click the export icon to initiate an export of the tabular view. The report will be emailed to the initiator once it has been processed.
Specific Question Reports
Under the Survey Response Statistics you will see an individual report for all questions on the survey. By default these reports will be shown in a graphical format.
Tabular

Click the Table icon to see the results in a tabular format.
Detailed View
Click View Details and Follow Up to see a list of everybody who responded and the response.
From the detail view you can:
Filter by All, With Task, Without Task
Select Participants by checking the box next to their name
Add Task
Add Task

When adding a task you can choose who the task should be assigned to based on Account fields or by selecting a user.
Detailed survey response view
To view a Survey participantl's detailed survey response, you can access it from the Surveys tab, or from the Customer360.
Navigate to the Survey tab and the Survey card.
Click the number of responses on the card.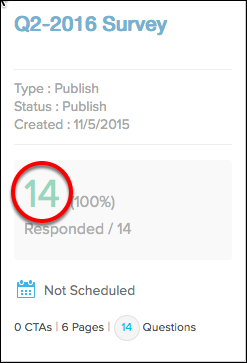 Click View response next to the individual's name.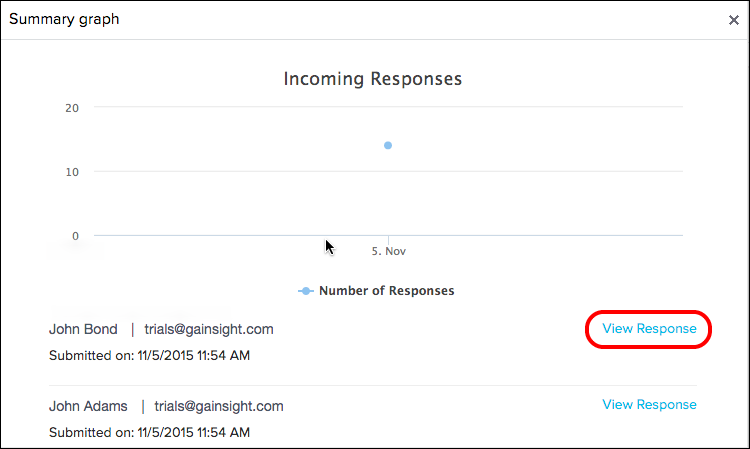 This brings up the survey form itself with the participant's responses.
If you have a Survey section enabled on your Customer360 page, you can also access the detailed responses on the Survey Responses tab.
Navigate to the Customer360 and click the Surveys section.
Click the Survey Responses tab.
Click the View icon on the right to see the detailed response page.
NPS Analytics
If your survey included the NPS question, you can view NPS results in a variety of ways on the NPS tab. See the article NPS Analytics/Reports for more information. Additionally, the Gainsight survey module can analyze and display NPS text response data. For more information on this feature see the article How NPS Text Analytics Works.