Configure Scorecards 2.0
Last updated

03:44, 6 Mar 2017
Important:
This is our first deployment of new Scorecard functionality to manage both Account and Relationship scorecards with one tool. Additional functionality will be deployed later to support migration from Account and Relationship Scorecards to Scorecards 2.0.

New Gainsight customers will use Scorecards 2.0 to configure Account and/or Relationship scorecards.

If you'd like to deploy Scorecards 2.0 now, please contact your CSM to discuss options.

Keep in mind that SmartSigns and Scorecard history (from Scorecards 1.0) won't be available in Scorecards 2.0 for existing customers.

As Scorecards 2.0 related data resides on MDA, the CustomerInfo object will not have any data related to Scorecard 2.0.
Prerequisites
To work with Scorecards 2.0, you need to have the following:
Enable Scorecards 2.0

Enable Gainsight Connect. Refer Gainsight Connect for more information.

Gainsight Standards Objects enabled

Enable Scorecards 2.0 from Setup > Installed Packages.
Limitations
The Scorecards 2.0 habits report can not be exported in Success Snapshots.

When Scorecards 2.0 chart type reports are configured and exported from success snapshot, Scorecard scheme colors are not displayed in the exported report.

SmartSigns are not available for Scorecards 2.0.
Enable Scorecards 2.0 and Set as Primary
To enable Scorecards 2.0:
In Salesforce, click User Profile and select Setup.

Navigate to Develop > Custom Settings.

Click Manage at Feature Configuration.

Click Edit on SCORECARD V2, select Enabled and Save.
Set Scorecards 2.0 as Primary in Gainsight
To see health scores created in Scorecards 2.0 in C360/R360 summary widgets, you have to set Scorecards 2.0 as primary in Gainsight.
To set Scorecards 2.0 as primary in Gainsight, follow these steps:
Navigate to Setup > Custom Settings > Feature Configuration > SCORECARD V2 PRIMARY.

Select the Enabled box.
Configure Measures
You can add measures for an Account or Relationship.
Navigate to Administration > Scorecards 2.0.

Click + MEASURE. The Add Scorecard Measure dialog appears.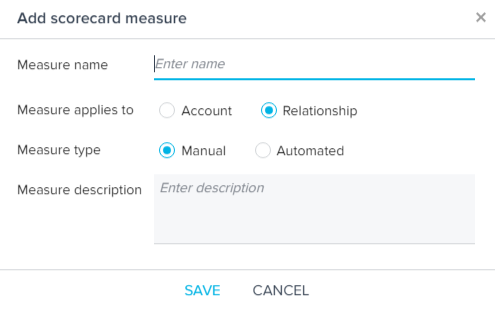 Type a measure name.

Select Account or Relationship in Measure applies to field.

Select Manual or Automated. If Automated is selected, you need to build an associated rule for loading relationship health scores automatically.

Type a measure description in the box.

Click SAVE. The scorecard measure will be created.
Configure Account/Relationship Scorecards
To configure Account Scorecards in Scorecards 2.0:
Go to Administration > Scorecards 2.0 > SCORECARDS.

Click + SCORECARD.

Type a name for the scorecard.

Select Account or Relationship.

To create an Account scorecard select Account.

To create a relationship scorecard select Relationship. If you select Relationship, a new field Relationship Type appears. Select a relationship type from the list.

Select a scheme type for your scorecard. For more information on scheme type, refer to Scorecard Scheme Type.

Select to roll-up the scores from measures to the relationship level based on the weightage applied to the measures in the scorecard.

Enable group scores check box if you want the group score to be updated based on changes to the associated measures.

Enter a brief description of the scorecard.

Under Configure scorecard, drag-and-drop available measures from the Measures on the left. In addition, you can click on the +GROUP button to to create a group for the measures.

Click WEIGHTS and assign each measure an appropriate weight. For example, you might want to give more weight (importance) to Growth, rather than Customer Relationship. Click SUBMIT.

Click VALIDITY TYPE to select validity period for each measure. If the validity period expires, the scorecard measure displays a hyperlink, as shown in the image above, that can be accessed by the user to update the measure score, or reset the measure score.
Hover over each measure and then click on the text icon to configure help text. This help text will appear on the slider that is available on the Relationship 360 Scorecard, and helps users while updating the measure score. For more information on how to configure help text, refer to Configure Help Text for Measures.
Click SAVE.
Configure Exceptions in Account Scorecards
To configure exceptions in Account scorecards:
Click Exceptions. The Configure Exceptions dialog appears.
Fill information in Name, Measure, and Operator fields.
Click on the circle and select a score.
After selecting a score, click SAVE SCORE.
Click SUBMIT to save the exception.
For more information on configuring exceptions, see Configure Relationship Scorecards.
Create Group-level scores
With Scorecards 2.0, Admins have the ability to create scoring for a measure group.
To enable this option, navigate to Administration > Scorecards 2.0 > Scorecards > Add or edit a scorecard and select group scores option.
Once group level scores are enabled, you can see the score in C360/R360.
Mass-edit Scorecard 2.0 measures from Report Builder
For measures created in Scorecards 2.0, Admins can mass-edit both Account and Relationship scorecard measures from the Report Builder. Previously, you could only mass-edit Relationship scorecard measures from Dashboards or the Report Builder.