Export to S3 from Bionic Rules
Last updated

09:27, 26 Jun 2017
Bionic Rules allow you to export each task output data to Amazon S3 from the Gainsight Rules Engine. When using S3 Buckets, the job exports the data from the datasets. The destination of the data does not change, only the method of how the data is ingested. S3 is a place to store files - it is not a database.
For each task, Bionic Rules allow you to configure export. In Bionic Rules, select the Enable Export checkbox under the Export to S3 section at the Rule Setup screen.
As an Admin, you can now export each task's output to S3 buckets which can either be Gainsight Bucket or Custom Bucket with encryption and decryption capabilities. Perform the following steps to export the output to S3.
Select Rule Setup > Export to S3 > Enable Export checkbox. The following following screen is displayed.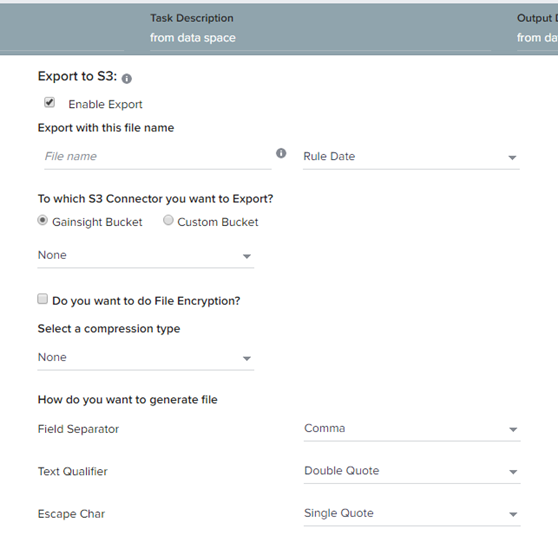 Provide the required information in the fields available in this section:

Export with the file name: Each task output can be stored along with the pattern type that is appending the Rule Date to the file name. If you add slash in the File name, it creates the folder name as shown in the following image.
Note: Avoid creating file names with leading spaces.
To which S3 Connector you want to Export?

Gainsight Bucket: If enabled, it shows the available options in the drop-down list
Customer Bucket: You can create your own Custom Bucket that has the following fields:

Bucket Access Path
Access key
Security Token

Click VALIDATE S3 CREDENTIALS.
Do you want to do File Encryption?

Select the checkbox.
Select the Do you want to export if encryption fails? Checkbox.
Select the Available Keys checkbox if you have the key details with you or you can contact Gainsight tech support to request for the key.
Note: You can also select Custom key which is Pretty Good Privacy (PGP) Public key. PGP is an Encryption-Decryption program. Using Public key, the data is encrypted, then customers can decrypt only with private key.
3. Select a compression type for the available key from the drop-down list.
4. How do you want to generate file? Select the required options from the drop-down lists for Field Separator, Text Qualifier, and Escape Character fields.

5. Click SAVE.