This article explains how to use and navigate within the rules engine List view, Timeline view, and Rule chain view.
Navigate to Administration > Operations > Rules Engine.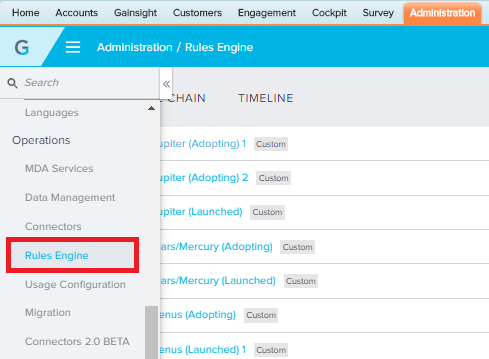 Search in Rules Engine List View
The search field at the top of the Rules Engine > RULES LIST tab allows user to search for a specific rule, instead of having to scroll and find a rule. If you search for a rule using the search field, the text typed in the search field persists even if you navigate to another rule and then come back to the RULES LIST tab. This is true even when you switch between different tabs, such as RULE CHAIN and TIMELINE. However, the text entered in the search field is erased when you navigate away from the Rules Engine section.
Note: In the search field, Filter by rule name is displayed by default as shown in the following image.
To further refine searching, you may filter by:
Rule name (default)
Created by
Last Updated by
Action type
Source Object
Last run status
Rule type
Rules Engine Settings
Settings icon:
Permissions - Rules Load Actions: Previously took you to data load configurations.
OAuth User Info: Shows the OAuth user currently authorized, and the date of authorization. 

Usage Configuration: Shows the current setting of Time Granularity. Time granularity can be in months or weeks.
Time Zone: An org-wide setting that is used to determine the definition of day. The Timezone set in Administration > Application Settings > Timezone pane is honored in Rules Engine.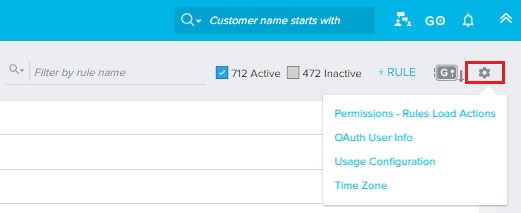 Note: In order to access the Settings icon in the Rules Engine, you need the Gainsight Special permission set. If you need access to the Rules Config (Permissions - Rules Load Actions), contact your Salesforce Admin and request the "Gainsight Special" permission set.
Rules Engine List View Features
In the Rules Engine tab you can:
Filter by Active / Inactive Rules
+ RULE
Clone - Note: Cloning creates a copy of the rule in an inactive state.
Edit
Delete
Toggle an existing rule on/off
Run Now
Timeline view
List view
Rule chain view
Rule Details view or Preview. Click on the Rule Name to see the Rule Details view.
Import Rule Templates from Vault
Timeline View
The Timeline view in the Rules Engine provides a bird's eye view of your Rules Engine schedule and current execution status. From this view, Admins can more easily identify rule failures and potential conflicts in the sequencing of rules. In addition, the Timeline view also displays rules that are part of a Rule Chain. Specifically, Timeline displays:
Historical data of executed rules.
Rules that are scheduled for execution in the future.
Rules that are part of a Rule Chain.
Use the top arrow to view the rules that are currently scheduled for executions and the down arrow to view the rule which are already executed in the past.
The following image displays different icons that appear based on your rule execution status:
Click

of a any Rule name to see more details about the rule and to access VIEW LOGS.

Abort Rule
Timeline view also enables you to abort a rule using the Abort option beside RULE DATE. Abort option is enabled for any rule scheduled for a run. You can use this option when the rule run is initiated unintentionally or if the rule is not configured as required.
Abort option is also available in the EXECUTION HISTORY tab of Rule Details.
When a rule that is used in a Rule Chain is aborted, you are prompted with an option to abort the rule chain in the Abort Rule dialog box.

Abort rule chain check box:
Select this option to abort the Rule Chain(s) which the rule is a part of.
Deselect this option to abort only the selected rule and the dependent rules in the respective Rule Chain(s). The independent rules in the Rule Chain are executed as scheduled.
Rule Chain View
Rule Chains are groups of related rules that have been chained together to execute one after another with a shared schedule. In the RULE CHAIN tab, you can configure chains of rules, as well as view existing rule chains. Each rule chain is represented by a card (refer the following image). For more information, refer Creating Rule Chain.
Rule Details View or Preview
When you click on Edit icon available for each existing rule name (widget), you can see the list of rules in it. Click on any rule name, it navigates to Preview window that contains RULE INFO, RULE SETUP, RULE ACTIONS, and EXECUTION HISTORY tabs.
Related Content