Sally - the Gainsight bot Overview
Last updated
Overview
Gainsight introduces Sally, the Slack bot from Gainsight. With Sally, your company can better collaborate through real-time customer insights within their favorite apps. Powered by AI, Sally makes rich Gainsight data easily accessible through simple conversation. Talking with Sally is just like talking to a real person and machine-learning technology helps her get smarter with each interaction.
Not only can Sally provide answers to a diverse set of questions about your customers, she can also update customer data, provide information on health scoring, current risks and opportunities. Your company can quickly collaborate on the latest customer intelligence to more rapidly deliver customer outcomes across all parts of your organization.
This beta release introduces Sally for Slack. In the future, Sally will be compatible with other channels such as email, Cisco Spark, Microsoft Teams, Hipchat and others. She will also offer a greater range of functionality. To view a video about how Sally works, see Intro to Gainsight Sally bot (4 min. video).
Prerequisites
You must have a valid Slack account.
Authorize Gainsight Sally to your Slack team. For more information, see Sally Administration.
Limitations
For a future release, we are working on providing at least basic support for Relationship queries, but currently you can't query for Relationship data.
How Sally Works
The following animation gives you a short glimpse of how Sally works in Slack. You can type a message to Sally and get the response in the message window.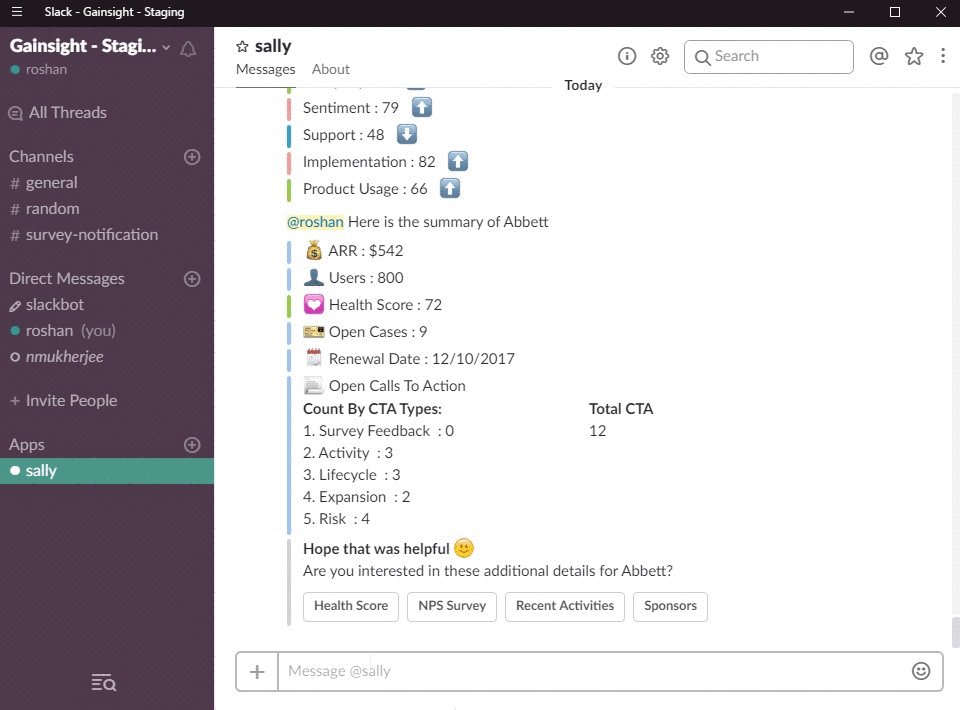 Suggested Reading
Note
: If you have questions or any feedback about the feature explained in this article, please start a conversation on community.gainsight.com.