Relationships are an object in Gainsight that can be used to model multiple perspectives by creating relationship types and relationships, which eventually helps your CS team manage the success of each relationship. Relationships takes CS beyond managing Accounts. They help CS manage each connection point (Relationship) with your customer.
Vocabulary:
Relationship: the relationship entity itself
Relationship Types: similar to templates; types describe the nature of relationships with the end customers
Relationship Data: contract start date, ARR, CSM/Relationship owner, CTAs, health scores, etc.
The following scenarios are examples of how Relationships can help you manage success:
Your organization sells a product multiple times to the same customer for different teams, business units, or use cases. And you want to track success for each team, business unit, or a use case. You can manage the success of each sale as a relationship within Gainsight.
Your organization sells multiple products to the same customer, and each product is managed by a different CSM.
Your organization typically manages specific projects or events for their customers, and each project or event is managed separately. You can manage success using relationships with each project or event.
Your organization sells multiple products to multiple divisions. You need to deliver and track Success for each separately.
For information on how Relationships differ from SFDC Account hierarchy, check out this blog post.
Gainsight Services for Relationships Setup
If you are interested in deploying Relationships for your company, you will need to work with Gainsight's Professional Services team to ensure a smooth and accurate implementation. Please reference your contract to determine if this Services Package has been included, or contact your Gainsight Sales Representative or CSM for more detail.
Summary
The new Relationships capability enables customers to define success at a more granular level than customer. There are two components to using Relationships within Gainsight:
1. Admin sets up Relationships
Gainsight offers a flexible way to define what a relationship is based on a variety of criteria including products, business unit, opportunities (created in Salesforce), geography, or projects. Once the different type(s) of relationships are defined, Admins can also configure what details are available to CSMs when viewing a specific relationship.
2. CS team manages success via Relationships
Conceptually, whatever a CSM previously managed at the customer-level, can now be managed at the relationship-level. This includes managing CTAs per relationships, viewing relationship details such as attributes or usage on the new Relationship 360 page, and managing health scores per relationship. Some of these capabilities are available now, while others are coming in future releases. This document reviews the end user (CSM) experience first.
CS Team manages success via Relationships
Below is an overview of the changes in the CSM's experience once relationships are setup:
Customer 360
For customers with associated relationships, there is an additional section in the Customer 360, which displays a summary view of each relationship. In this example, there are two relationship types under the customer Adobe.
This Relationship summary view is also known as the card view. Admins can set up which fields show up in the card view, while defining the relationship.
Note: When you add a new relationship using the ADD button, the page displays fields from the Relationship object only.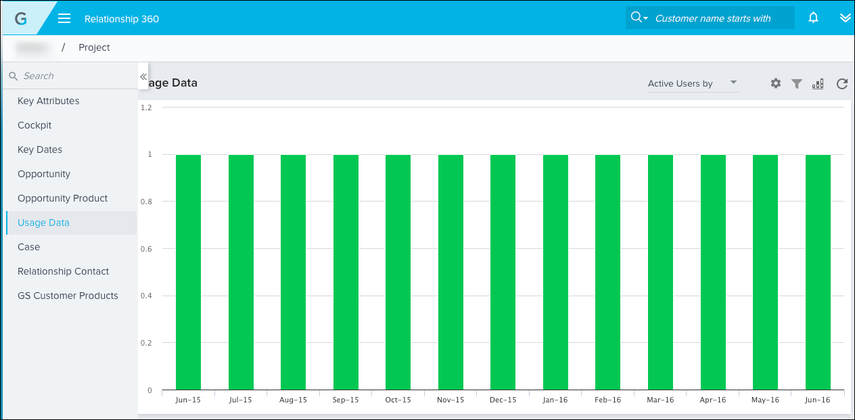 Clicking the card view in the screen above will take you to the details of the relationship, also know as the Relationship 360 page. You can navigate through the various sections of the R360 using the section names on the left. You can also access the Relationship 360 page directly from a report that lists Relationships.
The Relationship 360 page is analogous to the Customer 360. Like the Customer 360, it can show various sections associated with the relationship, which include reports, CTAs, scorecards, the Sponsor Tracking, Surveys, and Success Plan sections, as well as summary attributes. Depending on how it's configured, CSMs can edit attributes, as well as view report data that is specific to the Relationship (eg. cases, usage, etc.).
The following image is an example of the Cockpit section in Relationship 360:
The following image is an example of Scorecards in the Relationship 360:
3. Changes in Cockpit to incorporate Relationships:
In the Cockpit List View, CTAs can be grouped by Relationship.
You can now create Relationship CTAs from Cockpit's List view as well as group and search for CTAs by relationships. This functionality is only available if you have enabled Relationships.
Special Considerations
If your organization is considering using Relationships functionality, please note:
Having a strong Gainsight Admin is necessary
Relationships setup requires an engagement with Gainsight Services for the foreseeable future
Relationships must be linked to an Account ID
Persistent Relationship data, such as Scorecard data, must be stored in MDA
Limitations
Converting a CTA into a milestone is not yet available.
Close CTA action in rules engine is not available for Relationship level CTAs.
Relationship Level Health Score and Attributes from Relationship cannot be added to Cockpit list views.
Ability to create Milestones via rules.