Anywhere the Cockpit List View displays (Cockpit tab, C360 Cockpit section, or Account widget), users can click the name of a CTA to access its details. Similarly, if users click a task's name, the task details will display. The CTA and task detail views are where CSMs can update status, add comments, re-assign ownership, adjust the due date, and more. Additionally, various attributes are visible, and potentially editable in these views, depending on how your Admin configured the detail views. For information on how to configure these views, refer to Configure Call to Action (CTA) & Tasks Detail View Layouts.
CTA Detail View
If you click on a CTA's name, you will see the expanded view which includes more information about the customer. From here you can:
Change the CTA Owner
Edit the Due Date
Snooze the CTA (see How to Use the Snooze Option below)
Mark the CTA as a Milestone (For more information, refer to Milestone Usage & Analytics)
Click the down arrow to Add Task, Apply Playbook or Delete CTA. If a Playbook was already applied, you will see an option to Replace Playbook, to remove the old and add a new one.
Attach files within a CTA and share with a group of people
Edit CTA Reason
Edit CTA Priority
Edit CTA Status
Add Comments (not pictured -- see Chatter on Calls to Action below)
Share Chatter posts (not pictured -- see Chatter on Calls to Action below)
Click the Orange arrow to collapse the Expanded View
The main reason you would want to snooze a CTA instead of closing it is to make sure Rules Engine is not firing similar CTAs. For example, say you have a rule that triggers CTAs when there are less than 5 logins per week. Then you find out that the customer is on vacation for a month. In this scenario, you could snooze the CTA instead of closing it, and in effect avoid getting another CTA in the next 3 weeks for which you know the usage is going to be low.
1. To snooze a CTA, click the clock icon in the CTA detail view.
2. Select a date for the CTA snooze to end, and select a reason for snoozing. The snooze is in effect through the selected date and the date is based on the SFDC org timezone setting, not the individual user's setting.
3. To view snoozed CTAs in the Cockpit List View, you must select the filter icon in the upper right corner, and select "Only snoozed CTAs." Snoozed CTAs also display in the customer's C360 Cockpit section.
4. To un-snooze a CTA, change the snooze due date to a date in the past. Then the CTA will reappear in the Cockpit List View.
Note: The snooze option and snooze reasons are configured by your Admin. For more information on how to configure the snooze option, refer to Configure Cockpit: CTA Types, Reasons, Priority, etc.
Task Detail View
If you click on a task you will be able to:
Edit Task
Delete Task
Edit Task Priority
Edit Task Status
If the task was part of a Playbook, you can see the Playbook Name and the Playbook Completion %.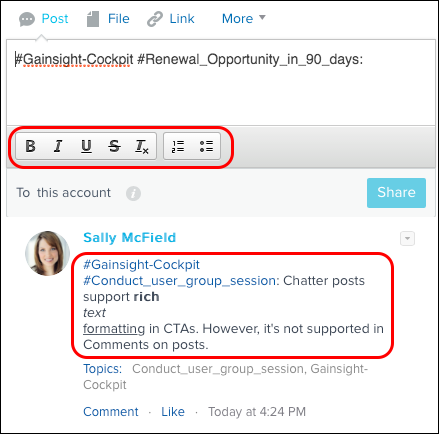 If you have Chatter enabled on Calls to Action, you will see the option to post to Chatter and include Files and Links in conjunction with, or instead of adding comments. To learn more about enabling Chatter and/or Comments, refer to Chatter: Integration Overview.
By default, the Chatter post will include #Gainsight-Cockpit and #<CTA name> tags to help provide context to the Call to Action from which a post is being made. These tags can be manually deleted before making the post. You may also @mention colleagues via Chatter. In addition, the winter 2016 release of SFDC provides support for special formatting (see image above) in CTA Chatter posts. However, it does not support formatting in comments on chatter posts.